A thank-you letter to Ottawa
Kyle and Julie Turris reflect on their time with the Senators organization in a city that took a big piece of their hearts.
Kyle and Julie Turris, as told to TSN's Ian Mendes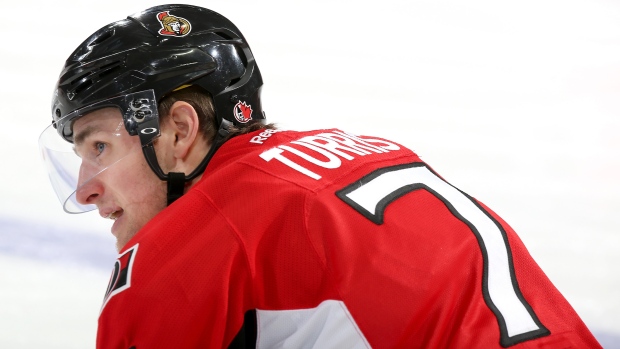 I can remember landing in Ottawa for the first time as a member of the Senators like it was yesterday.
If you can believe it, I didn't bring a jacket with me, which in hindsight was not a smart move for the middle of December in Ottawa. It was 2011 and I had just been traded to the Senators organization from Phoenix – where nobody ever needs a jacket.
I came to town by myself, but Julie and our 10-week-old puppy Leo arrived a few days later on Christmas Eve. We didn't know anyone or anything about this new city, so we actually spent most of the Christmas holidays at the Brookstreet Hotel in Kanata. If we close our eyes, we can still remember Leo playing on the front lawn of the Brookstreet.
We were just a couple of twentysomething kids with a new puppy, who had no connection to the city around us. We had no idea what the future would hold.
And in our wildest dreams, neither of us could have predicted how this city would take a big piece of our hearts.
We had no idea that by the end of our time in Ottawa, we would have a standing doggy play date for Leo. Every day at 4:30 p.m., we were invited to a special golden retrievers-only play date at our neighbours' Tom and Milena's house. Each day, we'd head to their backyard and Leo and three other dogs would run around play.
By the end, we had our three kids with us for these play dates, so in the summer Tom and Milena would let our oldest son Beckett play with the hose in their backyard. The adults would all sit on the patio and talk about life and it truly felt like we were surrounded by family. When the clock hits 4:30 p.m. in Nashville, we will absolutely feel a void in our hearts because that standing play date became a huge part of our routine.
We also had a lot of other routines that connected us to our neighbourhood in Westboro. Lots of players and their families choose to live closer to the arena in Kanata, but there was something about Westboro that really called to us. Maybe it was the fact that there was a park on either end of our street, or the ability to walk to little neighbourhood shops, but we absolutely fell in love with this neighbourhood. As we grew older and had kids, they always looked forward to visiting the dinosaur garden across the street as well.
We'll miss going to Saslove's for their unbelievable chocolate chip cookies. When I left town a few days ago, the woman behind the counter said that I was by far their best cookie customer – so hopefully someone else can pick up the slack.
I'll miss being able to phone Allium after a game and ask them to have a banoffee pie ready for us. It didn't matter if the kitchen was closed, they would always stay up and have a fresh one ready for me to pick up after hours. That's the best dessert in the city and it's not even close.
But we didn't just have a sweet tooth. Whether it was the lobster poutine at Petit Bill's (which always included a great chat with Terry the owner) or the chicken parm at Parma Ravioli, we fell in love with the cuisine in our neighborhood.
We'll miss seeing the faces behind the counters of places like Herb & Spice on an almost daily basis. And while Nashville probably has a wonderful restaurant scene, it will be hard to match the amazing places like Supply & Demand, The Gastro Pub, Baker Street Café, gezellig and Chesterfields to name a few.
They say it takes a village to raise a family and that's what Westboro did for us. The ladies of RHOK were always there for Julie and the kids. Our home never would have run so smoothly – with three kids, a dog and a frequently travelling husband – if wasn't for Annie, Sue, Mary, Hayley and our go-to, Kim.
We were blessed to be surrounded by friends that felt like family in our Westboro home, and that's exactly how I felt when I went to the rink each day. My teammates went above and beyond with our kids, always allowing Beckett to hang around the locker room as if he was one of the players himself. Whether it was the coaches, trainers, medical staff or front office, everybody did so much to help Julie and I feel like the Canadian Tire Centre was home.
I feel honored to have been associated with the late, great Bryan Murray. He showed tremendous faith in me, signing me to a five-year contract extension before I even played a full season in Ottawa. But he saw the potential in me and we're forever indebted to him for bringing us to Ottawa in the first place.
And of course, I have to mention how my first captain in Ottawa helped me so much.
When I first joined the Senators, Daniel Alfredsson was very quick to take me under his wing.
I can vividly remember an optional skate in my first season with the team when both Alfie and I skipped the practice. Alfie proceeded to spend 45 minutes teaching me the intricacies of ping pong. I was horrible at the sport, but playing ping pong was a major part of the team's culture back then, so Alfie took me aside in the back hallway and taught me the proper technique.
He showed me how to hit the ball consistently. He showed me how to spin it correctly. But in his own subtle way, Alfie was also showing me how to conduct myself as a professional. He could have done anything else that day, like spend time with his family. But instead, he chose to teach a ping pong rookie how to play the game, so that I could fit in better with the rest of the group.
We've always admired the way Alfie and his wife, Bibbi, carried themselves and we can honestly say we're glad that Erik Karlsson and his wife, Melinda, are upholding the standards of what a captain and his family should be like. We're forever thankful that our paths crossed with them and so many other families. Some of Julie's best friends and confidants are wives and girlfriends of Senators players, and she never would have enjoyed the last six years without their endless support.
As we started to hang around the Senators players and their families, we quickly understood that being part of the community was crucial in Ottawa. Alfie and Bibbi were involved in countless endeavours, which set the bar for the rest of us.
The Sens Foundation helped pave the way for many of us to get active and involved in the community. And when we think back, we are absolutely blown away at the number of charitable organizations that thrive in Ottawa. We think of people like Theresa at the Boys & Girls Club of Ottawa, who pour themselves into their work and become strong role models in the community. We were so fortunate to be even loosely affiliated with groups like the Crohn's and Colitis Foundation and the Cystic Fibrosis Ottawa chapter.
Of course, there is one group in Ottawa that stole our hearts more than any other.
When Matt Carkner asked me to join the Capital City Condors as their special ambassador, I jumped at the chance to help a group of special needs kids play hockey. But we had no idea how much this relationship would affect our lives. Jim and Shana Perkins are the most selfless people we've known and just like we're indebted to Bryan Murray for bringing us to Ottawa, we're forever grateful to them for bringing us into the Condors family.
People always thought the Condors kids were getting more out of this relationship than Julie and I, but that couldn't be further from the truth. Our Saturdays were made a thousand times better by watching those kids' faces light up with unfiltered happiness as they hit the ice. The Condors families are actually role models for us, because they hold the values that we're trying to instill in our own children.
Our Westboro home was filled with pictures and artwork from Condors kids. We can promise you that Chris, Robbie and Cameron's artwork is making its way to Nashville and will decorate our new home down there. And we can also promise that we'll be back in Ottawa next summer for the Condors annual charity golf tournament, because we wouldn't miss it for the world. To the Condors kids, this isn't a goodbye because our friendships will last forever and no amount of distance can erode them. Julie and I look forward to seeing you all in Nashville at some point down the line.
As we wrap up our time in Ottawa, we would be remiss if we didn't' mention the fans and media in this town. I got to live out the dream of every Canadian boy who wonders what it would be like to score an overtime goal on home ice in the Stanley Cup playoffs. It's a feeling I was lucky enough to experience three times, yet I still struggle for the right words to describe it.
It's an adrenaline rush like no other thing I've experienced on the ice. I felt like I could have lifted a car over my head when the crowd went crazy and cheered. When I think of Ottawa fans, I'll always remember those playoff goals and how much you truly care for your Senators. Playing in a Canadian market is everything I could have dreamed of and more.
It feels like yesterday that we rolled into Ottawa, blissfully unaware of what the next chapter held for us.
As we now move to Nashville, our only wish is that our next six years can be as magical and special as the last six in Ottawa.
Thank you for the memories Ottawa. You will always have a piece of our hearts,
Kyle & Julie Turris