A year later, Estrada aims to repeat brilliant start
Scott MacArthur, TSN Blue Jays Reporter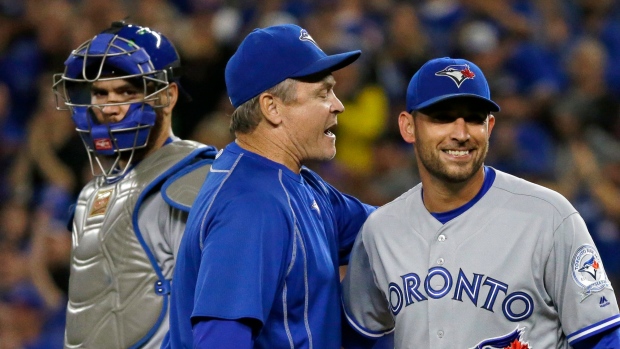 TORONTO – Exactly 52 weeks after Marco Estrada pitched the Toronto Blue Jays back to Kansas City, he will attempt to pitch his team back to Cleveland.
The situation is the same: The Blue Jays are at home trailing the American League Championship Series 3-1 to the team that won the Central Division. Once again they have a monumental hill to climb to reach the World Series for the first time since 1993.
Last year, Estrada tossed 7 2/3 innings of one-run ball – an inherited runner allowed by Aaron Sanchez – and walked off the mound to a standing ovation so boisterous he could hardly contain his smile.
This year, Estrada has gone at least eight innings in both of his postseason starts. He won the first in a blowout in Texas but lost the second, the opener against this Cleveland team, throwing his first career complete game and deserving a different result.
Estrada offers an aw-shucks response when asked if he's a big-game pitcher. His skipper will vouch, while reminding that not much seems to get under Estrada's skin.
"Well, hey, you see him walking around in that bathrobe every day," said manager John Gibbons.
It's true. Estrada is the one Blue Jay who still wears the robe David Price purchased for each of his teammates last season.
Admittedly, the Blue Jays don't know much about Cleveland's starter, left-hander Ryan Merritt, who has all of 11 big league innings under his belt.
Jose Bautista suggested Merritt would be "shaking in his boots" more than the Jays' offence. If you believe in bulletin-board material, not that it can motivate the opposition – it can – but that it affects the result of an ensuing game, Bautista is a guy who has provided plenty of ammunition for Cleveland.
"I don't give it any thought," said Gibbons. "The game plays itself out. It's not like I've never heard him say anything before. I don't put too much into that."
If the Jays lose once more in this series the season is over; perhaps so is Bautista's career in Toronto. He'll be missed. Sports are entertainment and entertainment needs heels, to borrow a pro wrestling term. Bautista offers himself up for the role. Fodder is never boring.
Interestingly, Melvin Upton Jr. is in the starting lineup for Game 5, hitting sixth, but as the designated hitter. It would stand to reason, when Upton Jr. plays, he be in the outfield because he represents a defensive upgrade over the usual Blue Jays' alignment. Stick Upton Jr. in left field, move Ezequiel Carrera to right field and have Jose Bautista serve as the designated hitter. That's been the way in the past.
It is not the way in Game 5, however, because Gibbons, whether you agree with this depends on your philosophy, is playing the long game. He looks at the possibility of Merritt being replaced by a right-hander early and Gibbons wants Michael Saunders available as a pinch-hitter.
Then, later, if vicious lefty Andrew Miller is in the game and Saunders has replaced Upton Jr., Gibbons would go to switch-hitter Dioner Navarro to pinch-hit for Saunders. By starting Upton Jr. as the designated hitter, all of these potential moves can be made without affecting the Jays' defensive alignment.
Right-handed hitting Darwin Barney starts at second base, hitting ninth, in place of left-handed hitting Ryan Goins — another easy platoon decision for Gibbons.
The Blue Jays are 6-1 in seven elimination games dating to last postseason.