Adams' ninth-inning homer gives Cardinals win over Pirates
Matt Adams hit a two-run home run in the bottom of the ninth inning to give the St. Louis Cardinals a 2-0 victory over the Pittsburgh Pirates on Monday night in the opener of a four-game series with the NL Central rival they topped in the division series last fall.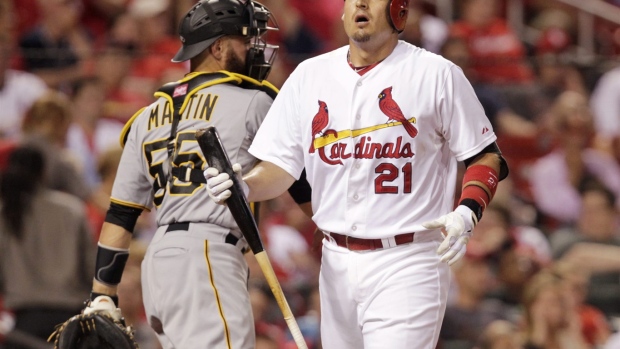 ST. LOUIS - After beating the team he grew up rooting for with his first career game-winning hit, Matt Adams couldn't resist a celebratory fist pump just a few steps out of the batter's box.
"This is unbelievable," Adams said after his two-run home run in the bottom of the ninth inning gave the St. Louis Cardinals a 2-0 victory over the Pittsburgh Pirates on Monday night in the opener of a four-game series with the NL Central rival they beat in the division series last fall. "I don't even know what to say."
Adams is from Slippery Rock, Pennsylvania, and starred at Slippery Rock College, but the Pirates never showed any interest. He joked that the only people in western Pennsylvania that were happy were "probably a handful of family members."
"I don't think I touched the dirt the whole way around (the bases)," Adams said.
Matt Carpenter drew his third walk leading off the ninth and Matt Holliday flied out before Adams hit his 10th homer on an 0-1 hanging breaking ball from Justin Wilson (2-1). It was the Cardinals' first game-winning homer since Skip Schumaker connected against the Kansas City Royals on June 19, 2011.
"As soon as I made contact I knew it was gone," Adams said. "It felt good off the bat."
Adams entered the game batting just .190 against lefties but has been the Cardinals' top threat lately with six hits the last two games. He foiled the Pirates' shift in the first lining an opposite field double to left.
"He's a dad-gum good hitter, man," Cardinals starter Adam Wainwright said. "I think we're just breaking the ice of the surface of what this guy can do."
Wilson said simply: "Bad pitch, good hitting. Probably the worst time to hang a breaking ball there."
Wainwright, the Cardinals' 11-game winner, scattered seven hits in seven scoreless innings without consistent location on his fastball.
"I felt like I had the command of an A-ball pitcher," Wainwright said. "I should be good for the next start, I got plenty of work out of the stretch."
Pat Neshek (3-0) worked a perfect ninth against the top of the order for St. Louis.
The game lasted 2 hours and 37 minutes but was extended by two rain delays totalling 58 minutes.
Morton remained 2-10 for his career against the Cardinals although he reduced his ERA to 5.58. He was lifted in the eighth when the Pirates loaded the bases with two outs. Sam Freeman struck out rookie pinch-hitter Gregory Polanco.
"It might not be logical to you, it was kind of logical to me," manager Clint Hurdle said. "I thought our better opportunity was to send somebody up other than Charlie."
The Cardinals squandered a chance in the eighth when Jon Jay was doubled off second after pinch-hitter Oscar Taveras lined out to right.
The Pirates had runners in scoring position five times against Wainwright, who has thrown 14 2-3 scoreless innings his last two outings. He was particularly tough on fellow Al-Star Andrew McCutchen, who tapped out to end the fifth to waste Starling Marte's triple and flied out with two on to end the seventh.
Right fielder Josh Harrison, chosen by Cardinals manager Mike Matheny as an All-Star reserve on Sunday, made an outstanding diving catch to rob Jhonny Peralta of a hit in the second.
Rain — or the threat of it — was a dominant factor early with the grounds crew ever on alert. The start was delayed 47 minutes with the tarp down in anticipation of a storm and ominous clouds looming but no precipitation,
It was halted 11 minutes by heavy rain after the Pirates stranded two in the first. Some Pittsburgh players began running off the field when a second brief storm hit just before the game resumed and crew chief Joe West appeared ready to call another halt before dropping his arms and retreating to first base.
Plate umpire Alan Porter made a rarely seen call in the first after Russell Martin was plunked in the arm, ruling that Martin hadn't made an attempt to get out of the way. Instead of loading the bases with two outs, the pitch was simply ball three for a full count and Martin flied out.
NOTES: The Pirates scratched Gerrit Cole (oblique) from his scheduled start on Wednesday and will place him on the 15-day DL. Cole threw in the bullpen earlier in the day. ... McCutchen was a career .382 hitter against Wainwright before Monday. ... Hurdle hedged whether he lobbied Matheny for his All-Star candidates. "I didn't have any conversations along those lines," Hurdle said. "And if I did I wouldn't share them." ... Vance Worley (2-1, 2.28) opposes rookie Carlos Martinez (2-3, 3.91) on Tuesday. Worley has pitched into the seventh each of his four starts since being recalled in mid-June. The Cardinals are 4-0 in starts by Martinez. ... Rehabbing Pirates LHP Francisco Liriano (left oblique) worked six innings in his first rehab start.