Agent for Drouin asked Lightning for trade
Frank Seravalli, TSN Senior Hockey Reporter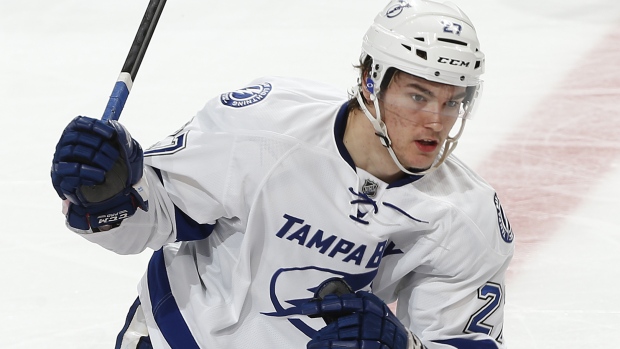 One year ago, Jonathan Drouin was the fastest skater in the NHL's All-Star skills competition. Now, he might be skating his way out of Tampa Bay.
Citing an "untenable situation," Drouin's agent went public on Sunday with a standing request for a trade from November after the No. 3 overall pick from 2013 was demoted to the AHL on Saturday.
"On behalf of Jonathan Drouin, I formally requested a trade from the Tampa Bay Lightning back in November," Drouin's agent, Allan Walsh, said in a statement released to media. "We have not said one word about this untenable situation publicly until today. It's in everyone's best interests that Jonathan be allowed to move on and play hockey. Let's be clear, Jonathan loves playing for the fans in Tampa, he loves his teammates and many people within the Lightning organization have treated him well. It was his sincere intention to play in Tampa for many years."
With question marks swirling around Steven Stamkos' status in Tampa Bay, Drouin's trade request marks Steve Yzerman's third public example of friction with a big name player during his six-season run as Lightning general manager. Martin St. Louis was dealt to the Rangers on March 5, 2014 after a dispute which began when Yzerman did not name his own player to Team Canada's initial roster for the 2014 Winter Olympics.
"We acknowledge, via communication from his agent, Jonathan Drouin's request to be traded," Yzerman said in a statement Sunday evening. "Moving forward, my sole intention is to act in the best interest of the Tampa Bay Lightning hockey club. In the meantime, Jonathan has been assigned to our American Hockey League affiliate, the Syracuse Crunch, and we expect him to report for practice with the rest of his teammates this Tuesday morning."
Drouin, 20, has appeared in just 19 games this season - missing time with two different injuries - and has eight points on two goals and six assists. Yzerman told reporters on Saturday that the decision to send Drouin to the AHL was made "specifically so he gets playing time."
Unlike Lightning forward Jonathan Marchessault, who has as many goals (6) in 22 games this season as Drouin has in 89 career games, Drouin was one of the few players on Tampa Bay's roster who did not require waivers.
"(Drouin) has played in nine games in the last nine weeks," Yzerman said. "He's been dealing with a minor nagging issue that is finally healed. With everyone coming back at the same time, it's a good opportunity to get a young player a lot of ice time, get his game right back on top and bring him back at the appropriate time."
Thought to be a Calder Trophy candidate, Drouin posted four goals and 28 assists for 32 points in 70 games last year as a rookie. He didn't receive any votes for the Calder.
Drouin started last season in the AHL after missing the bulk of training camp with a fractured thumb. Last year's demotion to the AHL, though, was officially listed as a "conditioning assignment" by the team, normally lasting up to two weeks. This one was indefinite.
According to reporters, Drouin was visibly frustrated leaving Amalie Arena on Saturday. Yzerman said he took "everything into account" when making the decision and met with Drouin to explain the thought process.
"We have a reason for doing it and I believe in the reasons for doing it," Yzerman said. "Jonathan expressed to me he understands the reasons for it."
Drouin's situation seemingly started to sour last spring during Tampa Bay's run to the Stanley Cup final. He was a healthy scratch for 20 of the Lightning's 26 playoff games - sitting 10 straight games at one point before being plugged in again for Game 2 of the Stanley Cup final.
Drouin was held without a point and was a minus-6 in his six playoff appearances.
Drouin's public play does not necessarily signal a trade on the horizon. Drouin has one year remaining on his entry-level contract before he can become a restricted free agent. His appeal was initially made during the same month New York Islanders defenceman Travis Hamonic put in a request to be moved to Western Canada for personal reasons.
Hamonic, of course, remains with the Islanders since only two player-for-player trades have been orchestrated in the NHL this season.
Yzerman could not be immediately reached for comment on Sunday. He did not hesitate when asked about Drouin's future on Saturday. But this sticky situation clearly wasn't the direction Yzerman and the Lightning envisioned when they selected Drouin ahead of Seth Jones, Sean Monahan and Max Domi two and a half years ago.
"I think he's a tremendous young talent," Yzerman told reporters. "He needs to stay healthy and get in the lineup and show what he can do."
Frank Seravalli can be reached at frank.seravalli@bellmedia.ca.