AIK GM Gozzi: Nylander looks ready to play
Nicole Fiorini, TSN.ca Staff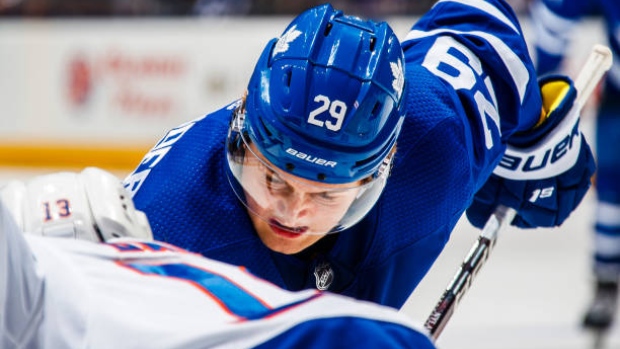 Anders Gozzi, general manager of Sweden's AIK IF, told TSN Radio 1050 Toronto Wednesday that he believes William Nylander looks ready to play in the NHL after skating with his club's junior team.
"It has been since September/October," Gozzi told First Up of how long Nylander has been working with the team. "I think he looks ready, ready to play.
"He looks good."
Gozzi said that Swedish National Hockey League players typically spend time with local clubs in the off-season, so having the Toronto Maple Leafs restricted free agent skate with the team has not been out of the norm.
While Nylander, who skated with the team again on Wednesday, played with Modo in Sweden during his junior career, his family members are AIK alumni.
"Nylander lives in Stockholm, and his father, Michael, has played in AIK and his brother as well," Grozzi said. "So it was no problem for us to take him in to the junior team."
The 22-year-old has until Saturday to sign a contract or sit out the remainder of this season and TSN Hockey Insider Bob McKenzie shot down rumours on Tuesday that the two sides had already reached a deal.
"So many rumours. One rumour this morning was that William Nylander is actually in Toronto. Well no, he's not in Toronto," McKenzie said on Insider Trading. "The other rumour this afternoon was well the deal is done, it's completely done they just haven't announced it yet. Our best information is that is not the case, that there's still some work to be done.
"Now when could it get done? As we've said all along it could take just one phone call, it could be done just like that. But with the deadline now on Saturday at 5 p.m. ET, there is a really strong feeling that both sides, one or the other, feels that they might get their best offer from the other side right at the deadline. So now it goes to deadline. Stay tuned, same old deal."
When asked about the possibility of Nylander playing with the AIK if he failed to sign in NHL, Gozzi said his club doesn't "have the money to compete with the league and the team he wants to play with." He added he hasn't spoken with Nylander about his contract negotiations with the Leafs.
"Nylander will not say so much about what has happened, and I understand that," Gozzi said. "It is between Toronto and the agents and himself. But I hope they will have an agreement soon."
Nylander, the eighth-overall pick in 2014 NHL Draft, has 48 goals and 87 assists in 185 career games.
The Leafs own a record of 17-8 without the winger in the lineup this season and will play their 26th game of the campaign on Wednesday night against the San Jose Sharks.