Lafreniere enhances No. 1 status in TSN's mid-season draft ranking
With five months to go until the NHL Draft, Alexis Lafreniere remains in a class all by himself in TSN Hockey's mid-season player ranking compiled by Bob McKenzie.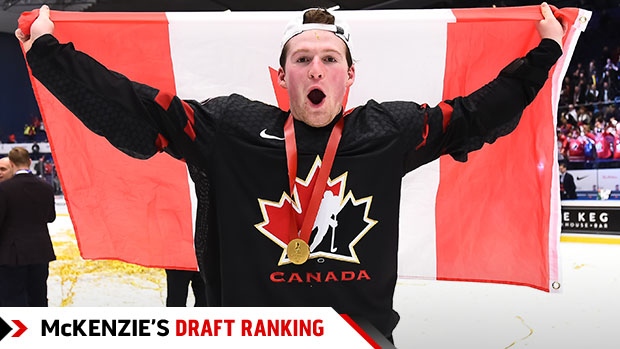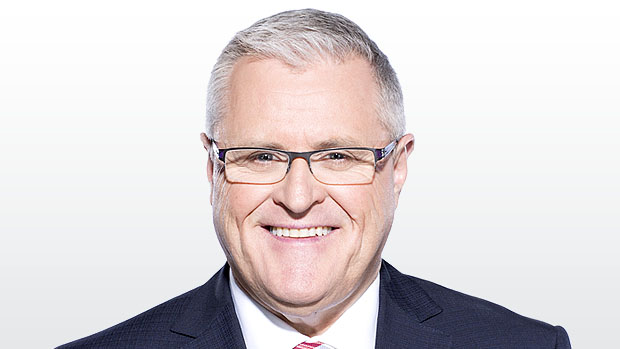 There are a couple of notable takeaways from TSN's Mid-Season 2020 NHL Draft Rankings.
One, Rimouski Oceanic left winger Alexis Lafreniere has not only reinforced but actually enhanced his status as the No. 1 prospect in this year's draft class.
Two, Sudbury Wolves' centre Quinton Byfield retains his status as the consensus No. 2 prospect but the door appears open to challenges from those prospects ranked just below him, notably Adler Mannheim winger Tim Stutzle of Germany at No. 3 and Erie Otter defenceman Jamie Drysdale at No. 4.
The Lafreniere development comes as no shock to anyone, not if they were watching the World Junior Championship, where Lafreniere rebounded from what could have been a tourney-ending knee injury to be named MVP.
"[Lafreniere] is in a class by himself," said one of the 10 NHL scouts TSN surveyed to get TSN's Mid-Season Top 62 rankings for the 2020 NHL draft, which will be held June 26-27 in Montreal. "He's the clear-cut choice at No. 1."
Ten out of 10 scouts on the TSN panel had Lafreniere as mid-season No. 1, just as 10 out of 10 had him No. 1 on TSN's pre-season rankings. But that unanimous No. 1 status is more emphatic in late January than it was in early September.
We know that because In September we asked the 10 scouts to effectively qualify Lafreniere's hold on No. 1, classifying him in one of the following four categories:
1. In a class all by himself.
2. A clear or notable gap (between him and the rest of the field).
3. A marginal gap.
4. No real gap at all, which is to say Lafreniere's No. 1 status may be legitimately tested by one or more prospects ranked below him.
In September, no scout said Lafreniere was in a class by himself. Now, though, four have him as a stand-alone No. 1.
Five scouts in September said there was a clear gap between Lafreniere and the rest of the field; now two scouts opted for clear-gap status.
Two scouts in September classified Lafreniere as having a marginal gap; only one went in that direction this time.
In September, three scouts said there was no real gap at all. This time, as dominant as Lafreniere has been, three scouts still feel Lafreniere could potentially be unseated.
It's worth remembering that the task for NHL scouts is not to gauge performance as much as potential. It's not always as easy as identifying which prospect is playing the best this season; it's projecting who's going to be the best NHL player two, three, four years out.
"Lafreniere is definitely a level above everyone in terms of his play this season," said one scout. "There's no disputing that. But where are these players going to be in their draft year plus one or plus two? I think there are a few guys [in this draft] who have [Elias] Pettersson-like potential."
Ah, yes, the 2017 NHL draft revisited. It's worth noting that in the draft run up that year, two centres - Nico Hischier and Nolan Patrick - established themselves as the top two prospects. Hischier, of course, went No. 1 overall to New Jersey and Patrick No. 2 to Philadelphia.
But Dallas took defenceman Miro Heiskanen at No. 3, Colorado selected defenceman Cale Makar at No. 4 and Vancouver took forward Elias Pettersson at No. 5. If one were to re-draft the 2017 prospects now, any one of or maybe even all three (Heiskanen, Makar and Pettersson) would be taken ahead of Hischier and Patrick.
More than one scout surveyed by TSN thinks a similar dynamic may be possible this year with potential challenges to TSN's Nos. 1 and 2, Lafreniere and Byfield.
A reminder, though: While three of 10 scouts slightly downgraded Lafreniere's status as No. 1, the remaining majority (seven) notably elevated him.
"He's an NHL player right now and he has first-line NHL potential," one scout said. "Whomever is picking first overall won't need to over-think it."
That brings us to the curious case of Quinton Byfield.
In September, 10 out of 10 scouts had him at No. 2. This time around, nine of 10 scouts ranked him second. The one outlier placed Byfield outside of his top five.
While Lafreniere enhanced his status with a strong WJC, Byfield did not have a strong tournament. He had no real impact for Team Canada, moving down the lineup as the tourney progressed.
Traditionally, scouts don't hold the lack of WJC performance against a prospect. Conventional wisdom is prospects can only help, not hurt, themselves at the WJC. But when Byfield wasn't very good in the CHL Prospects Game in Hamilton in mid-January, some scouts - as well as a number of NHL general managers who personally attended the game - did voice some questions. Not enough to knock him out of the No. 2 spot - Byfield, by the way, has for the most part continued to be dominant and productive in his post-WJC games for the Wolves - but enough to flag it for further scrutiny.
That's especially true because the prospects ranked Nos. 3 and 4 on TSN's mid-season list - dynamic German winger Stutzle and the wow-factor and top-ranked defenceman Drysdale - are clearly trending up in the eyes of the scouts. Stutzle was No. 14 on TSN's pre-season list, moving up 11 slots. Drysdale jumped four slots, from No. 8 to 4.
"I could see Drysdale emerging as the top prospect in the OHL," one scout said.
"Keep an eye on Byfield," another scout said. "He may be slipping."
Let us, however, keep all of this in context. Scouts appear highly enthused about this year's Top 10, especially with the top four that includes Lafreniere, Byfield, Stutzle and Drysdale.
The Swedish wingers - Lucas Raymond at No. 5 and Alexander Holtz at No. 6 - are well thought of, with top-line, or at worst top-six, potential. Raymond wasn't lower than seven on any scout's top 10 listing. The only gripe from the scouts on the Swedish wingers is that they often play limited minutes against the men in the Swedish Hockey League.
"Way too good to be playing in the Swedish junior league and not good enough for top-six minutes in the SHL," one scout said. "It's frustrating because when you go to see them, you may only see them in limited minutes. You can only imagine what they would be doing against their peers if they were playing junior or college hockey in North America."
Scouts are also bullish on two sub-6 foot skilled forwards - Austrian 5-foot-9 centre wide body Marco Rossi of the Ottawa 67s at No. 7 and Canadian 5-foot-10 centre/winger Cole Perfetti of the Saginaw Spirit at No. 8. — who are continuing to get serious top five consideration from some scouts in this draft.
"Rossi doesn't play small," a scout said. "He's strong and physically mature. High-end skill and good attention to detail; he plays a mature game."
Perfetti is taller than Rossi but still, relatively speaking, physically immature. That is actually viewed as a plus by some scouts, who feel his ceiling will be that much higher when he fills out and gets stronger.
No one doubts the offensive skills and smarts of both Rossi and Perfetti: high-end all the way.
The top American in this year's draft is No. 9 ranked Jake Sanderson, a defenceman with the U.S. national U-18 team. The son of former NHL speedster forward Geoff Sanderson (the pride of Hay River in Northwest Territories) shares his father's skating ability but obviously plays a different position. He uses that speed both offensively and defensively to be the No. 2-ranked blueliner in this draft class, behind only Drysdale.
Sanderson recently dominated the U.S. Prospects Game. He was ranked as high as No. 6 and no lower than No. 16 amongst TSN's panel of scouts.
TSN's top 10 is rounded out by Russian goaltender Yaroslavl Askarov, who slipped four spots from his pre-season ranking of No. 6. Askarov struggled at the WJC but scouts still believe he is a potential franchise No. 1 goalie who is a serious top-10 consideration.
Askarov is the only goalie in the first round of TSN's mid-season rankings.
It's obviously a big year for German hockey. In addition to Stutzle at No. 3, fellow German forwards John-Jason Peterka at No. 20 and Lukas Reichel at No. 29 gives Germany as many first-round ranked prospects as the Americans.
It's a down year in the U.S. development cycle. Sanderson leads the way at No. 9, but the only other Americans in TSN's mid-season first round are defensemen Ty Smilanic at No. 25 and Tyler Kleven at No. 30.
Seventeen of TSN's Top 31 players are Canadian.
The Top 62
| RK | Player | Team | POS | HT | WT | GP | G | P |
| --- | --- | --- | --- | --- | --- | --- | --- | --- |
| 1 | Alexis Lafreniere | Rimouski (QMJHL) | LW | 6'1 | 192 | 39 | 24 | 84 |
| 2 | Quinton Byfield | Sudbury (OHL) | C | 6'4 ¼ | 215 | 36 | 29 | 70 |
| 3 | Tim Stutzle | Mannheim (DEL) | C/LW | 6'1 | 187 | 30 | 6 | 28 |
| 4 | Jamie Drysdale | Erie (OHL) | D | 5'11 | 172 | 36 | 7 | 38 |
| 5 | Lucas Raymond | Frölunda (SHL) | RW | 5'11 | 170 | 21 | 4 | 8 |
| 6 | Alexander Holtz | Djurgårdens (SHL) | LW | 5'11 ½ | 192 | 25 | 7 | 12 |
| 7 | Marco Rossi | Ottawa (OHL) | C | 5'9 | 170 | 37 | 28 | 81 |
| 8 | Cole Perfetti | Saginaw (OHL) | C/LW | 5'10 ¼ | 177 | 46 | 28 | 82 |
| 9 | Jake Sanderson | USA U18 (USHL) | D | 6'0 ¾ | 170 | 36 | 4 | 17 |
| 10 | Yaroslav Askarov | St. Petersburg (MHL) | G | 6'3 | 176 | 17 | 2.36 | .923 |
| 11 | Anton Lundell | HIFK (SM Liiga) | C | 6'1 | 185 | 27 | 6 | 19 |
| 12 | Kaiden Guhle | Prince Albert (WHL) | D | 6'2 ½ | 186 | 47 | 8 | 28 |
| 13 | Dawson Mercer | Chicoutimi (QMJHL) | C/RW | 6'0 | 181 | 31 | 18 | 47 |
| 14 | Braden Schneider | Brandon (WHL) | D | 6'2 | 208 | 44 | 5 | 30 |
| 15 | Dylan Holloway | Wisconsin (NCAA) | C/LW | 6'0 ½ | 192 | 23 | 3 | 8 |
| 16 | Hendrix Lapierre | Chicoutimi (QMJHL) | C | 5'11 ½ | 179 | 19 | 2 | 17 |
| 17 | Connor Zary | Kamloops (WHL) | C | 5'11 ¾ | 173 | 40 | 28 | 59 |
| 18 | Justin Barron | Halifax (QMJHL) | D | 6'1 ½ | 195 | 27 | 4 | 17 |
| 19 | Jack Quinn | Ottawa (OHL) | RW | 6'0 | 179 | 43 | 37 | 60 |
| 20 | John-Jason Peterka | Munich (DEL) | LW | 5'11 | 192 | 31 | 6 | 10 |
| 21 | William Wallinder | MoDo (SWE J20) | D | 6'4 | 191 | 29 | 5 | 21 |
| 22 | Rodion Amirov | Ufa (MHL) | LW | 6'0 | 167 | 21 | 0 | 2 |
| 23 | Jacob Perreault | Sarnia (OHL) | RW | 5'11 | 200 | 43 | 28 | 55 |
| 24 | Seth Jarvis | Portland (WHL) | C | 5'9 ½ | 174 | 41 | 26 | 63 |
| 25 | Ty Smilanic | USA U18 (USHL) | C/LW | 6'0 ¾ | 167 | 23 | 6 | 17 |
| 26 | Jeremie Poirier | Saint John (QMJHL) | D | 6'0 ¼ | 199 | 48 | 15 | 42 |
| 27 | Noel Gunler | Lulea (SHL) | RW | 6'0 ½ | 170 | 34 | 2 | 9 |
| 28 | Mavrik Bourque | Shawinigan (QMJHL) | C | 5'10 | 165 | 44 | 26 | 59 |
| 29 | Lukas Reichel | Berlin (DEL) | LW | 6'0 | 170 | 30 | 10 | 19 |
| 30 | Tyler Kleven | USA U18 (USHL) | D | 6'3 ½ | 190 | 34 | 2 | 11 |
| 31 | Ridly Greig | Brandon (WHL) | C | 5'11 | 160 | 40 | 17 | 39 |
| | | | | | | | | |
| 32 | Justin Sourdif | Vancouver (WHL) | C/RW | 5'10 ¾ | 173 | 41 | 14 | 32 |
| 33 | Ryan O'Rourke | Sault Ste. Marie (OHL) | D | 6'0 | 173 | 36 | 6 | 26 |
| 34 | Brendan Brisson | Chicago (USHL) | C | 5'11 ¼ | 177 | 30 | 17 | 36 |
| 35 | Ozzy Wiesblatt | Prince Albert (WHL) | RW | 5'9 ¾ | 183 | 47 | 19 | 51 |
| 36 | Shakir Mukhamadullin | Ufa (MHL) | D | 6'3 ½ | 178 | 22 | 0 | 1 |
| 37 | Jean-Luc Foudy | Windsor (OHL) | RW | 5'11 ½ | 172 | 43 | 13 | 36 |
| 38 | Jake Neighbours | Edmonton (WHL) | LW | 5'11 ½ | 197 | 50 | 16 | 53 |
| 39 | Luke Tuch | USA U18 (USHL) | LW | 6'1 | 197 | 36 | 13 | 24 |
| 40 | Tyson Foerster | Barrie (OHL) | RW | 6'1 ¼ | 194 | 43 | 26 | 56 |
| 41 | Helge Grans | Malmo (SWE J20) | D | 6'2 ½ | 206 | 22 | 3 | 22 |
| 42 | Sam Colangelo | Chicago (USHL) | RW | 6'2 | 205 | 29 | 19 | 39 |
| 43 | Will Cuylle | Windsor (OHL) | LW | 6'2 ½ | 204 | 43 | 16 | 32 |
| 44 | Thomas Bordeleau | USA U18 (USHL) | C | 5'9 ¼ | 179 | 36 | 15 | 35 |
| 45 | Lukas Cormier | Charlottetown (QMJHL) | D | 5'9 ¼ | 167 | 29 | 5 | 21 |
| 46 | Vasili Ponomaryov | Shawinigan (QMJHL) | C | 6'0 | 180 | 39 | 15 | 37 |
| 47 | Donovan Sebrango | Kitchener (OHL) | D | 6'1 | 184 | 39 | 3 | 22 |
| 48 | Daemon Hunt | Moose Jaw (WHL) | D | 6'0 | 198 | 23 | 0 | 11 |
| 49 | Jaromir Pytlik | S.S. Marie (OHL) | C | 6'2¼ | 201 | 38 | 16 | 37 |
| 50 | Dylan Peterson | USA U18 (USHL) | C | 6'4 | 192 | 35 | 6 | 20 |
| 51 | Topi Niemela | Karpat (SM Liiga) | D | 5'10 ½ | 156 | 34 | 1 | 6 |
| 52 | Eemil Viro | Turku (SM Liiga Jr.) | D | 5'11 ½ | 165 | 15 | 1 | 6 |
| 53 | Jan Mysak | Hamilton (OHL) | C/LW | 5'10 ½ | 180 | 5 | 4 | 4 |
| 54 | Daniil Gushchin | Muskegon (USHL) | LW/RW | 5'9 | 167 | 29 | 16 | 31 |
| 55 | Brock Faber | USA U18 (USHL) | D | 5'11 ½ | 193 | 35 | 2 | 9 |
| 56 | Antonio Stranges | London (OHL) | LW | 5'10 ½ | 172 | 44 | 17 | 35 |
| 57 | Roni Hirvonen | Assat (SM Liiga) | C | 5'9 | 164 | 41 | 3 | 13 |
| 58 | Marat Khusnutdinov | St. Petersburg (MHL) | C/LW | 5'11 | 176 | 36 | 13 | 33 |
| 59 | Eamon Powell | USA U18 (USHL) | D | 5'11 | 165 | 33 | 4 | 10 |
| 60 | Nico Daws | Guelph (OHL) | G | 6'3 ½ | 202 | 23 | 2.42 | .928 |
| 61 | Yan Kuznetsov | Connecticut (NCAA) | D | 6'3 ¾ | 207 | 25 | 2 | 9 |
| 62 | Luke Evangelista | London (OHL) | RW | 5'11 ¼ | 172 | 45 | 19 | 46 |
Honourable Mentions
| Player | Team | POS | HT | WT | GP | G | P |
| --- | --- | --- | --- | --- | --- | --- | --- |
| Jan Bednar | Sokolov (CZE2) | G | 6'4 | 196 | 16 | 3.53 | .860 |
| Jack Finley | Spokane (WHL) | C | 6'5 ¾ | 213 | 43 | 10 | 36 |
| Maxim Groshev | Nizhnekamsk (KHL) | LW/RW | 6'2 | 194 | 28 | 1 | 5 |
| Zion Nybeck | HV71 (SWE J20) | LW/RW | 5'6 ½ | 182 | 33 | 15 | 46 |
| Oliver Suni | Oshawa (OHL) | RW | 6'1 | 188 | 29 | 9 | 24 |