All eyes on Matthews at Leafs Development Camp
The media scrum tracking Auston Matthews at the first day of Leafs Development Camp was so large, it had to be broken into two groups. And there were twice as many TV cameras there to film him as the actual number of his on-ice drills. Welcome to Toronto.
Kristen Shilton, TSN.ca Toronto Maple Leafs Reporter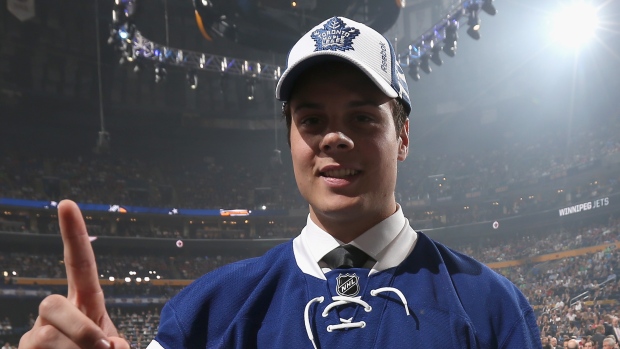 The media scrum tracking Auston Matthews at the first day of Toronto Maple Leafs Development Camp was so large, it had to be broken into two groups.
There were twice as many TV cameras there to film him (eight) as the actual number of on-ice drills he went through (four). For just 12 minutes.
And to the surprise of many Leaf fans on social media, Matthews is wearing No. 63 at this week's development camp and not his usual No. 34, which was last worn by James Reimer.
Welcome to Toronto.
"This is the hockey Mecca of the world," the 18-year old told reporters at the MasterCard Centre. "With that comes a lot of media and a lot of pressure and stuff like that, but it's definitely something you want to embrace."
And the city has already embraced the big centre with franchise player potential. The camp, which moves from Toronto to Niagara Falls through Friday before returning to town Saturday, is a chance for many of the 41 invited prospects to meet each other for the first time.
Among those in attendance is 2015 first-round pick Mitch Marner, who is already familiar with Matthews. They were introduced to one another last season when Matthews visited his good friend (and Marner's London linemate) Matthew Tkachuk. Coming off a season where he was named the OHL regular season and playoff MVP, along with winning the Memorial Cup and tournament MVP honours, Marner would be the centre of attention at any other time. But he has no complaints.
"[Matthews] is a great kid, well-mannered. He's not cocky at all," he said. "If you didn't know [what happened] you wouldn't know he'd gone first overall.
"When he steps on the ice, he's got the confidence [where] he knows what he can do with the puck. He's a great centreman, he's got great skill with the puck, [and] he's a big guy who can control the puck as well. He's a scary force on the ice when he gets going; I look forward to watching him grow."
While Matthews and Marner are under the spotlight as two of the Leafs' most highly-touted prospects, Director of Player Development Scott Pellerin insists this week is about the betterment of every skater.
"We're excited to be part of that development of [Matthews], no different than anyone else," he explained. "There's a little more attention being the first overall pick, but he's been part of the group [here].
"This is a great opportunity for all these players. We're treating everyone the same."
The jam-packed program started Sunday night with a meet-and-greet dinner, where prospects were filled in on expectations on and off the ice as part of the Maple Leafs organization. And it's a theme that will resonate with them over the next few days.
"For us, we want to make sure they understand how to work out, how to eat [well], how to deal with social media and the media so they can act professionally," Pellerin said. "Most of our [activities] are off the ice. This is just a teaching environment, that's what we're looking for from today.
"We're doing some skating analysis today, [then] we'll get down to Niagara and we have a real detailed program. It's all about learning. We're not comparing anyone [to anyone else], we're just getting video base points to analyze their skating and analyze every single player individually and get a real good teaching plan for the summer."
Prospects will split into two groups for on-ice sessions Tuesday, Wednesday and Thursday and then put what they've learned into action during scrimmages on Friday and Saturday. With the camp's emphasis set on learning how far each player has come and where they're headed, Matthews didn't let the significance of his first turn on Maple Leaf-emblazoned ice go unnoticed.
"Absolutely, it's a pretty special feeling. Just to put on that Maple Leafs sweater, it's pretty awesome," he said. "[Now I'm] just learning as much as possible, taking it all in.
"We have a lot of different seminars and meetings, [talking with] nutritionists, sleep doctors and [people] like that. [We all] want to learn as much as possible and do our best."
"This is July," Pellerin added. "We're not here to make any big statements, we just want to help them get ready for training camp, help them get ready for their seasons."