Alouettes re-sign veteran receiver Green to contract extension
S.J. Green is staying put. The veteran receiver has signed a contract extension with the Montreal Alouettes, who tweeted a picture of Green signing his deal prior to formally announcing it at a news conference Wednesday afternoon.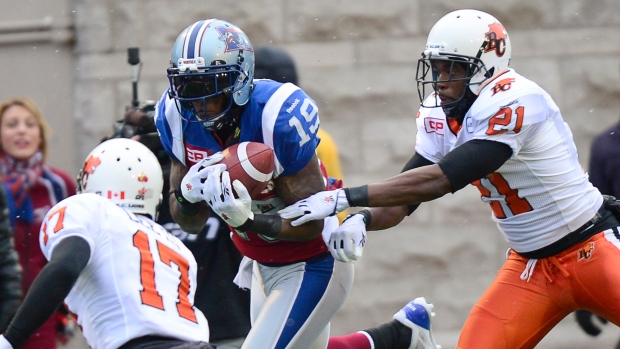 MONTREAL - S.J. Green won't be hitting the CFL open market.
The eight-year veteran receiver, who was slated to become a free agent Feb. 10, signed a three-year contract extension with the Montreal Alouettes on Wednesday. The deal allows Green, 29, to remain with the only CFL team he has known.
"I've been here eight years and it's been like a second home to me," Green said during a news conference. "One dream I always had growing up as a young boy was to be able to play professional football and to be able to play for one organization.
"Bob (Als owner Bob Wetenhall) and Jim (general manager Jim Popp) have given me an opportunity to fulfil a life-long dream and be a part of one organization my entire career."
Green's return was important to Montreal with receiver Duron Carter expected to sign soon with the NFL's Indianapolis Colts. Carter was the Alouettes' receiving leader last year with 75 catches for 1,030 yards and seven TDs while Green was next with 53 receptions for 835 yards and four TDs.
Green was certainly productive in the playoffs for Montreal. He had seven catches for 95 yards and a touchdown in the club's 50-17 home victory over the B.C. Lions in the East Division semifinal, then recorded six receptions for 126 yards and three TDs in a 40-24 road loss to the Hamilton Tiger-Cats in the conference final.
"Ultimately, it's all about winning Grey Cups and winning rings," said Green, a two-time Grey Cup champion with the Alouettes. "I want to help bring that ring back here to Montreal."
The expectation was Montreal would announce the signing of former NFL receiver Austin Collie on Wednesday following published reports Tuesday night that Collie had agreed to terms with the CFL club. But the 29-year-old Hamilton native, who has played for both Indianapolis and the New England Patriots, emphatically denied he was heading to the Alouettes.
"Don't believe wht u hear," Collie tweeted Wednesday. "The report of me plying for Montreal is completely false."
The 2014 season was a roller-coaster affair for the Alouettes. They began the campaign losing seven of their first eight games before going 8-2 the rest of the way to finish second in the East Division. The resounding turnaround earned head coach Tom Higgins a nomination for the league's coach-of-the-year award, which was ultimately won by John Hufnagel of the Grey Cup-champion Calgary Stampeders.
Green was a CFL all-star in 2013 when he had 83 receptions for 1,197 yards and 13 touchdowns. He has registered 368 catches for 5,518 yards and 38 TDs in 92 regular-season games with Montreal.
Green's signing continues what's been a busy off-season for Popp, who has re-signed 12 potential free agents including standout linebackers Chip Cox and Bear Woods and running back Tyrell Sutton. He also acquired veteran Fred Stamps from the Edmonton Eskimos for fellow international receiver Kenny Stafford on Jan. 16.
"Today obviously I'm a better football coach than I was yesterday," Higgins said. "It's just a good sign that players want to be back.
"We're looking forward to the season getting started."
Montreal still has six other players slated to become free agents next month, including defensive back Jerald Brown and cornerback Geoff Tisdale, both starters last season.
Club president Mark Weightman said the return of proven veterans like Green is important for the Alouettes to create a sense of continuity.
"(Gereen is) one of the most exciting players in this league . . . who gives us another example of consistency to allow us to build our franchise moving into 2015 and beyond," Weightman said.