Alouettes release star LB Woods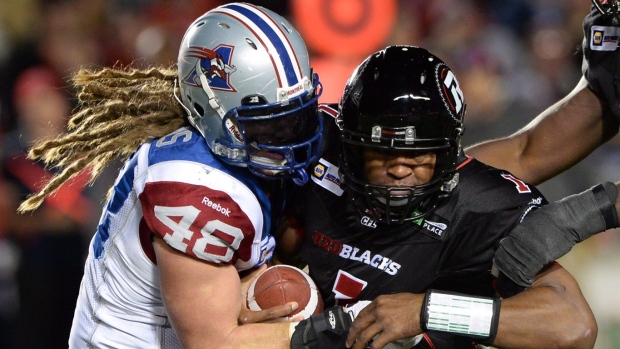 MONTREAL — The Montreal Alouettes have released all-star linebacker Bear Woods.
The 30-year-old was named the CFL East Division defensive player of the year for the second time in his career last season.
He had 126 defensive tackles and five sacks in 18 games.
In seven seasons with the Alouettes, Woods collected 232 defensive tackles, 15 sacks and three interceptions.
The six-foot, 245-pound linebacker was a two-time CFL all-star.
He became the latest stalwart from last year's defence to be let go by new general manager Kavis Reed, joining linebacker Winston Venable and tackle Alan-Michael Cash.
"We fell that this point and time that we have different options on our defence that will allow that unit to keep performing at a high level," Reed said in a statement.
TSN's Matthew Scianitti reports Woods was set to make $170,000 this season, of which the Alouettes had already paid $20,000.
Reed told TSN's Farhan Lalji that the team did not ask Woods to renegotiate and did have enough cap space to keep him. However, according to Reed, the team made a purely football decision to give younger players who they like a chance to earn more playing time.