Ames on a roll heading to season finale
Canadian hopes to finish his 2018 season in style at the Charles Schwab Cup Championship.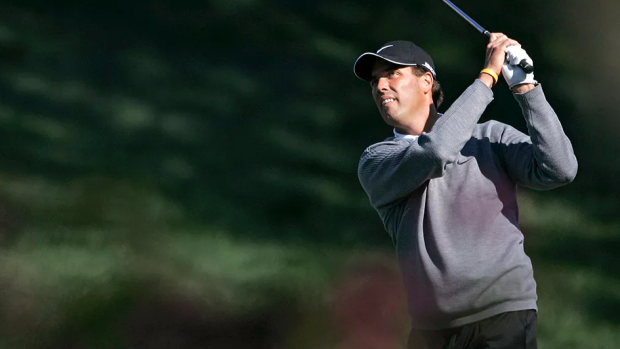 Stephen Ames is hoping he can finish out his 2018 season in style this week when he tees it up at the Charles Schwab Cup Championship.
Ames, 54, is the lone Canadian in the 36-player field for the PGA Tour Champions end-of-season event and he comes in riding a bit of a hot streak.
In the last two tournaments, both playoff events, he's been in the final group on Sunday. He posted a tie for 15th at the Dominion Energy Charity Classic and a tie for third at the Invesco QQQ Championship.
Those two finishes earned him just shy of 300,000 Charles Schwab Cup points and were good enough to move him from 42nd spot to 27th and put him into the lucrative season-ender for the 50-and-over gang.
Ames attributed the strong finish at the last tournament to a family connection.
"I was outside of the picture looking in last [tournament] and had to bring in my relief caddie, my son Ryan," stated Ames of his 19-year-old offspring. "He came out with me this year at Pebble Beach and we had such a good time together and I asked him is he'd like to do it again and he said, 'I'd love to' so he came out.
"He's been very positive with me on the bag and we had a lot of fun and it shows. My play was very good this last [tournament]."
Ames said that his son's cheery outlook and unyielding support for his dad went a long way towards his good play. That was needed at this point in the season, one that the Canadian golfer described as good but that could have been much better.
"It's been weak with the putter," he admitted. "My ball-striking has been very good, consistent enough to be there in the hunt. Overall I look at my short game and I had the wrong club in my bag, bounce-wise, for a while, but putting for sure has been my big downfall and the reason I'm not winning."
Ames has a single career victory on PGA Tour Champions, that coming a year ago at the Mitsubishi Electric Classic. He does have 21 top-10 finishes since joining the circuit, including a tie for third this year at The Senior Open played at the Old Course in St. Andrews.
Despite the wonky putter and the fact he feels he should have more wins on his resume, Ames is thoroughly enjoying his time playing with his peers.
"There's no reason for me to be angry about life right now," he said. "I'm playing golf for a living. We have a great bunch of guys that are out there on Tour right now. We have a wonderful 19th hole, a lot of the wives are out there with us and there's a great social aspect to the game when we're finished playing. The last three years has been a great time for me and I'm enjoying everything about golf."
Ames has more reasons to smile off the course too. He married his girlfriend, Kelly Norcott, in January and she travels with him to most events. Once the season is over, they'll pack up their Vancouver home and relocate to the Turks and Caicos where they purchased an ocean-front house.
With only a handful of the PGA Tour Champions events on the west coast, the rainy weather in the off-season in Vancouver not being conducive to practice, and the fact he's only home for 100 or so days a year, Ames decided to do what many Canadians do – become a snowbird.
This week is a big one for Ames and the rest of the field as they try to catch point leader Bernard Langer in the race for the Charles Schwab Cup. But no matter how it ends up, it's pretty clear that life is good right now for Ames.