Andersen feels 'ready to go' against Avs
Frederik Andersen says he feels ready to go ahead of Monday's matchup with the Colorado Avalanche, but it will ultimately come down to the medical staff and then head coach Mike Babcock, TSN's Kristen Shilton writes.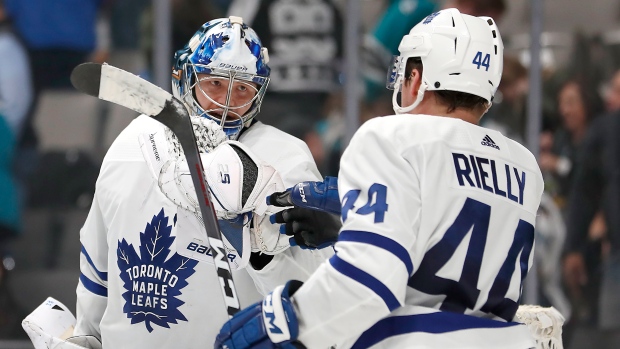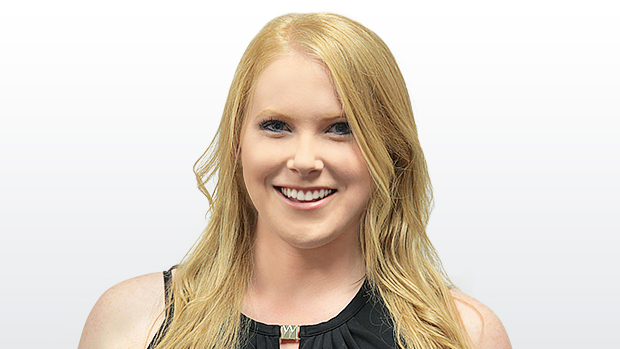 TORONTO – If it's up to Frederik Andersen, he will be back in the Maple Leafs' net on Monday night after missing the last two weeks with a groin injury, and then a bout with the flu.
The final decision isn't Andersen's, of course; that falls to Toronto's medical staff and then head coach Mike Babcock as to when he'll return. Babcock had no update Sunday on who will start Monday, but after missing his last six scheduled starts, Andersen is optimistic playing against the Colorado Avalanche is probable.
"I definitely feel ready to go. We'll see," Andersen said after the Leafs' practice on Sunday. "Got the little flu out of the way and I feel a lot better than the other two days."
Andersen had been having a terrific season before the groin problem cropped up, posting a 20-9-1 record with 2.50 goals-against average and .923 save percentage. The injury was a problem Andersen dealt with quietly before Christmas, hoping in vain some time off would help it heal before he was placed on Injured Reserve retroactive to Dec. 23.
Other than his summer breaks, this is now the longest stretch Andersen's gone without playing since 2014-15, when he missed three weeks for the Anaheim Ducks after a net fell on his head. Andersen told reporters last Wednesday he thought a return on Saturday against Boston was likely, but then illness struck, setting the netminder back again.
"[It's been] extremely hard," Andersen said. "Especially with the extra flu going around, that was very frustrating. It's been a process that's been new for me. I've been trying to just take it a day at a time. You just have to come to work every day and try to get the right amount of treatment and do the right work."
With the perfect storm of injury and illness converging, Andersen got a bit bashful when asked which, exactly, kept him from getting back in on Saturday.
"Not the best question to [answer]," he said. "I can't say for sure. I think I was close, but with the flu, there was no reason to start risking [things]."
Having never dealt with a groin injury before, Andersen didn't know what to expect from the recovery process but put his faith in the Leafs' training department to guide him. The 29-year-old was back participating in full practices by Jan. 5, plus he skated on his own and in morning skates between those sessions, but a groin issue has to be handled more slowly than other ailments given what the goalie position demands.
"I think it's just a confidence thing of being in different positions with my leg," Andersen said. "I think we covered a good amount of ground today. So it felt really good."
Also good for the Leafs was having both Andersen and his back-up Garret Sparks as full participants in Sunday's practice for the first time since late December. It was just days after Andersen went on the shelf that Sparks was concussed in practice by two shots off the mask from William Nylander. That left the Leafs in an unexpected lurch, but Michael Hutchinson has stepped in admirably to start Toronto's last five games, posting a 2-3-0 record.
Given Hutchinson is on an emergency recall from the American Hockey League's Toronto Marlies, if he were to start one more game for Toronto, he would need to clear waivers before re-joining the Marlies.
Barring another setback, it doesn't seem likely Hutchinson will see another start, though. Only Andersen and Sparks took part in the Leafs' regular practice on Sunday, with Hutchinson skating on his own afterwards, and Sparks said he has been "medically cleared to participate with the team," but it will be up to the coaching staff whether he's the back-up on Monday.
"Obviously it would be good to have everybody back, but that's part of life," Babcock assessed of his goaltending situation. "We have to find a way to play better and win games no matter who's in net."
Seeing Andersen between the pipes again could be the exact spark Toronto needs to get rolling. The Leafs have dropped four of their last six games going into Monday, and while goaltending hasn't been the root cause of their issues, Andersen is an emotional leader the Leafs take great confidence from.
And if Andersen does get that long-awaited call to action, his time away will ideally have been a re-set, allowing him to pick up right where he left off.
"I think once I get my energy back from this flu, I'm sure I'll feel really refreshed," he said. "Hopefully that's something that will benefit us. Just have to get back into it. There's really not much you can do other than working your hardest in practice and get back in games."