Andersen finally feels at home in Toronto
Maple Leafs goalie Frederik Andersen has learned a lot about himself during his first two seasons playing in the pressure-packed market, Kristen Shilton writes.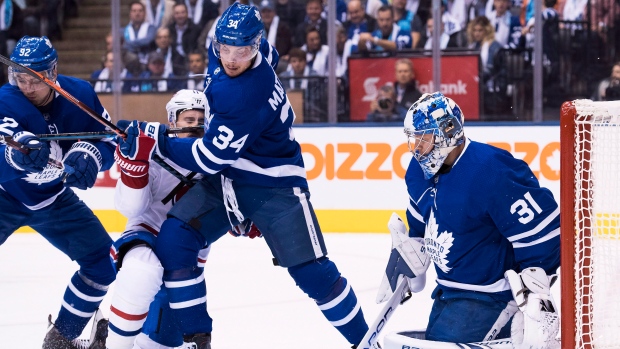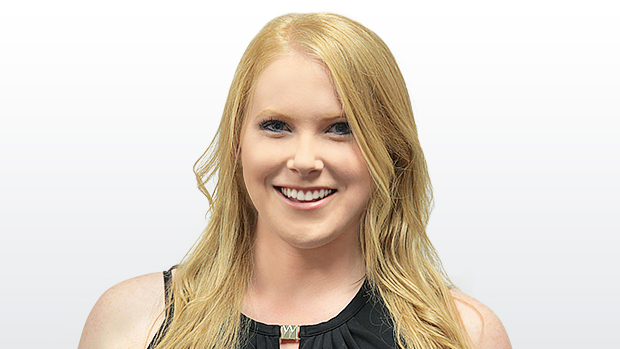 TORONTO – Early in his third season in net for the Maple Leafs, Frederik Andersen finally feels at home in Toronto.
Initially, the organization and pressures of playing in the city were a stark contrast to small-market Anaheim, where Andersen played for three seasons before being traded to the Leafs in June 2016.
His struggles over the last two seasons, specifically with slow starts, have encouraged heated debate at times over whether Toronto can count on Andersen to deliver. Those conversations have been impossible for Andersen to ignore, but haven't impacted the comfort he exudes going into this season.
"I've had [that] a couple times in Toronto where I had to push through ups and downs," Andersen said after practice at MasterCard Centre on Friday. "It might seem like the darkest days of your life; you're just trying to find a way to push through it. I feel better for it now. Every year I feel I have to battle for a spot, but you learn something more about yourself each time."
Personal growth has played a major role in Andersen's evolution with Toronto, where he's tried to keep reinventing himself.
Year one was toughest, starting with relentless criticism over Andersen's disappointing 2-2-3 record in October and the adjustments that came with a heavy 66-start workload. Andersen finished the 2016-17 season fine, going 33-16-14 with a .918 save percentage.
Andersen was considerably slimmer when he arrived for his second season with the Leafs, but still started with a 6-5-0 record in October. It was slowly but surely from there that he began to blossom in another 66-start season, to the point Andersen set a new franchise record for wins with 38.
Then Toronto was bounced from the first round of the Eastern Conference playoffs, a defeat at the hands of the Boston Bruins that spurred Andersen towards a different approach to his third campaign. He and his California-based trainer Scot Prohaska, with whom Andersen has worked since his early days with the Ducks, prioritized general wellness over specific body goals set in the past, which allowed Andersen to zero in on upping his game.
"I've been having a really good feeling throughout camp and into the first game," Andersen said. "I was trying to come in with a better feel [overall] instead of trying to be too lean or too strong. I'm just focused on moving well, being agile, and thinking about having that game-ready intensity early. You really need to push yourself out of a comfort level [in training], and I've taken it to another level this year and pushed the envelope a little more."
In Toronto's regular-season opener, Andersen's hard work was on full display. The Montreal Canadiens kept tight pressure on the Leafs all night but Andersen had the answers to keep Toronto alive.
Andersen's 34-save performance was critical to the Leafs' earning their first victory of the season, but it's too a small sample size for head coach Mike Babcock to assess his goaltender on. Where Andersen has made a clear impression on Babcock is in his demeanour.
"His confidence has grown over the time he's been here," said Babcock. "He's worked harder. Just by going through the process you get tougher, you get mentally hardened, and therefore, he has a chance to become a better goalie. Over a period of time you get to know your goalie pretty good and so you can eliminate what doesn't work for him."
In the Leafs' case, that's meant trying to tighten up defensively and not allow as many of the quality chances that usually beat Andersen, who's been striving for more efficiency in his movements to limit how much he chases the puck.
A pillar of support in Andersen's journey with the Leafs so far had been his backup and good friend Curtis McElhinney, but that partnership came to a sudden, screeching halt on the eve of the new season.
Toronto chose Garret Sparks over McElhinney as their second goaltender this season, and McElhinney was subsequently claimed off waivers by the Carolina Hurricanes.
The team's decision to part with McElhinney was tough for Andersen to swallow, but the veteran left a lasting impression.
"It's impressive to be able to stay so even-keeled and to be a cheerleader for your goalie partner like that," Andersen said. "That's something you can learn a lot from; it's harder than you think. When something is good, you don't want change, but it's a new challenge and I'm looking forward to working with Garret too."
Babcock hasn't said explicitly how Toronto's goalies will share the net in 2018-19, and Andersen isn't focused on a certain number of starts. With expectations high for the Leafs this season, the spotlight will burn brightly on Andersen again and he's ready to take it in.
"I'm more comfortable, feels like everyone is being embraced by the city," he said. "Now it's just a matter of keeping that [championship] goal but more short-term and not get ahead of ourselves. That's another thing I've been trying to think about, to make sure I focus on that each and every day."