Babcock on Andersen: 'Didn't seem like much'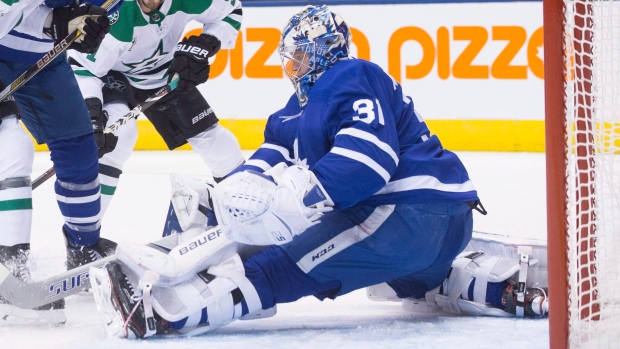 Toronto Maple Leafs goaltender Frederik Andersen left Wednesday night's game against the Dallas Stars with an upper-body injury and did not return.
He was replaced by backup Curtis McElhinney following his second period departure.
After the game, head coach Mike Babcock said he believes the injury came from a first period collision with Alexander Radulov when he fell on the Leafs' goaltender.
"It sure didn't seem like much," Babcock said regarding the injury and added that he wasn't sure if Andersen will travel with the team to Buffalo for their Thursday matchup with the Sabres. He said McElhinney will start Thursday as originally planned.
According to TSN's Kristen Shilton, the Leafs plan to recall Garret Sparks to have him back up McElhinney in Buffalo.
Andersen stopped 17 of 20 shots against the Stars before leaving the game. McElhinney stopped 13 shots the rest of the way to help the Leafs to a 6-5 win in the shootout on a winner from Mitch Marner.
In 57 games so far this season coming into play Wednesday, Andersen has a GAA of 2.76 and a save percentage of .919.