Andersen solid in Leafs debut vs. Sens
Tuesday was a night of firsts for the Toronto Maple Leafs. For most of the team, it was their first NHL game in Saskatchewan. For Frederik Andersen and Trevor Moore, it was their first game in a Maple Leafs sweater, period.
Kristen Shilton, TSN.ca Maple Leafs reporter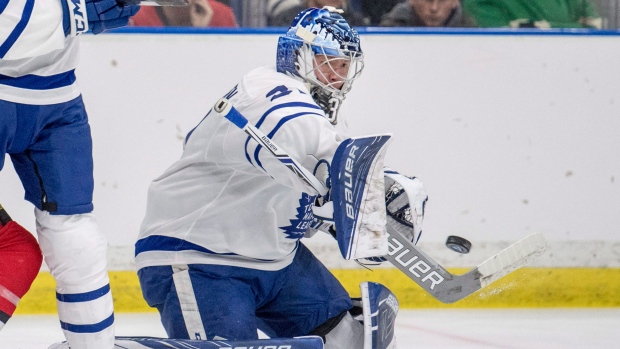 Tuesday was a night of firsts for the Toronto Maple Leafs. For most of the team, it was their first NHL game in Saskatchewan. For Frederik Andersen and Trevor Moore, it was their first game in a Maple Leafs sweater, period.
After saying last week the patience he and the team had taken in rehabbing his shoulder injury was paying off, Andersen made his preseason debut at last in Saskatoon against the Ottawa Senators. His career record against the Sens was a pristine 3-0 going into the tilt, but as he will quickly learn, the Battle of Ontario is as heated a rivalry as any in the sport. In a game where the Leafs took it to the Senators for much of the second and third periods, they ultimately fell 3-2 in overtime.
It has been the pattern for Toronto that each netminder in the preseason play only half a game, but head coach Mike Babcock allowed Andersen to play the first two periods through to the end before Antoine Bibeau took over.
Despite an early scare for Andersen, where he nearly kicked a puck coming off the end boards into his net, the goaltender had a solid debut. Derick Brassard opened the scoring for Ottawa in the first period on a shot Andersen didn't have much chance to stop, redirecting an Erik Karlsson point blast into the mesh. Beyond that, Andersen was superb. He stopped 12 of 13 shots on the night and didn't look hampered by any lingering pain.
The other Maple Leaf making his debut was the big surprise when the lineup was announced. Moore came to Toronto's development camp in July as a college free agent invitee from the University of Denver, where he had been a point-per-game producer for three seasons. His strong play earned him an entry-level contract with Toronto in July. Regina-native Tyler Bozak (another U. of Denver product) had been expected to make the trip out west, but for an undisclosed reason he didn't travel and Moore got his shot at a first NHL game.
By the second period, Moore was showing some excellent speed working along the boards and forcing turnovers. Not a big player (5-foot-10, 175 pounds), Moore was still throwing his body around to create space. As Toronto's offence came alive, Moore didn't hesitate to put pucks on net and chase up the play looking for more. For much of the game, Moore didn't look totally out of place against NHL-calibre opponents. His most glaring error didn't come until late in the third period, when a turnover to Brassard in front of the Leafs net led to a Matt Puempel goal.
A penalty to defenceman Jake Gardiner near the end of the third period put Toronto on the penalty kill, right into a 4-on-3 overtime where Bobby Ryan secured the victory for Ottawa 21 seconds in. But to see Andersen play well and play uninhibited with eight days to go until Toronto opens the regular season - at Ottawa - gives Toronto peace of mind about where the club is at overall.

Takeaways
- As has been the trend for Toronto in the preseason, they started slowly and found their game especially in the second and third periods. The Maple Leafs started the second frame outshooting Ottawa 8-1 in the first half, and 10-0 through the first half of the third.
- Zach Hyman had a strong game for Toronto. He plays so well down low and has a knack for creating something from nothing, getting pucks to the net and trying to capitalize. Babcock has praised Hyman as a "worker" and he shows it repeatedly by never quitting on the play.
- In his second preseason game, Auston Matthews found a groove more quickly than he did on Sunday, although it didn't translate to points. The competition was more of what he'll face at an NHL level too. Matthews' ability to stick-handle through traffic and get a shot off creates secondary chances for his line mates was on full display. It was also his first extended opportunity to play with Mitch Marner on his wing. Matthews and Marner have developed a friendship off the ice since development camp in early summer and their burgeoning chemistry is clear. They have a good sense of where the other is on the ice.
- On a Professional Tryout with the Maple Leafs, Brandon Prust had his best showing on Tuesday. Less than two minutes into the game he dropped the gloves with Chris Neil, setting a tone for the night. Later he picked up an assist on Kasperi Kapanen's second period score. Prust's skill set may not fit in Toronto's lineup, but he's making the most of his chance to show he can still play.
- After going 0-for-9 on the power play on Sunday against Montreal, the Leafs looked better with the extra man on Tuesday but were still playing too cute. Getting one-timers to the net and jumping on second and third opportunities are key and there was some progress on that front as the club went 0-for-4 on the night. With young players like Matthews and Marner on the power play, who are still learning the NHL game, these units should come along throughout the season.
- Former Maple Leafs captain Dion Phaneuf, traded to the Senators in February, began receiving a chorus of boos whenever he touched the puck in the second period. There was no clear reason why, and it was technically an Ottawa home game, but at a neutral site, anything apparently goes.