Anderson wants to retire a Senator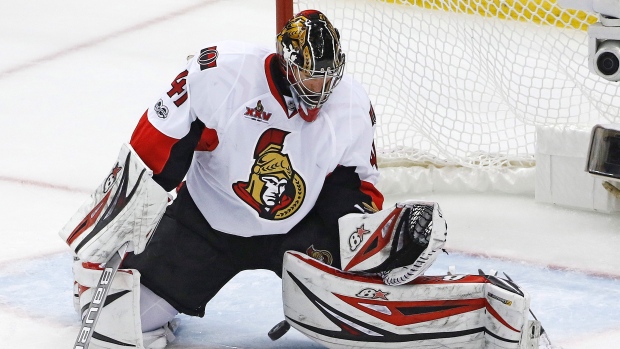 Craig Anderson is entering a contract year in Ottawa and, while he insists his focus is on the season, he adds his future is with the Senators.
Anderson, 36, is set to begin his seventh season with the Senators since being acquired during the 2010-11 season from the Colorado Avalanche for Brian Elliott.
He told the Ottawa Citizen on Monday he will allow his agents to focus on his next contract while he concentrates on his performance on the ice.
"As far as I'm concerned I have a season left to worry about and play hockey for," Anderson said. "I leave all that other stuff — the extra curriculars — for the agents and managers. For me it's staying focused with the group of guys. The object at hand is to play out the season I have left on it, and just focus my energy towards that."
He was then asked by the Citizen if he wanted to finish his career in Ottawa.
"One hundred per cent," Anderson responded. "I think going back to when I came here seven, eight years ago, it's one of those things where Ottawa has been a home for me since I got here. Welcomed me with open arms. I've set some pretty good roots here, as far as just getting used to the town, getting used to the fans and really enjoying my time here.
"It's something that I enjoy playing for the city and for the Ottawa Senators."
Anderson carries a cap hit of $4.2 million this season, though his salary sits at $3.1 million, according to CapFriendly. He posted a 25-11-4 record last season with a 2.28 goals-against average and a .926 save percentage despite taking significant time away from the team as his wife, Nicole, battled cancer. He was awarded the Bill Masterton Memorial Trophy at the NHL Awards.
He made 19 starts in the postseason as the Senators reached Game 7 of the Eastern Conference Final, recording a 2.34 goals-against average and a .922 save percentage.
Senators general manager Pierre Dorion said Monday that Anderson became a No. 1 goalie late in his career and therefore, he believes, has "a lot of years left in him." Dorion said the team will definitely look into signing the netminder to an extension.
Anderson, who owns 479 career starts, made his NHL debut with the Chicago Blackhawks during the 2002-03 season.