Archer pitches into ninth inning as Rays beat Tigers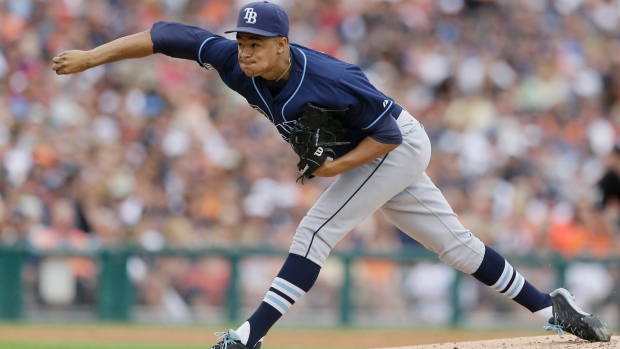 DETROIT - Chris Archer is making a concerted effort to become a better fielder on the mound, working with strength coach Kevin Barr on drills that can help him improve.
"Moving my feet and fielding groundballs, and he stands like 10 feet away," Archer said. "He's throwing them pretty hard, so I'm prepared for it."
Archer's efforts paid off Saturday, when he made two terrific defensive plays as part of the Tampa Bay Rays' 7-2 victory over the Detroit Tigers. In the sixth inning, he snagged a comebacker by J.D. Martinez and threw to first for the out, and in the eighth, Archer fell to the ground while backhanding Austin Jackson's line drive up the middle.
"That ball hit him right in the glove. That was Jackson, I believe," Rays manager Joe Maddon said. "He has no idea how he caught that. That's a play when the ball catches you."
The Rays broke the game open with three runs in the fifth inning and four in the sixth, and the Tigers never mounted much of a rally against Archer (5-5). The 25-year-old right-hander allowed solo homers to Alex Avila in the seventh and Martinez in the ninth.
Archer called it his best performance of the season. Maddon finally pulled him with two on and one out in the ninth after 106 pitches. He allowed six hits, walked four and struck out four, falling just short of his third career complete game.
"There was 25 outs that I did get, and those are the ones that I'm going to focus on," Archer said.
Anibal Sanchez (5-3) took a no-hitter into the fifth, but things unraveled quickly for the Detroit right-hander. He allowed seven runs and six hits in 5 2-3 innings, with four walks and a strikeout.
"I don't know when everything changed," Sanchez said. "I know we had a pretty good game plan going for four innings."
Logan Forsythe homered for Tampa Bay.
Kevin Kiermaier had three hits for Tampa Bay, including triples in the fifth and sixth. The Rays have won seven of eight.
The Tigers were without designated hitter Victor Martinez, who left Friday night's game because of back irritation.
Sanchez didn't allow a hit until Forsythe's drive carried over the fence in left-centre field with one out in the fifth. The Rays poured it on after that.
After a walk to Ryan Hanigan, Kiermaier's drive bounced off the wall and past J.D. Martinez in right, enabling Hanigan to score. With the infield in, Desmond Jennings lined a single to make it 3-0.
"I really like the way we're swinging the bats right now," Kiermaier said. "Everyone's doing their part, and we're all staying positive and we're having so much fun out there on the field."
Matt Joyce and Evan Longoria singled to start the sixth, and after a walk to James Loney loaded the bases, Brandon Guyer brought another run home with a sacrifice fly. Forsythe's RBI single made it 5-0, and Kiermaier's two-out, two-run triple off reliever Phil Coke capped the rally.
Kiermaier came into the game in an 0-for-15 slump.
"The thing I love about him is if he has a somewhat bad day at the plate, it never carries to the next day," Maddon said. "He doesn't carry an at-bat to the other at-bat. It's all a new experience. Every time he goes up there, it's a new experience for him."
Sanchez, the American League ERA champion last season, had gone 32 starts without allowing more than four earned runs.
Archer allowed a homer, a single and a walk in the ninth, so Maddon brought in Grant Balfour, who struck out the final two batters in a non-save situation.
NOTES: Detroit reliever Patrick McCoy left the game in the ninth with a right hamstring strain. ... Detroit RHP Rick Porcello (11-4) faces Tampa Bay ace David Price (7-7) on Sunday night.