Archer: Protest wouldn't be 'best thing to do for me'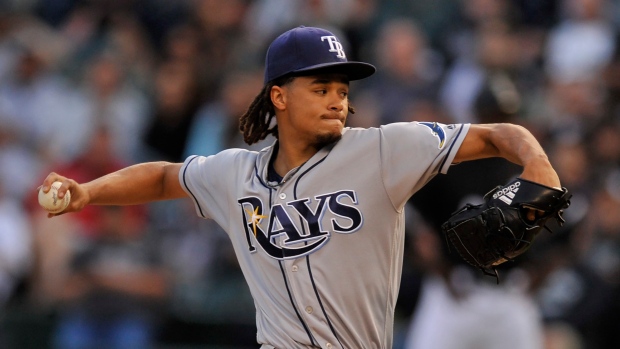 Tampa Bay Rays starter Chris Archer admitted on Sunday that his locker room wouldn't be ready for him to take a stand by kneeling for the national anthem like Oakland Athletics catcher Bruce Maxwell did on Saturday and Sunday.
"From the feedback that I've gotten from my teammates, I don't think it would be the best thing to do for me, at this time," Archer said on Sunday, after his team's 9-4 loss to the Baltimore Orioles. "I agree with the message. I believe in equality."
There were only 62 African-American players on Major League Baseball opening day rosters this season.
"I don't want to offend anybody," Archer continued. "No matter how you explain it or justify it, some people just can't get past the military element of it and it's not something I want to do, is ruffle my teammates' feathers on my personal views that have nothing to do with baseball."
Maxwell's father served in the armed forces and the catcher became the first MLB player to participate in the protest of police brutality against African-Americans that has spread league-wide through the National Football League and National Basketball Association. Archer believes that because baseball is a predominantly white sport, it has taken time for the protests to catch on there.
"It did take a while in baseball, I think mainly because the other sports that do that are predominantly black," Archer said. "Our sport isn't, so I think the criticism might be a little more harsh. It took somebody really special that had a unique background to take that leap. The way [Maxwell] went about it was totally, I think, as respectful as possible, just letting everybody know that this doesn't have anything to do with the military, first and foremost, noting that he has family members that are in the military. It's a little bit tougher for baseball players to make that leap, but I think he was the right person to do it."
Still, Archer hopes that the protests can elicit positive change.
"Hopefully, we can just have change going forward," Archer said. "We've been talking about it enough, but just a change of peoples' outlook on other people and human rights hopefully happens from this. People that are high-ranking in our government have issues with what we're doing and have issues with certain people. And I think it just kind of sends a message that if it's done tastefully, for the baseball situation, you couldn't have done it any better."