Argos' Ray throwing, hopes to start Saturday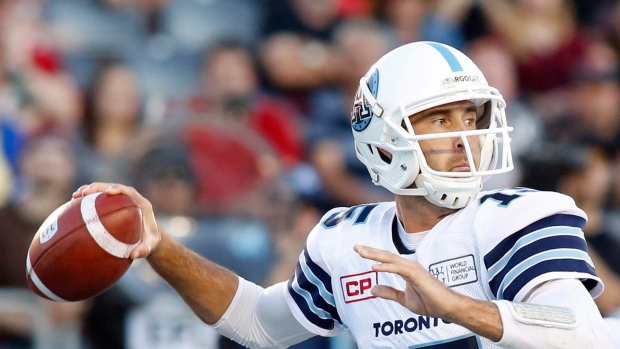 Toronto Argonauts quarterback Ricky Ray threw and took all reps Tuesday in practice according to TSN's Dave Naylor. He hopes to start Saturday but said it will depend how his shoulder responds to Tuesday.
Ray said he felt no pain but some soreness. He threw roughly 25 times compared to in the neighbourhood of 100 for a normal practice.
The 37-year-old was injured during the Argos' 41-24 loss against the Calgary Stampeders after being hit in the shoulder and driven to the ground. Ray was removed from the game and appeared to have trouble throwing on the sidelines. He missed last week's game against the Montreal Alouettes.
Both Cody Fajardo and Jeff Mathews have been filling in for Ray.
The Argonauts sit at 3-5 having lost three in a row and will take on the Alouettes (3-4) again in Week 9. The game gets underway Saturday at 4:00 p.m. ET from BMO Field.