As promised, Lowry came ready to play in Raptors' opener
On opening night in which several Toronto Raptors stood out – including Kawhi Leonard, the team's incoming superstar – four-time all-star Kyle Lowry was the best player on the court and remains the heartbeat of the team, TSN Raptors Reporter Josh Lewenberg writes.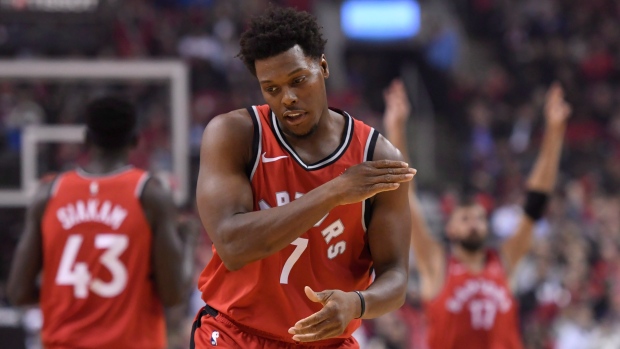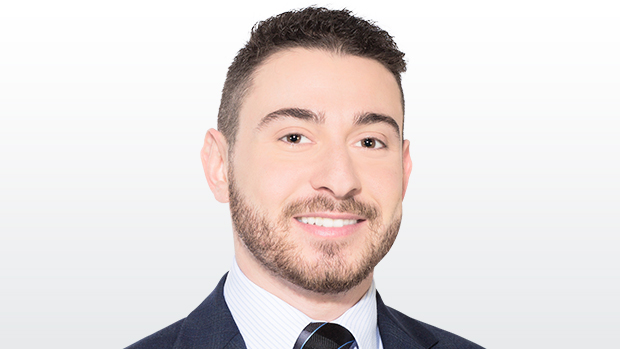 TORONTO – It had been a long time since Kyle Lowry and DeMar DeRozan opened a new season on different teams. Seven years, to be exact – an eternity in the NBA.
They've had months to prepare for it and come to terms with the new reality. DeRozan is a San Antonio Spur. Lowry, still a Toronto Raptor. But on Wednesday night that reality truly felt real.
There they were, best friends and now former teammates, getting set to tip off the 2018-19 campaign wearing different uniforms, in different buildings, over 1,400 miles away.
In Texas, DeRozan made a strong first impression, leading his new club to a 112-108 win over Minnesota. It was a vintage DeRozan performance. His first bucket as a Spur was a pull-up jumper from 13-feet out. He played 38 minutes, attempted 21 shots and 11 free throws, and scored 28 points. Spurs fans can expect a lot of those nights.
In Toronto, a few hours earlier, Lowry was getting set to take the court ahead of the Raptors' season opener against Cleveland. The old handshake routine he used to do with DeRozan in the tunnel, just outside of the home locker room in the building formerly known as the Air Canada Centre, well, he still did it, and in the exact same spot, but without anybody on the other end.
Three hours or so later, following his team's decisive 116-104 victory over the Cavs, Lowry sat at his locker watching the end of the Spurs game on his phone, volume full blast for all to hear. The locker next to his, which used to belong to DeRozan, is now an empty stall – a nice, albeit solemn, gesture by the organization.
DeRozan was traded to the Spurs in July – a deal that also sent Jakob Poeltl to San Antonio, along with a protected first-round pick, in exchange for Kawhi Leonard and Danny Green. It's no secret that after nine seasons in Toronto DeRozan was not happy about being dealt, or with the way the trade went down. Lowry didn't take it much better.
"My best friend, our relationship is bigger than basketball," he had said prior to the start of training camp last month. "That's still my boy. At the end of the day, I'm coming here to work. I've done that every year since I've been here."
Regardless of what happened over the summer, regardless of his pre-season shooting woes (he hit just 32 per cent of his shots), and regardless of his short fuse in exhibition (he was called for three technical fouls in three games), Lowry continued to insist that he would be ready to go when the lights came on.
A four-time all-star and the catalyst of the most successful run in Raptors franchise history, Lowry has earned the benefit of the doubt. He said he would be ready, and on Wednesday he was.
On a night in which several Raptors stood out – including Leonard, the team's incoming superstar – Lowry was the best player on the court. He scored a game-high 27 points in 36 minutes, and he needed just 12 shots to do it. He only missed two of his field goal attempts and one of his six threes. He had eight assists, including the one that set Leonard up in transition for his first bucket as a Raptor. He took his first charge of the season, after leading the league in that category last year, and then nearly took another. He was brilliant.
"He's been really good in his effort and his leadership and his working," head coach Nick Nurse said after the game. "I just think that a lot of these veterans guys, they can't quite get their motor going enough to the level it needs to in the pre-season after 10 or 12 years. But he's worked really hard, he's practised really well, and he was just waiting for the lights to come on."
Lowry set the tone with his energy and willingness to make the extra pass, both of which seemed contagious, especially in the second quarter. There were moments in which Toronto's offence looked like a work in a progress, as you might expect on opening night, but they showed a glimpse of how dynamic they can become on that end in the final minutes of the first half.
On one possession Lowry found the rolling Jonas Valanciunas, who shuffled a pass to Pascal Siakam for an open dunk. Minutes later, Lowry took a pass from Leonard on the elbow, swung it to Fred VanVleet, who found OG Anunoby in the corner, Anunoby dumped it down to Valanciunas, who made a new-look pass back to the cutting Anunoby for the jam. All five Raptors touched –and passed – the ball on the play. Lowry didn't get credited with an assist on either possession, though he was integral to them both.
He closed the first half the same way he opened it – blowing past a Cavaliers defender for the layup. That capped off the 24-11 run that blew the game open, and the Raptors never looked back from there.
Lowry didn't have much to say after the game. He hasn't spoken to the media much since the trade, seeming intent to let his play do the talking for him.
Of course, he won't shoot 10-for-12 every night. The jumper will run hot and cold throughout the course of a long season. After all, he's a high volume shooter and the three is a high variant shot. Still, given how Lowry plays and all the other things he brings to the table, he provides far more value than his shooting, or even scoring numbers indicate. That hasn't changed.
With so much of the focus on what's different about this Raptors team, Lowry is the constant. He's no longer sharing the spotlight with DeRozan. Now he's on the edge of it, with the bright lights fixated on Leonard. After years of being Toronto's best player, or at minimum its 1b, that may take some getting used to. However, Lowry is just as important to this team and its trajectory as he's ever been. Amidst all the change, he's still the engine. He's still the heartbeat.