Askren: I'm the guy GSP must fight to grow his legacy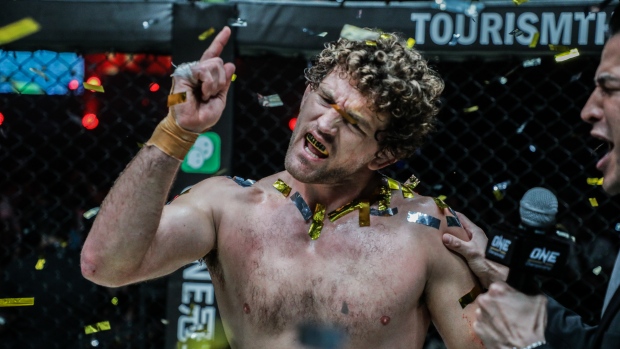 If a survey of active mixed martial artists was conducted to determine the sport's all-time top welterweights, it's safe to say Ben Askren would be on that list.
The recently retired Askren was 153-7 as an amateur wrestler, a four-time All-American, a winner of two consecutive NCAA championships, an Olympian and an 18-0 undefeated mixed martial artist.
In an interview with Ariel Helwani on The MMA Hour, Georges St-Pierre called Askren a top-3 welterweight. When you consider that category includes St-Pierre himself, UFC champion Tyron Woodley (a teammate of Askren) and Rory MacDonald (a teammate of St-Pierre), that is the highest of high praise.
When Askren competed in Bellator MMA, he held their welterweight championship for more than three years until he was released from the organization at his request. During that reign, he defeated former champion Douglas Lima in dominant fashion, sweeping the scorecards with 50-45 across the board.
By comparison, albeit nearly six years later, MacDonald recently won the welterweight championship from Lima in far less dominant fashion.
However, Askren never did get a chance in the UFC because of what he feels were underhanded negotiating tactics by the organization, and he has taken many opportunities over the years to publicly insult UFC president Dana White.
Askren's most recent fight was a 57-second win over Shinya Aoki – considered to be one of the best grapplers outside of the UFC – in One Championship, an Asian-based mixed martial arts organization that puts an emphasis on promoting in the region. He then retired from the sport with the caveat that he would consider returning to MMA competition if he gets an opportunity to face St-Pierre, who Askren regards as the best in the world.
"No, I made a statement. I said I'm retiring unless one condition is met and that's that I get to fight the best guy in the world and I'm not going to back down from that statement," Askren told The TSN MMA Show when asked if he would come out of retirement for any other reason.
"If that never comes, I had a great career, I'm happy in retirement doing what I'm doing now. And so, no, I'm not going to back down on that, I'm not going to change or cater to whatever anybody else wants."
While UFC colour commentator Joe Rogan, a close friend of White, has said that he would try to broker a deal, Askren said that the UFC has had no contact with him, and he doesn't think they plan on contacting him, so it's unlikely that he will fight in the UFC.
"Why would I beg for forgiveness? I didn't do anything wrong. I very clearly outlined on the Joe Rogan show how underhanded they were, how sneaky they were and so I don't have anything to apologize for," said Askren. "I don't even know what I would apologize for because there's nothing to apologize for."
In the interview with Helwani, St-Pierre said that fighting Askren would have been an intriguing bout for him had Askren fought in the UFC previously and more people knew who he was. Askren attributes the lack of recognition to mixed martial arts fans believing that the best talent competes in the UFC.
"I've said this over and over and over again – people give UFC fighters way too much credit and they always put other fighters down. And if you look throughout the course of history, whether it was the WEC fighters that came in, the Strikeforce fighters that came in, wherever there's been a league (that's) merged with the UFC, everyone views the other league as substandard," said Askren.
"Let's take Strikeforce, for example. Strikeforce fighters were viewed as next tier to UFC, but look how many of them won UFC titles. And we're not talking about five years, we're talking about short order. Miesha won one, Ronda won one, Tyron won one, Luke Rockhold won it, Fabricio Werdum won it, Daniel Cormier won it – so almost all of the upper weights and Strikeforce didn't contend the lower weight; almost all of the upper weights were champions within short order (who) came from Strikeforce. So this notion that the best guys fight in the UFC – it's not totally true. Maybe they have the highest number of really high-level guys, but the fact that their guys are just better in the UFC has been proven to be totally false over history."
During the interview with Helwani, St-Pierre was asked about fighting lightweight champion Conor McGregor. He said that while it would be a lucrative proposition, he felt it would not enhance his legacy.
"He's contradicting himself and when you say something like 'I only care about my legacy.' GSP has made many, many millions and if he's been smart and saved them, a few more millions ain't going to help him that much," said Askren.
"That's what most athletes have to realize and I didn't make nearly as much money as GSP, but I realize from my early days growing up and I've said this many times now, most athletes stay too long and most athletes spend too much money. For GSP, if he wants to say it's all about his legacy, I'm the guy he has to fight if he wants to grow that legacy because I'm the person (that) people are pointing at and saying that is the guy that can beat GSP."
While Askren refers to St-Pierre as the best in the world, he does not want to diminish the accomplishments of Woodley, his wrestling teammate at the University of Missouri and MMA teammate at Roufosport in Milwaukee.
"I always say to people, if Tyron is '1,' I think GSP is '1a.' I don't think people would put GSP below Tyron, I think it would be more of a parallel drawn at this point in time and I think Tyron thinks he would beat GSP also. And if he gets that opportunity, I would be happy for him," said Askren.
Despite St-Pierre appearing to be somewhat disinterested in the idea of fighting Askren until he first gets some UFC experience, Askren does not rule it out for the future.
"I don't think the ship has sailed at all. I think there's a few more bridges that we may need to cross to make it happen, but obviously in that interview Georges showed a high level of respect for me and he said that not enough people know who I am or whatever," said Askren. "I think in due time situations can change and maybe that's a fight that we both can make happen"
Askren did not wish to elaborate on which bridges needed to be crossed or what situations needed to change, but he feels that a fight with St-Pierre would grow St-Pierre's legacy.
"Frankly, the way GSP is, I figure the guy's made enough money, the guy's had enough fame, at some point. And I've made a lot less money than GSP, I've had a lot less fame than GSP and at this point in my career, I'm saying I only want to fight the best people because I want to test myself," said Askren. "I wish GSP would think the same thing and I thought he was a great sportsman, so for him with as much money and as much fame as he has, getting more money and getting more fame should become fairly irrelevant in your life."
If Askren never gets the fight with St-Pierre, he said he remains satisfied with his career and semi-retirement. He runs three Askren Wrestling Academy locations with his brother, Max, and is reportedly being considered as the head wrestling coach of the Wisconsin Badgers following the recent resignation of Barry Davis, who had held the position for 25 years.
"When you have enough money, you can kind of just say, I would like to do things because I would like to do them, not because I'm driven strictly by making a couple more zeros."