Atkins aims to bolster Blue Jays' pitching depth
Toronto general manager open to using trades or free agency to add arms to his strong group of position players, Scott Mitchell writes.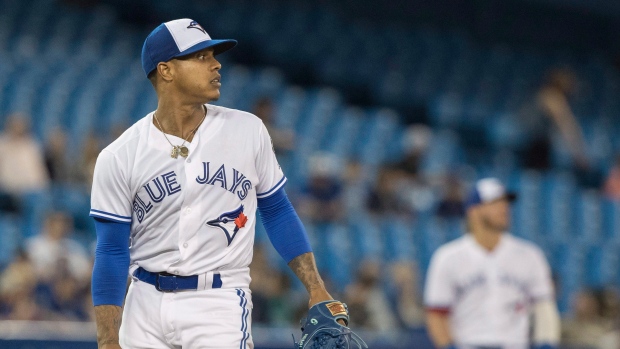 CARLSBAD, Calif. — Pitching, pitching, and pitching. And then more pitching.
It's a priority that Toronto Blue Jays general manager Ross Atkins does not shy away from openly stating.
With a strong group of position players highlighted by Vladimir Guerrero Jr. bubbling to the top of the minor-league system and a number of names like catcher Danny Jansen and infielder Lourdes Gurriel Jr. already arrived in the majors, the focus this winter is building pitching depth around them.
How that task is completed remains to be seen, but Atkins is open to doing it via a calculated mix of trades and free agency, a process that began when the 45-year-old and his team of decision-makers arrived at the Omni La Costa Resort & Spa about 50 kilometres north of San Diego for the annual MLB GM meetings.
Before the Jays go spending, like most teams this week, they're investigating possible trade matches.
But pitching is the complete focus.
"It could be in free agency, it could be via trade," Atkins said. "Any way we can possibly get more depth for our pitching will really set us up to complement that young position player core well.
"Whether that ends up being one or two major-league starters or one or two major-league relievers, we'll see. Really, we have the flexibility to do it in free agency and time will tell, but, I think, we also want to understand what opportunities we have via trade, as well, before we're aggressive there."
There's a surplus of infielders on hand.
One player who could draw interest is shortstop Aledmys Diaz, who was worth 1.6 WAR in only 130 games last year, hitting 18 home runs and posting a league-average 102 wRC+.
There's also Brandon Drury, Devon Travis and Yangervis Solarte, whose $5.5 million option was declined last week but remains on the roster as the non-tender deadline approaches Nov. 30.
An outfielder or two could be shipped out, as well.
Kevin Pillar, Teoscar Hernandez, Randal Grichuk, Billy McKinney … take your pick.
It's debatable as to the return any of the aforementioned pieces would bring back, but kicking in some money, in some cases, or packaging a prospect into a deal can change things in a hurry.
There are no untouchables on this roster, and while the possibility of trading Marcus Stroman or Aaron Sanchez seems remote based on the circumstances, Atkins will be listening if teams call.
Even though they're coming off down years – two in a row in the case of Sanchez – if a team were to offer value that aligns with a realistic healthy ceiling for either of the two right-handers, the Jays won't be hanging up the phone, closing the hotel room door or getting up from the dinner table.
"We can't close off opportunity," Atkins said when asked specifically about Stroman, Sanchez and Justin Smoak, whose $8 million deal for 2019 is quite palatable for a contender in need of some cold corner pop. "If there is one, if something is presented to us that makes some sense, we'll have to consider it. But it's not what we're spending our energy on."
At first glance, trading Stroman or Sanchez doesn't help satisfy the need for more pitching, of course, but they could bring multiple arms back, MLB-ready or otherwise.
If spring training were to start today, the rotation would be made up of Stroman, Sanchez and Ryan Borucki, with names like Sean Reid-Foley, Thomas Pannone, Sam Gaviglio, and a host of unproven arms battling for spots.
Ideally, two veteran starters would be added, allowing Reid-Foley and Pannone to start in Triple-A.
In the bullpen, it's Ken Giles, Ryan Tepera, lefty Tim Mayza, and then not much else when it comes to proven or even semi-proven arms, unless you're counting a Joe Biagini turnaround.
That area of the roster is likely to be rebuilt the same way it has been the past two seasons, with low-cost veterans on short-term deals.
With teams becoming more and more hesitant to shell out big dollars in free agency for players who will provide little surplus value and are usually on the wrong side of the aging curve, creative trades are en vogue, and the Jays would like to be at the forefront of that action over the coming days and weeks.
"It's definitely been more, over the last several years, more active on the trade front, initially, in the off-season," Atkins said. "I would expect that to continue, just to flush out those opportunities before anyone is overly aggressive in free agency. Time will tell."