Atkins expecting to get offers for Stroman, Sanchez
As Scott Mitchell writes, the Blue Jays GM says the high-upside right-handers aren't being shopped, but he has no problem listening to offers as he heads to next week's MLB winter meetings.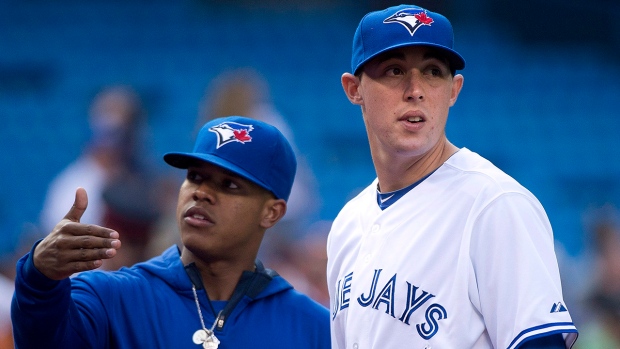 TORONTO - As Ross Atkins watches the free-agent starting pitching dominoes start to fall leading into next week's MLB winter meetings, he knows that will have some teams changing course and looking at other options.
Even coming off down years, Marcus Stroman and/or Aaron Sanchez are sure to be in that mix.
Atkins still claims the high-upside right-handers aren't being shopped, but the Jays GM reiterated this week that he has no problem listening to offers.
With two years of team control for each and the Blue Jays nowhere near contention, that's exactly what Atkins should be doing.
The problem, however, is the value of both is in the tank, and buy-low vultures will be circling, knowing the ceiling of those two arms.
Atkins believes he'll have no problem finding offers that he could realistically entertain.
"Absolutely," Atkins said during a meeting with Toronto BBWAA writers Wednesday afternoon. "I think there are a lot of teams that would love to have either guy."
Love to have them? Sure.
Love to have them at the price Atkins and the Jays front office will attach to them? That remains to be seen.
If Atkins expects to get (or has already received) offers that will make him think, that means he's thought long and hard about the pros and cons of trading them.
"You're constantly — not with Aaron Sanchez and Marcus Stroman alone — but you're constantly understanding how the industry values players that you have and that are comparable," Atkins said.
Sell high, buy low.
That hasn't exactly been a strength of this regime. And that's being nice.
Leaving Stroman and Sanchez atop the rotation to start 2019 and then watching them go out and rebuild their value on the mound over the first four months of the season would be the ideal scenario.
That would leave Atkins as one of the chip leaders not only at the 2019 trade deadline, but also next off-season when the Jays will know much more about their internal strengths and needs.
From the outside, it would seem Stroman, who dealt with shoulder inflammation and blisters in 2018, is much more likely to fetch thought-provoking offers than Sanchez, who has thrown just 141 innings combined over the last two years.
Trading Sanchez now and watching him flourish in another uniform would be tough.
He may not be ready for a 200-inning workload, either.
"I talked with Aaron briefly [on Wednesday] and it's really about taking it one step at a time," Atkins said. "We will expect that he's going to start the year in our rotation and we'll be thoughtful about his work load and think about it over the course of the entire year and how we can manage that.
"He's in a great position mentally and physically. He feels great. His finger feels great."
Meeting on tap with Tulo
The next chapter in the Troy Tulowitzki saga can't be written until the 34-year-old shortstop shows up to spring training and gets back to the everyday grind, one that his body hasn't been ready for in more than 16 months.
Injuries, combined with age, leave little chance Tulowitzki will return to his all-star ways, a fact Atkins conceded to ahead of a meeting with the Las Vegas resident's camp Monday on the first day of the winter meetings.
"Candidly, and I think Troy would agree with me, that is not likely," Atkins said. "He will have to overachieve to play shortstop at an above-average level with above average offensive performance for 140 games. That would be unlikely based on what has occurred in the last two and a half years. That doesn't mean he's not going to do it, but, candidly, I don't think that's likely."
With two years and $38 million remaining on his contract — $20 million in 2019, $14 million in 2020, followed by a $4 million buyout to escape the $15 million owing in 2021 — the only option is to hope Tulowitzki shows up healthy in mid-February.
If that's the case, the Jays would still be reluctant to displace Lourdes Gurriel Jr., who's pencilled in as the starting shortstop, but Tulo's potential role is something Atkins will worry about down the road.
"It's just too hard to say," Atkins said. "To call him a part-time player? The honest answer to that is I don't know. We're not going to label him anything just yet, but I think it's unlikely he plays an above-average shortstop for us for 140 games.
"I think any professional athlete, especially somebody that has had his track record, is not going to be thinking about their career in terms of being a pinch-hitter or being a DH, being someone that from time to time could play shortstop. He's just not there, not at that point in his career."
Tulowitzki has been working out at his alma mater, Long Beach State, this off-season, and seems to be making some progress after missing the entire 2018 season due to surgery to remove bone spurs on both heels in April.
"First and foremost, he has to get healthy … and he is," Atkins said. "He looks like he's healthy. He's recovering well. He has full range of motion. He has his strength."
Important year for Travis
Atkins doesn't shy away from essentially calling this a make-or-break season for Devon Travis.
Heading into his age-28 campaign, Travis still sits atop the second base depth chart, but he's going to need a strong spring in order to stay there.
"He's gotta come in and be the best guy for second base for us," Atkins said of Travis. "Very proud of Devon and him having a healthy year last year and finishing very strong after an incredibly tough start. So I think he's in a great frame of mind, he feels right physically, but he's gotta come and win that job."
With the obvious disclaimer that there's two-plus months of off-season activity to go, if the season started today it would be Brandon Drury and Gurriel on the left side of the infield, with Travis at the keystone and Justin Smoak at first base.
Once Vladimir Guerrero Jr. arrives, Drury could slide into a super-utility role, playing a bit of second, third and outfield – positions he's all played extensively in the past.
But there's also a scenario in which he displaces Travis permanently at second base.
Add in Tulowitzki's presence, as well as Cavan Biggio and Bo Bichette, who are both expected to make up the double-play combo at Triple-A, and the Jays still have a glut of infielders on their hands, even after trading Aledmys Diaz and non-tendering Yangervis Solarte.
Martin on the move?
There's also a bit of a busy depth chart behind the plate, and the solution to that could be trading veteran Russell Martin.
Owed $20 million in the final year of a five-year, $82-million deal he signed in the winter of 2014, the Jays would likely have to eat somewhere in the range of $16 million to find a taker.
Atkins says that's one of many factors.
"To us it's not just about eating salary," Atkins said. "It's about the return; it's about our opportunities, our alternatives. Salary is a smaller portion of that."
The return for a soon-to-be 36-year-old catcher wouldn't be much, but Martin's 91 wRC+ was above league average for backstops.
"I think any team that is looking for catching would have interest in Russ," Atkins said. "The market for catching is certainly there and Russ has a great track record."
Trading Martin would allow Danny Jansen and Luke Maile to be paired the major-league level, with Reese McGuire starting the season at Triple-A.