Atkins weighs in on Blue Jays prospect pool
Toronto Blue Jays beat writer Scott Mitchell gets general manager Ross Atkins' take on 25 players who will help make up the future of the franchise.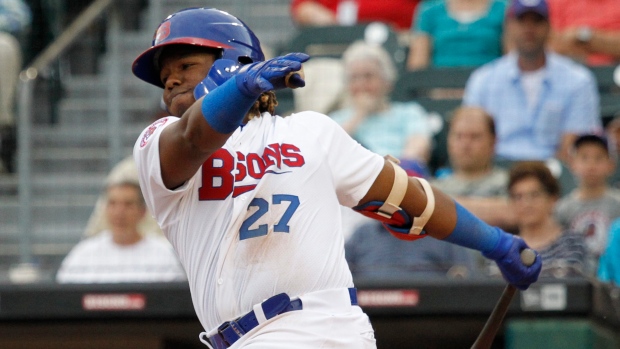 TORONTO — Another season of minor-league baseball is in the books and, similar to 2017, the past six months have provided numerous reasons to feel good about the Toronto Blue Jays' future.
Any pipeline that features the best prospect in all of baseball is going to receive headlines, but there were a handful of performances that have the front office excited about where things are headed.
And it's not just rhetoric, either.
After a few years of sitting in the bottom half of the league in terms of minor-league systems, the Jays are now easily a consensus top-five group, and some, including revered prospect publication Baseball America, believe they're in the top three.
The Blue Jays' own internal system ranking, which forecasts future WAR, has placed them fourth in all of baseball, president and CEO Mark Shapiro said recently.
No matter how subjective you find farm-system rankings, there's no arguing the objective: There's enough talent on the way to provide hope, even when you factor in knowing it won't all pan out as expected.
With MiLB seasons wrapped up earlier this month, we've combed through all the affiliates to put together a 25-man roster of 2018 standouts, and then asked Blue Jays GM Ross Atkins to weigh in on the entire group.
These aren't necessarily the best prospects — there's a top 20 list attached at the bottom for that — just the best individual seasons put together by players who aren't considered organizational filler.
C - Danny Jansen
Triple-A stats: .275/.390/.473 with 12 HR, 58 RBI, 5 SB, 44/49 BB/K
MLB stats: .260/.356/.455 with 3 HR, 8 RBI, 0 SB, 8/14 BB/K
The reason he's here: The catcher of the future did nothing to change that projection, showing impressive contact ability and a well-rounded profile.
Atkins: "Danny has already been an incredible development story as he continues to get better. He has an extremely low swing-and-miss rate and selective approach allowing him to get in position to do damage. We are very encouraged by his ability to catch and throw and, most importantly, lead a pitching staff in the future."

1B - Cavan Biggio
Double-A stats: .252/.388/.499 with 26 HR, 99 RBI, 20 SB, 100/148 BB/K
The reason he's here: We're fudging a bit since the cold corner wasn't his primary position, but Biggio played five different spots this season: Second base (68 games), third base (34 games), first base (22 games), right field (two games) and shortstop (two innings). The Jays see him as a potential super-utility type, and they'll continue to move in that direction by having him work in the outfield in the Arizona Fall League.
Atkins: "Has always had a patient, selective approach at the plate, and made some impressive adjustments coming into this season to access more power production at the plate, hitting the ball harder and pulling it in the air. Showed some real versatility around the infield and outfield. He's also been an elite teammate as one of the most consistent mindsets in our system."

2B - Kevin Smith
Low-A stats: .355/.407/.639 with 7 HR, 44 RBI, 12 SB, 17/33 BB/K
High-A stats: .274/.332/.468 with 18 HR, 49 RBI, 17 SB, 23/88 BB/K
The reason he's here: One of the best stories in the system this summer, the 2017 fourth-round pick piled up 25 homers and 29 steals across two levels. Second base, shortstop and third base are all possibilities down the road. This year, Smith's primary spot was short, but he also played 27 games at third and 13 games at the keystone.
Atkins: "Even coming out of college, felt that there was real power potential as a guy who really understood his swing and what he was trying to do at the plate. Paid off for him this season with very strong all-around performance at the plate and in the field. He's been one of the many highlights this year and is another tireless worker."

3B - Vladimir Guerrero Jr.
Double-A stats: .402/.449/.671 with 14 HR, 60 RBI, 3 SB, 21/27 BB/K
Triple-A stats: .336/.414/.564 with 6 HR, 16 RBI, 0 SB, 15/10 BB/K
The reason he's here: Umm, what more is there to say about this guy? His season took him from elite prospect to the best player in the world not in the majors.
Atkins: "The overall performance speaks for itself, but his ability to control the zone and pick his spots to do damage against advanced completion really sticks out from this year, with an extremely low strikeout rate, despite a more aggressive and damage-oriented approach. His progress as a defender and baserunner is extremely encouraging. We think Vladdy has the chance to lead and we're confident that his passion for the game and his teammates will be a separator for him."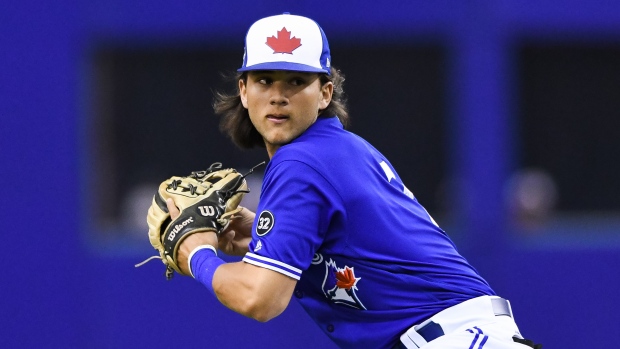 SS - Bo Bichette
Double-A stats: .286/.343/.453 with 11 HR, 74 RBI, 32 SB, 48/101 BB/K
The reason he's here: Bichette didn't hit .362 like he did in 2017, but that's fine. When you're four years younger than the league average and you're putting up an OPS close to .800, your employers will be happy. Make note of the 25 errors at shortstop.
Atkins: "Bo has always had an aggressive, damage-focused approach at the plate and it was an adjustment for him at the start of the year as he adapted his approach to more advanced pitching. Especially over the second half of the year, he really hit his stride at the plate, while also showing a ton of value on the bases and in the field. His commitment to shortstop is undeniable and gives us great confidence in his future as an everyday shortstop."

LF - Ryan Noda
Low-A stats: .256/.421/.484 with 20 HR, 80 RBI, 14 SB, 109/135 BB/K
The reason he's here: All Noda does is get on base. Over two minor-league seasons, he's posted a .451 on-base percentage. Turning 23 next March, the 2019 season is an important growth year for Noda.
Atkins: "Noda was a lineup cornerstone for a playoff team in Lansing this year, picking up where he left off from an impressive debut in Bluefield in 2017. He's shown a very patient approach, with an elite ability work the count and take a walk, as well as hammer mistakes in the zone. He's shown elite exit velocity relative to other hitters at his level."

CF - Jonathan Davis
Double-A stats: .302/.388/.443 with 5 HR, 33 RBI, 19 SB, 35/53 BB/K
Triple-A stats: .249/.308/.389 with 5 HR, 23 RBI, 7 SB, 12/41 BB/K
MLB stats: .222/.300/.278 with 0 HR, 0 RBI, 2 SB, 1/5 BB/K
The reason he's here: Davis started the year in Double-A and ended it in the majors thanks to 10 homers and 26 stolen bases across two levels. He was good in the Arizona Fall League last year and that momentum continued into the season.
Atkins: "JD continued to be a valuable contributor at the plate, on the bases, and in the field this year, including in his first exposure to the Triple-A level. Offensively, he's impacting the game with more than just his speed. He's shown solid power production over the last few seasons. He's a positive influence on everyone in our organization on a daily basis."

RF - Chavez Young
Low-A stats: .285/.363/.445 with 8 HR, 57 RBI, 44 SB, 58/100 BB/K
The reason he's here: You won't find Young on many prospect lists, but the Bahamian 39th-rounder out of the 2016 draft got on base, showed some pop, and swiped 44 bags for the Lansing Lugnuts.
Atkins: "Like Noda, Young has been a huge part of a productive Lansing lineup this year. We've very excited about his abilities as an outfielder, and he's shown a dynamic offensive profile with an advanced approach at the plate and on the basepaths."
BENCH
OF Harold Ramirez
Double-A stats: .320/.365/.471 with 11 HR, 70 RBI, 16 SB, 27/88 BB/K
The reason he's here: Taken off the 40-man roster last off-season, Ramirez had something to prove, and that's exactly what he did with his best campaign since 2015 in High-A in the Pittsburgh Pirates' system.
Atkins: "After some struggles in 2017, Harold made some mechanical adjustments to try to get the ball in the air more this year and it showed with very strong all-around performance at the plate."
OF Cal Stevenson
Gulf Coast League stats: .474/.645/.579 with 0 HR, 2 RBI, 1 SB, 11/3 BB/K
Appalachian League stats: .359/.494/.518 with 2 HR, 29 RBI, 20 SB, 53/21 BB/K
The reason he's here: Even if it's just 59 games, a combined .510 on-base percentage across two levels catches the eye. Drafted in the 10th round this summer, the 22-year-old college outfielder couldn't have enjoyed a better pro debut.
Atkins: "Cal showed a very disciplined approach and elite ability to get the bat on the ball in his pro debut, impacting the game with instincts and ability in all phases."
3B/SS Miguel Hiraldo
Dominican Summer League stats: .313/.381/.453 with 2 HR, 33 RBI, 15 SB, 23/30 BB/K
Gulf Coast League stats: .231/.250/.333 with 0 HR, 3 RBI, 3 SB, 1/12 BB/K
The reason he's here: Another bat to get excited about, Hiraldo was handed $750,000 to sign out of the Dominican Republic, and he showed why as a 17-year-old in the DSL. He's not going to stay at shortstop, but it's all about the bat.
Atkins: "Was one of the stronger performers in the DSL this year, showing the ability to get the bat on the ball and make quality contact."
C Alejandro Kirk
Appalachian League stats: .354/.443/.558 with 10 HR, 57 RBI, 2 SB, 33/21 BB/K
The reason he's here: A 19-year-old backstop out of Mexico, the Appalachian League was no match for Kirk, who put up a 1.001 OPS.
Atkins: "Kirk showed elite contact rates this year, along with very strong contact authority, a combination that made him one of the top hitters in the Appy league."
STARTING ROTATION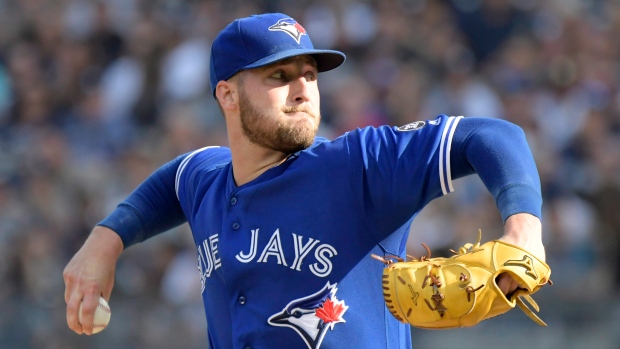 SP1 - RHP Sean Reid-Foley
Double-A stats: 5-0, 2.03 ERA, 44.1 IP, 27 H, 20/52 BB/K
Triple-A stats: 7-5, 3.90 ERA, 85.1 IP, 76 H, 30/98 BB/K
MLB stats: 2-4, 5.13 ERA, 33.1 IP, 31 H, 21/42 BB/K
The reason he's here: He fell down prospect lists after pitching to a 5.09 ERA in Double-A last season, but SRF turned things around early on this season and cruised to the majors, thanks to some command improvements.
Atkins: "After some struggles in 2017, found a ton of success this year attacking hitters with his fastball and trusting his strong secondary stuff, leading to very strong swing-and-miss rates at the highest levels and overall success. He continues to exceed expectations this year."

SP2 - RHP Patrick Murphy
High-A stats: 10-5, 2.64 ERA, 146.2 IP, 126 H, 50/135 BB/K
Double-A stats: 0-0, 3.00 ERA, 6 IP, 4 H, 3/6 BB/K
The reason he's here: Another player not highly regarded from a prospect standpoint, health was the key for the third-round pick from the 2013 draft. He could have a Ryan Borucki-like rise next season if it continues.
Atkins: "After some struggles with injury in past years, Pat got stronger as the season went on in 2018, both in terms of stuff (averaging 95-plus mph in a starting role) and results (an impressive mix of swing-and-miss and soft contact)."

SP3 - RHP Yennsy Diaz
Low-A stats: 5-1, 2.08 ERA, 47.2 IP, 22 H, 25/42 BB/K
High-A stats: 5-4, 3.52 ERA, 99.2 IP, 91 H, 28/83 BB/K
The reason he's here: Diaz walked 25 batters in 47.2 innings to start the season in Low-A, but things clicked when he was promoted to High-A as he shaved that to just 28 free passes in 99.2 innings.
Atkins: "Responded extremely well to being challenged at High-A with a mid-season promotion, cutting down his walk rate despite the higher level, and continuing to show the ability to miss bats and get soft contact in the air with his explosive fastball."

SP4 - RHP T.J. Zeuch
High-A stats: 3-3, 3.47 ERA, 36.1 IP, 34 H, 9/24 BB/K
Double-A stats: 9-5, 3.08 ERA, 120 IP, 120 H, 31/81 BB/K
The reason he's here: Zeuch is never going to wow with big strikeout numbers, but he was able to throw 156.1 quality innings and got better in Double-A.
Atkins: "Continued to show an elite groundball rate and efficient profile as he advanced through a couple levels in 2018, inducing a ton of soft contact and posting innings against advanced hitters. T.J. led his pitching staff to the playoffs with a very intense competitiveness."

SP5 - RHP Eric Pardinho
Appalachian League stats: 4-3, 2.88 ERA, 50 IP, 37 H, 16/64 BB/K
The reason he's here: Next to Nate Pearson, this is the pitching prospect to get excited about. There's a ton of development left to go, but the early returns on the $1.4 million Brazilian investment are exciting.
Atkins: "Showed a very impressive ability to miss bats and generate soft contact this year, dominating as a 17-year-old in his first exposure to North American baseball. Eric's feel for all of his pitches is extremely advanced."
BULLPEN

RHP Corey Copping
Double-A stats (Dodgers): 3-0, 2 SV, 2.53 ERA, 46.1 IP, 35 H, 24/55 BB/K
Double-A stats (Blue Jays): 0-1, 3 SV, 1.93 ERA, 14 IP, 7 H, 9/20 BB/K
Triple-A stats (Dodgers): 1-0, 1 SV, 2.45 ERA, 7.1 IP, 9 H, 2/4 BB/K
The reason he's here: Acquired at the trade deadline from the Los Angeles Dodgers in exchange for John Axford, Copping is an arm you'll likely see in the Blue Jays bullpen at some point next year. He was a key cog in the New Hampshire Fisher Cats 'pen after arriving and the strikeout potential is immense. Copping needs to be added to the 40-man roster this off-season.
Atkins: "Showed above average velo and a strong ability to miss upper-level bats this year."
RHP Zach Jackson
Double-A stats: 2-3, 2 SV, 2.47 ERA, 62 IP, 29 H, 51/75 BB/K
The reason he's here: The 6-foot-4 righty had an interesting season. The ERA and strikeouts are nice, but he walked 51 in 62 innings. Only 29 hits allowed was the key to his success.
Atkins: "While he continued to walk a fair amount of batters in his first Double-A exposure, he was an extremely effective reliever all year, using his breaking ball heavily to induce whiffs and weak contact in the air."
LHP Travis Bergen
High-A stats: 0-1, 1 SV, 1.71 ERA, 21 IP, 16 H, 6/31 BB/K
Double-A stats: 4-1, 7 SV, 0.50 ERA, 35.2 IP, 26 H, 9/43 BB/K
The reason he's here: Drafted in the seventh round in 2015 out of Kennesaw State University, the lefty was nearly unhittable across two levels, posting a combined ERA of 0.95. Bergen needs to be added to the 40-man roster this winter or he could be plucked in the Rule 5 draft.
Atkins: "Was able to move beyond some past injury issues and post an extremely strong relief season across a couple levels, pitching multiple innings at times and posting very strong swing and miss rates."
LHP Jose Fernandez
Double-A stats: 3-1, 2 SV, 3.45 ERA, 31.1 IP, 23 H, 23/33 BB/K
Triple-A stats: 1-2, 2 SV, 2.45 ERA, 29.1 IP, 23 H, 8/32 BB/K
MLB stats: 0-0, 0 SV, 5.79 ERA, 9.1 IP, 8 H, 3/5 BB/K
The reason he's here: He's not blessed with explosive stuff, but Fernandez impressed during spring training and continued to get results all season long, no matter the level. The southpaw will be in the mix to nab an opening day roster spot in 2019 but should throw significant MLB innings at some point.
Atkins: "Showed a positive performance trend over the course of the season, cutting down walks and getting more punch-outs, even as he advanced to Triple-A."
RHP Jackson McClelland
High-A stats: 1-4, 8 SV, 4.10 ERA, 37.1 IP, 27 H, 16/48 BB/K
Double-A stats: 0-0, 0 SV, 5.68 ERA, 6.1 IP, 7 H, 5/9 BB/K
The reason he's here: The fact he's heading to the Arizona Fall League for a second straight year means the Jays want to once again test the 6-foot-5 righty with the 100-mph fastball. The underlying numbers are better than the ERAs so far.
Atkins: "Showed a dominant fastball this year, touching triple digits, helping him overpower hitters at multiple levels."
RHP Dany Jimenez
Low-A stats: 6-2, 13 SV, 3.84 ERA, 63.1 IP, 58 H, 24/80 BB/K
The reason he's here: Jimenez turned in a fine season out of the Lugnuts bullpen, locking down 13 saves and striking out 80 in only 63.1 innings.
Atkins: "Pitching in a multi-inning relief role for Lansing, showed a very strong arsenal and an excellent K/BB ratio as a key part of their bullpen."
LHP Jake Fishman
High-A stats: 2-3, 8 SV, 2.68 ERA, 57 IP, 46 H, 11/56 BB/K
The reason he's here: Part of the Team Israel roster at the 2017 World Baseball Classic, the 30th-round pick in the 2016 draft now has back-to-back strong minor-league seasons on his resume.
Atkins: "Did an outstanding job of limiting walks and getting strikeouts and groundouts this year, helping Dunedin in 1-2 inning stints."
RHP Justin Shafer
Double-A stats: 2-2, 1 SV, 0.52 ERA, 17.1 IP, 12 H, 5/17 BB/K
Triple-A stats: 3-3, 15 SV, 1.41 ERA, 38.1 IP, 27 H, 16/32 BB/K
MLB stats: 0-0, 0 SV, 3.24 ERA, 8.1 IP, 6 H, 7/2 BB/K
The reason he's here: A 1.13 ERA and 16 saves across two levels earned him a big-league look, but unfortunately his season his now on hold due to a Grade 1 flexor strain in his right elbow.
Atkins: "Polished profile and arsenal allowed him to have a dominant season as a closer in the upper levels. He showed a well-rounded profile of getting outs on the ground and with whiffs."
TOP 20 PROSPECTS HEADING INTO 2019
A quick and dirty list of the top 20 names in the system and where they're expected to start next spring:
1. 3B Vladimir Guerrero Jr., Triple-A Buffalo
2. SS Bo Bichette, Triple-A Buffalo
3. C Danny Jansen, MLB Toronto
4. RHP Nate Pearson, High-A Dunedin
5. SS/3B Kevin Smith, Double-A New Hampshire
6. OF Anthony Alford, Triple-A Buffalo
7. RHP Eric Pardinho, short-season
8. RHP Sean Reid-Foley, Triple-A Buffalo
9. 3B Jordan Groshans, short-season
10. INF Cavan Biggio, Triple-A Buffalo
11. SS Orelvis Martinez, DSL
12. 3B Miguel Hiraldo, short-season
13. RHP Hector Perez, Triple-A Buffalo
14. RHP Adam Kloffenstein, short-season
15. RHP T.J. Zeuch, Triple-A Buffalo
16. OF Billy McKinney, MLB Toronto
17. OF Griffin Conine, Low-A Lansing
18. SS Logan Warmoth, High-A Dunedin
19. OF Jonathan Davis, Triple-A Buffalo
20. LHP Thomas Pannone, Triple-A Buffalo