Matthews healthy after confirming he tested positive for COVID-19
Maple Leafs star centre Auston Matthews revealed Monday that he did test positive for the coronavirus last month in Arizona, but was feeling fully healthy ahead of the team opening their return to play training camp in Toronto, Kristen Shilton writes.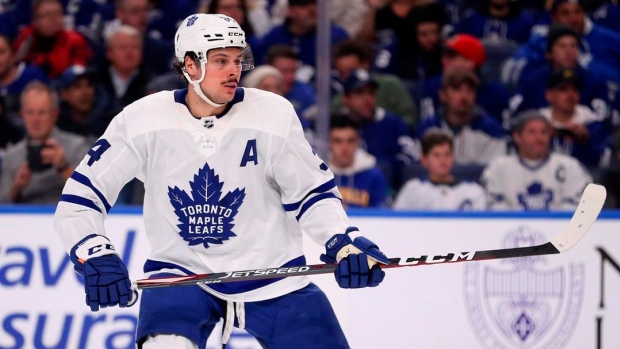 TORONTO — Auston Matthews told reporters on Monday that he tested positive for the COVID-19 virus last month, but was feeling fully healthy ahead of the Maple Leafs' opening their return to play training camp on Monday.
"I was pretty much asymptomatic, felt for the most pretty normal for two weeks [of isolating]," Matthews said on a Zoom call at Ford Performance Centre. "I did my quarantine and I'm healthy now, so it's all good."
Matthews was back home in Arizona at the time of his diagnosis, sequestered in a state that's become a hot spot for COVID-19 cases in recent weeks. Already, Arizona has topped more than 40,000 infections in the first half of July alone.
The 22-year-old didn't have specifics on how he came in contact with the virus, but recognizes how widely the reactions to it can vary.
"To be honest I can't really pinpoint when and where I got it," he said. "I think everybody's experience will probably be different than my own as far as COVID goes, with [different] symptoms and stuff like that. And sometimes it's hard to kind of pinpoint a norm because it's different for everybody."
While Matthews physically didn't feel too impacted, the positive test forced an immediate halt to his on-ice preparations for the NHL's resumption of play. It also further delayed Matthews' return to Canada for the Leafs' voluntary workouts in Phase 2, setbacks that he still feels haven't put him far behind.
"[The virus] didn't really hinder my training, I was able to do stuff at home," Matthews said. "Obviously, wasn't able to leave or anything. I think that's really the only thing that kind of took a hit for me. I was skating beforehand and having to take two and a half, three weeks off obviously kind of catches up to you."
Leafs' head coach Sheldon Keefe concurred, saying that reports he'd received about Matthews' work before the diagnosis were all strong, but maintained the long-term health of his star player was far more important than any fitness lost during recovery.
"You are concerned [initially], just about his health and making sure that he's okay," Keefe said. "Our medical team has been terrific throughout this whole time here...and that was the case with Auston; they got on top of it very quickly and fortunately he seemed to be asymptomatic for the most part. He was doing well. When he got here, he was able to get right to work right away and he got a really good week of skates here prior to camp and he's making up for lost time in that sense."
That team's first day of training camp activities Monday included one hard practice and two spirited scrimmages, after which Matthews said that "conditioning wise, [it was] not great." Yet that's a hurdle Keefe suspects Matthews will have no trouble overcoming.
"All things considered, Auston has worked well, worked hard and done what he could given his circumstances," Keefe insisted. "And it won't be long before the conditioning matches up with his ability."
Just having Matthews at full strength and back in the fold was more than enough for his teammates on Day 1, many of whom checked in throughout his quarantine period.
"I think you just want to make sure he's good, first and foremost," John Tavares said. "You think about him as a person and see how he's doing. You see now what [COVID-19] can do to a lot of people. Obviously, he's in great physical condition, good health, so I'm just checking in seeing how he's doing and wanted to make sure he was okay and feeling good and then get back to what he loves to do. He's doing great and it's obviously great that he's been ready to go for the first day of camp."
Mitch Marner also rallied around Matthews right away, knowing as he does that COVID-19 is "no joke."
"[Matthews] didn't really feel anything [symptoms-wise], so I was super happy to hear that," Marner said. "[You] can't take it lightly so I was happy to hear that he was not really feeling any of the symptoms. And it's great to have him back out there, he's a big part of this team and he does a lot for our team so it's great to see him back out there in full form."
With his own virus experience in the rear-view mirror, Matthews can greater appreciate the NHL's extensive health and safety protocols that aim to keep players safe in Phase 3 for a successful transition to the league's 24-team playoff tournament in Phase 4 this August.
"I think the NHL and everybody involved has tried their best with the information that they have to make it as safe an environment as possible for everybody working there," Matthews said. "And hopefully, [getting to the point of] being able to try to compete in this tournament."​