Avs acquire G Grubauer, D Orpik from Caps
The Washington Capitals traded veteran defenceman Brooks Orpik and backup goaltender Philipp Grubauer to the Colorado Avalanche for the 47th pick in the NHL draft Friday, a move that clears salary-cap space for the Stanley Cup champions to re-sign key pending free agents.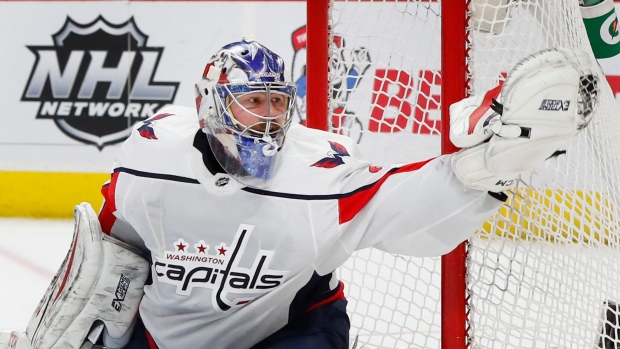 DALLAS — The Stanley Cup champion Washington Capitals cleared some space to try to re-sign a handful of key free agents by trading veteran defenceman Brooks Orpik and backup goaltender Philipp Grubauer to the Colorado Avalanche for the 47th pick in the NHL draft .
Shedding Orpik's $5.5 million salary in the final year of his contract and dealing Grubauer before he earned more as a restricted free agent gives them more than $20 million in cap space. It's needed because defencemen John Carlson and Michal Kempny can become unrestricted free agents July 1 and playoff hero Devante Smith-Pelly and top-line winger Tom Wilson will get raises as RFAs.
"You don't like trading away good people, but it's what we had to do to move forward with the team," Capitals general manager Brian MacLellan said Friday night. "It's hard to do, but we had to create some room to sign some players."
Carlson, who led all defenceman in scoring in the regular season and playoffs, is expected to cost $8 million-plus a season on a long-term deal. The Capitals would have struggled to fit that under the $79.5 million ceiling without a move like this.
MacLellan has met with Carlson's agent and said the two sides are really close to agreeing to a contract.
"We're going to do our best to sign John," MacLellan said. "Hopefully we can close the deal here over the next 24 hours."
The 37-year-old Orpik was a respected alternate captain who got the Cup third after Alex Ovechkin and Nicklas Backstrom when Washington won its first title in franchise history. The rugged defenceman played almost 20 minutes a game in four seasons with the Capitals and scored the winning goal in Game 2 of the Stanley Cup Final against Vegas.
Colorado GM Joe Sakic was willing to take Orpik in the trade to keep the acquisition cost down and plans to try to trade him or buy him out. He felt it was worth it for the Avalanche to get Grubauer.
"We all feel that he's ready to take the next step and become a No. 1," Sakic said. "We're excited to have two No. 1 goalies."
The 26-year-old joins fellow Capitals draft pick Semyon Varlamov with the Avalanche where he'll get the chance to start more games than he did behind Braden Holtby in Washington.
Grubauer started a career-high 35 games with the Capitals this past season, going 28-15-10 with a 2.35 goals-against average and .923 save percentage. He played well enough to be the Capitals' starter at the beginning of the playoffs but was replaced by Holtby during Game 2 of the first round after allowing eight goals on 49 shots.
The Avalanche lost Varlamov and Jonathan Bernier to injuries last season and with this move shored up their goaltending situation. Bernier will depart in free agency. Sakic expects to agree to terms on a deal with Grubauer, a pending restricted free agent, in short order.
"I believe it'll come pretty quick," Sakic said.
The Capitals can only hope the same in their negotiations with Carlson. It's their goal to sign him before he can speak with other teams when the draft concludes and would be one of the top free agents available.
MacLellan also wouldn't rule out bringing back Orpik if the Avalanche buy him out.
"I think it's legal," MacLellan said. "We're open to that depending on how much room and how much salary it would take and if we want to put him in that third pair again."
___
Follow Hockey Writer Stephen Whyno on Twitter at http://twitter.com/SWhyno
___
More AP NHL: https://apnews.com/tag/NHLhockey