Babcock believes Leafs have more to give
Toronto coach says players have to demand more from themselves moving forward after close loss in Montreal.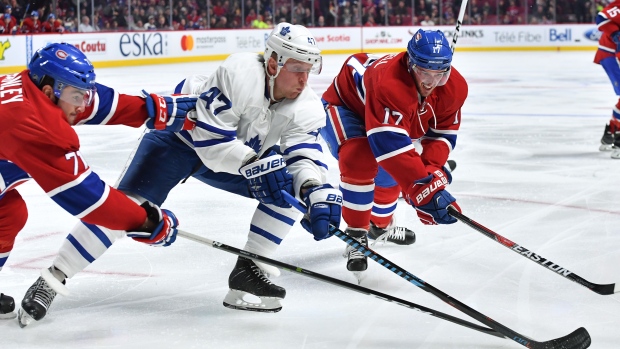 TSN Toronto reporter Mark Masters checks in with news and notes from Maple Leafs practices and game-day skates. The Maple Leafs skated in Toronto on Monday ahead of Tuesday night's game against the Hurricanes.
- Mike Babcock admits his team's performance on Saturday night in Montreal was, on the surface, fine. Toronto lost a 2-1 game against the NHL's top goaltender. But the head coach said his players had more to give and they must demand more from themselves moving forward. After Monday's practice, Babcock was asked how this happens. Is this mindset something that is created organically over time? "No, we're going to force it to happen, obviously," Babcock said. "For me, it was a disappointing result, for sure. I believe we're capable of going in and getting points. So, you got to get your mind right so that you expect that to happen and sometimes it takes some disappointment to get you to get it fixed. We have to fix the things technically, but at the emotional level and the commitment to doing it right and the physical commitment to pay the price to get it looked after. We need that." On Saturday, the Leafs fell behind 2-0 and Connor Brown admits that, against Carey Price, it seemed like a major mountain to climb. "That's exactly it," Brown said. "It's not easy, but it's doable so that's the mindset you have to create. Belief is huge. When you go into any building, play the Habs or play Pittsburgh in Pittsburgh, you got to believe you can get those points. We're learning and we're getting better and better." The Leafs are now just 1-5-3 on the road, which ranks 28th in the NHL entering play Monday.
- James van Riemsdyk is one of the few Leafs with extensive playoff experience and time spent playing for a team, in Philadelphia, that expected success. So, what lesson should the young Leafs take from Saturday's loss? "In situations like that, you just realize how much more important the little details are. Things can look good from the surface, but there are little areas we can improve upon to make ourselves more successful," van Riemsdyk said. "It's obviously a learning process. It's the best league in the world for a reason, and that's why it takes a lot of those smaller details to have some success in those tighter games." Toronto's young players certainly aren't lacking in confidence so why doesn't that translate into a winning mindset on the road? "I think we have that confidence, but it's a matter of knowing what you have to do," van Riemsdyk explained. "You can have that confidence, but you have to go out and prove it every night."
- While the rookies have stolen most of the headlines, van Riemsdyk is leading the team in scoring with 17 points. It has been a long road back for the big winger, who missed the final 42 games last season with a non-displaced fracture in his left foot. "I definitely felt pretty good about my game last year when I went down and it was unfortunate," said van Riemsdyk, who had 22 points in his final 27 games last season. "When you take nine months off it's never going to be a situation where you hop back in there. It's what you work for and hope for, but you're realistic." Babcock has said van Riemsdyk's skating isn't back at the level it was when he got hurt. But the New Jersey native believes the biggest challenge for him right now is more instinctual. "Just the things that become second nature out there that you don't even think about you just do," van Riemsdyk said. "When you have those repetitions in the game and practice every day and they become much like a habit."
- Mired in the longest goal drought of his professional career, Auston Matthews can take solace in the fact his underlying possession numbers are strong. Matthews is the top Leafs forward in Corsi For (54.4 per cent). Does he keep track of such things? "Yeah, I do," Matthews said. "I think a lot of the analytics and a lot of the numbers that go into hockey are pretty important so those are definitely things you pay attention to." But, at this point, Matthews insists he doesn't need any numbers to confirm what he knows. "I don't think you need to look at the numbers," he said, "I just feel like out on the ice, we dominate most of the possession and we're getting plenty of scoring chances so that stuff's pretty positive."
- Premium TV network EPIX and the NHL are once again partnering on a behind-the-scenes documentary featuring teams involved in an outdoor game. This season the Red Wings and Maple Leafs will be in the spotlight ahead of the Centennial Classic. Brown said it's, "awesome" to be part of something like this. Like many hockey fans, he watched the HBO 24/7 series on the Leafs and Wings ahead of their Winter Classic showdown in 2013. Did he have a favourite moment? "I remember that water bottle incident (when David Clarkson got mad at Todd Bertuzzi for shooting a puck at Jonathan Bernier's water bottle) being pretty funny. I was in junior at the time and we had a good laugh about it and we brought it to our team." Brown has already had a funny moment in The Leaf: Blueprint, the behind-the-scenes show that is posted on the team website throughout the season. After every Leafs win Babcock will shake hands with each player in the dressing room. But in a scene included in the most recent episode, the coach is seen pump-faking Brown. What gives? "When I was walking in he shook my hand so then when he was going around he was laughing because he already shook my hand so he dodged me on that one," Brown explained with a big grin. The rookie is getting more and more at ease in the NHL and recorded his first ever four-point night Thursday against the Panthers. "I was feeling more and more comfortable with the puck even before that game," he said. "Getting more adjusted offensively and getting in better spots and understanding where you have to be in this league to score goals and create offence."
- Josh Leivo (lower body) practised with the Leafs on Monday after his AHL conditioning stint wrapped up on Sunday. He played five games with the Marlies, but didn't record a point. "We would've liked him to play more games just because he missed so much," Babcock said. "We're going to practise him for a bit to get him up to speed before he's ready to go so he (won't) be cleared yet." Leivo was not made available for interviews on Monday. He remains on the injured non-roster list.
* Lines at practice:
Hyman-Matthews-Nylander
van Riemsdyk-Bozak-Marner
Komarov-Kadri-Brown
Martin-Smith-Soshnikov
Holland, Leivo
Rielly-Zaitsev
Hunwick-Polak
Gardiner-Carrick
Marincin-Corrado
Andersen
Enroth