Babcock constantly thinking one step ahead
The fire by Emma Lake crackled as a jubilant Mike Babcock sipped a drink alongside his father. The father reminded his son that the success was already in the past. The message was clear: it was time to move on.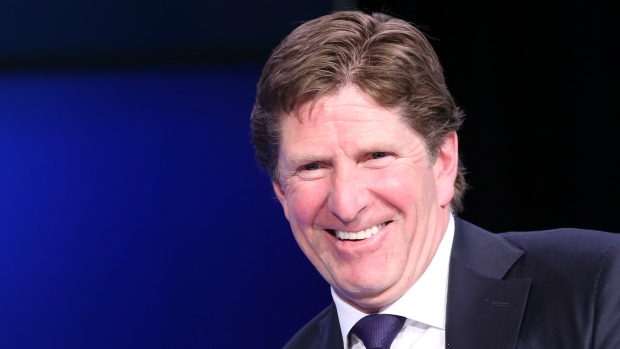 TORONTO - The fire by Emma Lake crackled as a jubilant Mike Babcock sipped a drink alongside his father.
It was the summer of 2010 and Babcock was back in Saskatchewan, revelling for a moment in his recent success, which included his first Olympic gold medal at the Vancouver Games and a Stanley Cup championship in 2008.
"You know Dad, things are going pretty good," Babcock recalled telling Mike Babcock Sr., who died last March at the age of 78.
The father reminded his son that the success was already in the past. The message was clear: it was time to move on.
"It was over with," Babcock said Wednesday, reflecting on that day nearly six years ago.
The chase for more is what drives Babcock, who will become the 25th man in NHL history to coach 1,000 games when the Toronto Maple Leafs host the New Jersey Devils on Thursday night.
It's all about what's next for the 52-year-old from Saskatoon, who owns victories at the world junior championship, the world hockey championship, and Canadian university circuit to go along with two Olympic golds and one Stanley Cup.
Reminded that he never won a Memorial Cup, Babcock quickly listed a second Stanley Cup and World Cup crown as other feats he still had yet to reach.
"There's lots of things I haven't won," Babcock said.
The Maple Leafs head coach says he wants to be the best coach of his generation — though he's quick to note that Chicago's Joel Quenneville and Los Angeles's Darryl Sutter are making that difficult. He's won just about everything a coach could dream of, but that dream seemed far-fetched when he was last fired and seeking a new job more than 20 years ago.
It was 1993 when a then-30-year-old Babcock first interviewed for the Spokane Chiefs head coaching job. Tim Speltz, who is still the Chiefs' general manager today, knew he saw something in Babcock, recently fired by the Moose Jaw Warriors.
Even he couldn't predict the success that would soon come Babcock's way.
He met Babcock for an interview at a Calgary hotel and was immediately impressed. He recalled a confident, intelligent, "take-charge guy", a strong thinker who not only answered Speltz's questions, but asked some of his own.
"He was exactly what we were looking for," Speltz said.
When the head coaching job in Spokane didn't materialize, Babcock ended up behind the bench of the University of Lethbridge and guided the Pronghorns to their first and only CIS University Cup. He eventually took over in Spokane the following year.
The Chiefs were beat up with injuries and trading their present for a better future, a preview in many ways of the task Babcock would face when he joined the Leafs on a rich eight-year deal last May.
Babcock, Speltz said, wasn't rattled during a stretch that saw everything seemingly go wrong.
"He was 100 per cent with the plan. He stuck with the plan as we had it," Speltz said.
The Chiefs won 50 games the next year before losing in the Western Hockey League final. They would return to the final under his leadership four years later.
"He's not easily satisfied," Speltz said of Babcock. "He's always pushing forward, which I think is another great quality, not only as a coach but as a teacher as well."
Colleagues pinpoint Babcock's meticulous preparation, direct approach in communication and an ability to adapt as keys to success that few in the game can rival.
Bill Peters, the Carolina Hurricanes head coach and an assistant to Babcock in his final season with the Chiefs, thinks that drive to learn is key.
"There's not many things going on in the sport that he's not aware of," said Peters, who would later coach alongside Babcock with the Detroit Red Wings. "If he's not guy inventing it on the cutting edge, he's the second or third copy. He's not coming to the party late and being the guy who figures it out 20th, 21st."
Babcock was the second-fastest coach in NHL history to reach 500 wins, trailing only all-time wins leader Scotty Bowman. He's coached in the NHL in each of the past 13 seasons and stands as the Red Wings all-time wins leader.
Babcock said recently that the key to longevity was hard work and an ability to "reinvent yourself" in time. Good players helped too, he added.
"What I've found as a coach and just in life in general is if you embrace life-long learning and you try to get better each and every day you end up having a choice to stay where you are a little bit longer," said Babcock.
"That part of it is fantastic. I'd like to win tomorrow night."