Babcock: Komarov out for Game 4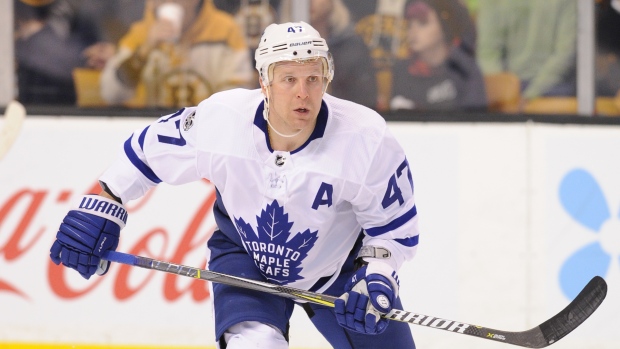 Toronto Maple Leafs forward Leo Komarov will be out for Game 4 against the Boston Bruins with a lower-body injury, head coach Mike Babcock confirmed.
He was not on the ice as the Leafs practiced Wednesday morning.
The 31-year-old played on the top line in Game 1, but was bumped down to the fourth in the second period after going down 4-0. He left in the second period with his injury.
Tomas Plekanec moved up to the second line for Game 3 and had one of his best showings as a Leaf, recording an assist and a plus-two rating in the Leafs' 4-2 win.
"He played his best game since he's been here, maybe just the fact he maybe didn't feel as important as he should have when he got here affected his play, but I thought he was really good and a huge factor in our win," said Babcock.
"[Plekanec is] a hell of a player," said Leafs forward Mitch Marner. "He's very good at shutting down the other team's best players. He's done it a long time in Montreal. You see it first-hand now, he's always loved people, he's always loved the puck and when he gets it in his hands he makes smart plays."
Meanwhile, suspended centre Nazem Kadri was on the ice at practice despite having one more game left on the three-game suspension he was handed after Game 1 for his hit on Tommy Wingels.
Here were their lines at Wednesday's skate:
Hyman-Matthews-Nylander
Marleau-Plekanec-Marner
van Riemdsyk-Bozak-Brown
Johnsson-Moore-Kapanen
Leivo, Martin Rielly-Hainsey
Gardiner-Zaitsev
Dermott-Polak
Carrick
Andersen
McElhinney