Babcock shuffles Leafs lines ahead of road trip
As TSN's Kristen Shilton writes, Leo Komarov joins a new-look fourth line, while Mitch Marner skates with Patrick Marleau and Nazem Kadri as Toronto's coach searches for 'more balance and more attack' from struggling squad.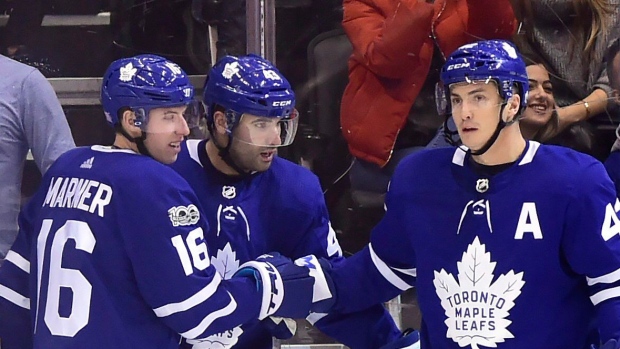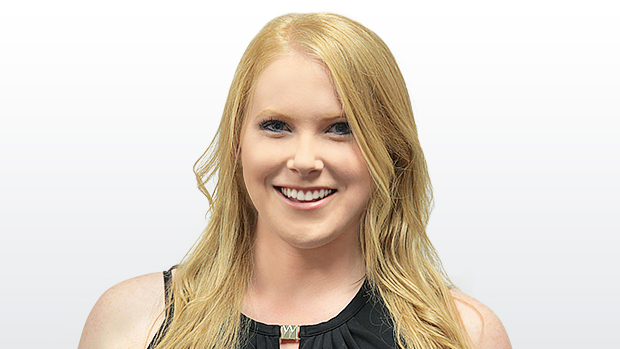 TORONTO – For the better part of two seasons, Nazem Kadri and Leo Komarov have been an inseparable tandem on the Maple Leafs' shutdown line. But tough times call for tough choices.
Following the Leafs' sixth loss in seven games on Monday, Mike Babcock removed Komarov from Kadri's wing at practice on Tuesday and replaced him with Mitch Marner. Komarov tumbled down to the fourth line with Dominic Moore and AHL call-up Kasperi Kapanen, making Matt Martin a projected healthy scratch for the second time this season.
"It was actually kind of weird going up against him for once," said Kadri after practice. "I mean, he's been my linemate for a lot of years. But it's not like this is a goodbye type scenario; it's just a different look to try and get some offence going and I'm sure we'll head back to [each other] eventually."
Babcock confirmed as much in his own remarks after juggling his lines for the first time since Auston Matthews returned from injury on Dec. 23.
"[Komarov is moved] just for road. He'll be right back [with Kadri] at home. I'm trying to have more depth," Babcock said. "I like Leo there because he gives Naz a tightening about 10 times a game just to keep him in line. We've changed our lines a ton because of the injuries when Matty was hurt, but we haven't changed it since Matty has been back that often. This gives us a little opportunity."
Aside from Komarov and Marner trading places, centre Frederik Gauthier was returned to the Toronto Marlies in favour of recalling Kapanen, opening the door for Moore to play in his first game since Dec. 31.
The Leafs' schedule leading up to this weekend's All-Star Break, with road stops in Chicago and Dallas, appears to have given Babcock an opening to shake things up.
"I'm looking to have more balance and more attack, especially on the road when I don't have last change," Babcock said. "We've got to change some things. I think we're trying to get quicker and get a little more depth."
With a logjam of games behind them where Toronto played like the better team but couldn't survive their own careless mistakes, the time for the Leafs to stand pat offensively was diminishing rapidly.
Toronto has blown a lead in four of its last five losses, seemingly unable to balance defensive responsibilities with creating offensive opportunities. The Leafs' new lines had good energy at practice, a very early indication that the change may benefit players in a rut.
Kadri, for one, has been in a perplexing scoring slump, with just one goal and one assist in his last 20 games.
"We've been talking about [changes] for a long time; it's not like a spur-of-the-moment thing," Babcock said. "…I thought we played well [on Monday against Colorado], but as I went through the tape, we weren't dangerous enough in the offensive zone. We had the puck all the time, but we weren't dangerous enough."
Just last week, though, Babcock gave no indication he was plotting to make changes up front. At the time, he told reporters, "We can move guys are if we feel it's going to help us get better…I guess I don't feel like you guys [in the media] do, how's that? Not one bit. But when I do, we'll change some things."
Marner, at least, wouldn't mind if these new-look lines stick together for a longer look. The sophomore has become close friends with veteran Patrick Marleau, who presides over Kadri's left wing. While injuries and in-game deficits have forced Marner onto Marleau's line before, the two haven't found the same chemistry on the ice as off it.
"We joked around about it [today]. We've had the chance a couple times to play together and it hasn't worked out well," said Marner. "But I think we know what we have to do to be successful; we know how we have to work. If we're both moving [our feet], it's going to be hard to contain."​
Babcock's rearranging is a message to the Leafs about the type of team they need to be going forward. Owning a double-digit cushion on a playoff berth in January is one thing; it hasn't bought them anything in April just yet.
"There's a sense of urgency for sure. We're in the thick of things here," said Moore. "You have to focus on the things right in front of you. Like, how can we improve today? You don't want to focus on the standings, whether it's positive or negative. It's the preparation and that should help us control our attitude."