Babcock taking wait and see approach to defence chemistry
When asked what he thought about the chemistry between Jake Muzzin and Morgan Rielly so far, the Toronto Maple Leafs head coach said he'll have to keep watching. Mark Masters writes.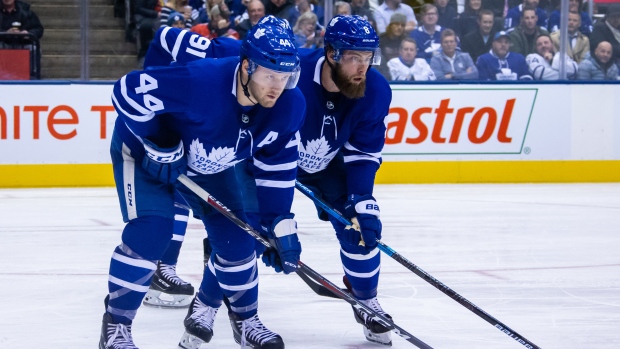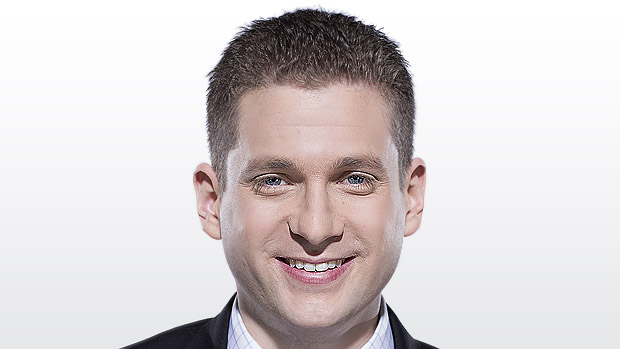 What does Mike Babcock think of the chemistry between Jake Muzzin and Morgan Rielly so far?
"Well, that's a good question," the Maple Leafs coach said. "We'll just keep watching, how's that? There's lots of parts to that. Is Mo's game as good as it can be? So, that's a big part, for me, as well. So, we'll just see over time. I said right from the get-go there will probably be some difference in pairs."
Babcock was up front about his reservations as soon as Muzzin joined the Leafs via a trade with Los Angeles. In an ideal world, the coach would like to keep the guy who's making more plays with the puck on his strong side, but Rielly, a lefty like Muzzin, has shifted to the right to ease the transition period for the ex-King.
Toronto's top six currently features five lefties. So, is the plan to eventually play Muzzin on the right?
"I don't know what I'll do," Babcock said. "Maybe a different pair. We'll just see what happens, you know what I mean? We've got some options now. Obviously, we feel our defence is way better than it was (with) more depth. We can play more players with more players. We'll see over time."
Rielly, who has already set a career high with 53 points in 53 games, has a goal and two assists in the four games since joining forces with Muzzin.
"We're working on it," Rielly said of the new partnership. "There's always room to get better and things we can improve on and we're aware of that and we're doing what we can to improve."
Rielly and Muzzin were on the ice for Ottawa's two goals in the third period on Wednesday, marking the first time they've been on for even-strength goals against since being united. The pair is driving possession with 56.6% CorsiFor in nearly 53 minutes together, per NaturalStatTrick.com.
"I think it starts with D-zone, playing against the rush," Rielly said when asked where improvements can be made, "and then we'll go from there. We got our hands full and we're going to work hard to get better."
Muzzin offered the most positive review of the new-look pairing.
"It's been good," said the 29-year-old, who has made it clear he's more comfortable on his natural side where he's played his entire career. "Still early. Only a handful of games so far, but so far, so good. I mean, we've done some good things. We've talked about some things as we've gone along and we'll continue to build."
---
The Rielly-Muzzin duo will face a tough task should Babcock match them against Montreal's surging top line featuring Jonathan Drouin, Phillip Danault, and Brendan Gallagher.
"The 24 car is real responsible both ways," Babcock said referring to Danault. "Gallagher's tenacious. Drouin can really pass the puck, shoot it; a good player."
Drouin has four goals and nine assists in 10 games since joining Danault and Gallagher. What stands out to Rielly about the left winger?
"I mean, lots," he said. "His hands. His speed. I've played with him before (at the 2016 World Cup) and he's a smart player and he's playing well right now. That whole line is."
---
If the playoffs started today, the Leafs and Canadiens would be facing off in the opening round. The pair of Original Six franchises haven't met in the postseason since 1979.
"It'd be crazy, that's for sure," said Toronto boy Mitch Marner, allowing himself to consider the possibility for just a moment. "I think the buzz around both cities would be pretty wicked, but it's a long ways away."
Toronto leads Montreal by just one point in the Atlantic Division race although the Canadiens have played two more games than their historic rivals.
"This is a big game," said Rielly. "There's really no other way to put it. Points are close in the standings. In their building. We should be excited. We should be ready. I wouldn't expect anything less."
The Leafs have gone 3-0-1 since the bye week while the Canadiens have also won three straight, including a dominant performance against the Jets on Thursday.
"I was very impressed with the way they played against Winnipeg," said Babcock. "I thought their structure, their detail, their work ethic, all their good players played well. They're 8-1-1 in their last 10, they're feeling really good right now. We haven't come in since I've been coach of the Leafs where both teams were good teams. They were good, we weren't good. They had an off-year. This is the first time it's actually been two teams that look like they're pretty good teams, look like they're going in the right direction, that are playing and so I think it makes it exciting for us and exciting for them."
Starting tonight the Leafs will play the Habs three times down the stretch, including the final game of the regular season. While Montreal's run this season wasn't expected by most pundits, Marner had a sense the team could turn things around considering who's behind the bench.
"They've played under Claude (Julien) for a year now so the systems are all down in their minds," Toronto's leading scorer observed. "They know how to play how he wants them to. You saw in Boston, (his teams) play the right way. He knows how to coach a team and when they bought in that's when they started winning."
The Leafs have won five straight against the Canadiens, including a four-game season sweep in 2017-18 and a 3-2 triumph in overtime on opening night this season.
---
Carey Price will be playing the 600th game of his NHL career and looking to extend a personal seven-game win streak (.955 save percentage in that stretch) dating back to Jan. 12. The Canadiens goalie will also be looking to turn the tide in his personal rivalry against Auston Matthews, who has seven goals in seven career games against the Olympic gold medallist.
Matthews is heating up of late with four goals and one assist in the last five games and tonight will be facing an opponent he has absolutely owned during his young career (11 points in eight games). After being held without a goal in his first three games against Montreal, Matthews has scored in each of his last five games against the Canadiens (nine goals, one assist in that blistering stretch).
And tonight Matthews will be looking to get back on track after what he admitted was a less-than-stellar performance.
"Our line wasn't as good as we'd like it to be," Matthews said on Wednesday night despite scoring a goal against the last-place Senators. "I think we can be a lot better."
---
Leafs lines at morning skate:
Hyman-Tavares-Marner
Marleau-Matthews-Kapanen
Brown-Kadri-Nylander
Lindholm-Gauthier-Johnsson
Ennis
Muzzin-Rielly
Gardiner-Zaitsev
Dermott-Hainsey
Holl-Ozhiganov
Andersen stars
Sparks
Leafs power play units at morning skate:
Rielly
Matthews-Kadri-Marner
Tavares
Muzzin
Gardiner-Johnsson-Nylander
Marleau