Backstrom a game-time decision for Game 4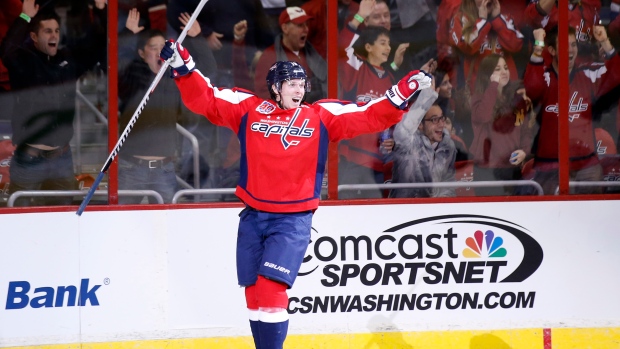 WASHINGTON — Nicklas Backstrom could return to the Capitals' lineup for Game 4 of the Eastern Conference final against the Tampa Bay Lightning.
Backstrom has missed Washington's past four games with a right hand injury. Coach Barry Trotz called him a game-time decision and said early Thursday that Backstrom had not yet been medically cleared.
The 30-year-old Swedish centre took part in the Capitals' morning skate in Arlington, Virginia, mixed in on line rushes and participated in power-play drills. His return would be a significant boost for Washington, which leads the series 2-1.
"It would be pretty cool," captain Alex Ovechkin said. "He wants it to (be) back. He wants to be part of the success and he's our best centre. If he's going to be in the lineup, it's going to give us more room to create with the lines and the team's going to be happy. He's our leader. We all love him."
Backstrom is the Capitals' second-longest-tenured player behind Ovechkin, and they're in the conference finals for the first time in their 10th playoff appearance.
"He's definitely a core part of this team, a tremendous leader, a guy you look up to and a guy you follow into battle," winger Tom Wilson said.
Backstrom was injured May 5 when a slap shot from Pittsburgh's Justin Schultz struck him in the right hand. If Backstrom plays, it's possible he doesn't take faceoffs.
Before being injured, Backstrom was one of Washington's top players in the post-season with 13 points in 11 games.
"He's the backbone of our team," goaltender Braden Holtby said. "It's always nice to have Nick in the lineup. He's a one of a kind player. ... If he's going to be in the lineup, he's going to Nick Backstrom."
Tampa Bay coach Jon Cooper said Backstrom's potential return is "just another major weapon in their arsenal."
"They just keep getting deeper," Cooper said. "He's a fabulous player. Just another guy that's a puck possessor, sees the ice. Just got to be aware when he's on the ice."
Backstrom, even if he's not 100 per cent, gives Washington another threat on the power play, which has so far been a deciding factor in the series. The Capitals went 2 for 7 in the first two games, while the Lightning scored twice on the power play in Game 3.
"Obviously (he has) got great hands and makes some nice plays," Lightning defenceman and fellow Swede Victor Hedman said. "He can pass the puck and he's been here for a long time and he's a world-class player."
___
Follow Hockey Writer Stephen Whyno on Twitter at https://twitter.com/SWhyno
___
More NHL hockey: https://apnews.com/tag/NHLhockey