Barrett to make NCAA decision on Nov. 10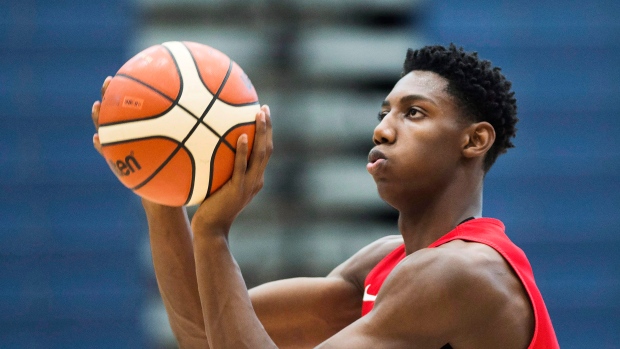 TORONTO – Canadian high school basketball star prospect R.J. Barrett will reveal his highly anticipated 2018-19 college announcement on Friday, Nov. 10 at Lionhead Golf & Conference Centre in Brampton, Ont., and TSN provides fans exclusive live coverage of the announcement during the 6 p.m. ET edition of SPORTSCENTRE.
Live on-site at the Lionhead Golf & Conference Centre, Nabil Karim hosts Friday's special SPORTSCENTRE broadcast alongside NBA ON TSN analyst Leo Rautins who breaks down what makes Barrett such a highly touted prospect, and Kayla Grey who delivers interviews for TSN.ca.
SPORTSCENTRE primes fans for the announcement on Thursday, Nov. 9 with a special feature delivering exclusive access to the Barrett family in Florida, where the bourgeoning star is currently playing high school basketball.
A standout high school competitor, and consensus top prospect, R.J. Barrett currently attends Montverde Academy in Florida and plays for AAU powerhouse UPlay Canada. Barrett earned the MVP award in the 2016 Jordan Brand Classic, and also won MVP during the 2017 NBA All-Star Weekend in the Basketball Without Borders game. This past summer, the Mississauga Ont., native was named MVP of the 2017 FIBA U-19 Basketball World Cup after leading Canada to a historic gold medal victory. He was also named to the All-Tournament team after averaging 21.6 points, 8.3 rebounds, and 4.6 assists.
TSN subscribers can access live streaming of the announcement via TSN.ca/Live and the TSN GO app.