Basketball takes a backseat at Raptors media day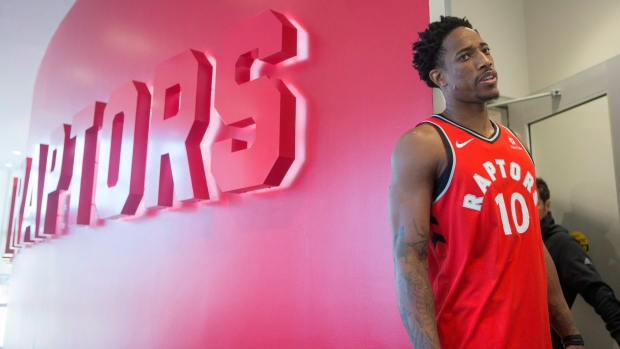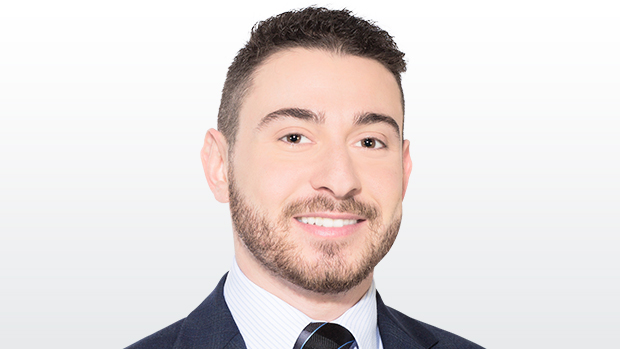 TORONTO – On a morning that's usually reserved for looking ahead to the upcoming NBA season, basketball took a backseat to a much bigger and more contentious topic at Toronto Raptors media day Monday.
Several members of the organization – including team president Masai Ujiri, head coach Dwane Casey and all-star players DeMar DeRozan and Kyle Lowry – used the platform to speak out on the current political climate in the United States, where protests by NFL players, the Golden State Warriors' withdrawn invitation to the White House and President Donald Trump's comments and tweets have grabbed headlines and stoked debate.
"People say, 'stay in your lane,' but our lane as human beings is to be human beings, is to be citizens of this great earth, the great United States,'" Lowry said. "I know we're in Canada, but I think as athletes we are citizens first. We are human beings first. We are fathers, sons, mothers, daughters – we are everything and I think that's our right to show that we are who we are. This is a crazy subject, I could go on and on about it. LeBron [James] stepping up and saying what he did is amazing. Chris Paul, Steph [Curry], the owners and the NFL backing them, [NBA commissioner] Adam Silver – it's amazing how our great group of individuals, that we have a positive impact on everything. We're coming together; we're a really strong unit."
Lowry went on to say he wished Trump would focus on bigger issues and improving the country for all Americans.
"I think it's unfortunate that someone that's the leader of the most dominant country in the world is calling men SOBs," Lowry said. "I think that's unfortunate. That's just sad. To go on a twitter rant, to be focusing on smaller things, smaller topics, kneeling players, other things that's going on and not focusing on the social injustices that are going on is bad. It's really bad. You wake up every day like, 'What's next?' "
The Raptors don't open training camp until Tuesday, but they met on Sunday evening to discuss these issues as a team. Lowry said they still haven't decided whether they plan to kneel or engage in any anthem protests once the preseason begins on Oct. 1, but he's confident the organization, as well as the league, will support them in whatever they do.
Although Ujiri and Casey declined to elaborate on the details of that meeting, it's clear they've encouraged and empowered their players to stand up for what they believe in.
"Speak your mind," said Ujiri. "That's what I tell them. Do your homework and know what you're talking about. If you've done that and this is something you feel strongly about or affects you in many ways – it affects all of us – then speak your mind. Nobody is holding anybody back here. To me, these issues are serious. Sports bring people together. It's not supposed to divide people it's supposed to bring people together and our players know that.
"I'm 110 per cent behind our players. I can guarantee you one thing, nobody's getting fired here. They have a platform. There's nobody getting fired, you can quote me."​
Trump said during a campaign rally Friday in Alabama that NFL owners should fire players who protest by kneeling during the playing of The Star-Spangled Banner.
Trump continued to tweet on the subject Monday morning writing, "The issue of kneeling has nothing to do with race. It is about respect for our Country, Flag and National Anthem. NFL must respect this!"
"It's unfortunate that people can even question whether an athlete should have First Amendment rights," Casey said. "And coming from our president, it's hurtful. I came through the '60s and '70s and it's eerily getting back to that if we're not careful. That's why we want to take away the divisive words and let's be inclusive. Whether you're Canadian, Mexican, it doesn't matter. It doesn't matter. Let's be together."
While the Raptors are slightly more removed than the league's other 29 clubs, as Canada's only NBA franchise, more than half of their players (12 of 20 on the training camp roster) are American-born.
"I think the President brought a lot of this stuff on himself," said DeRozan. "He brought it on himself…he's got to look in the mirror after making all these statements, saying all these crazy things about guys who are trying to do the right things, stand up for what's right. I feel no player is trying to disrespect nobody, no flag or anything like that, but we seem to be the ones who get the disrespect from our so-called leader. It sucks when we see that, especially when you've got kids that you want to raise in a country that's supposed to be the greatest country in the world. But you've got your president on Twitter more than a 12-year-old saying the most outrageous things for people who are trying to do something right."