Bears say QB Clausen will miss season finale after suffering concussion
Chicago Bears quarterback Jimmy Clausen will miss the final game of the season because of a concussion, and Jay Cutler will move back into the lineup.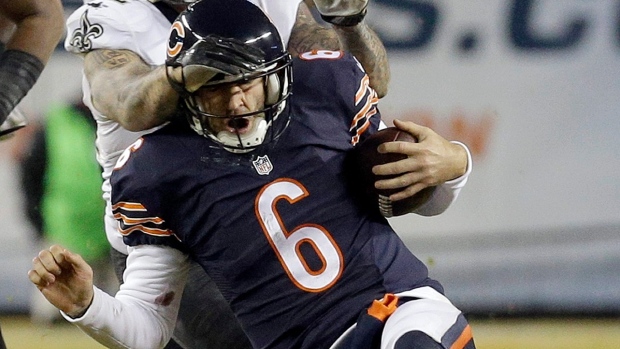 LAKE FOREST, Ill. - Quarterback Jay Cutler is returning to the Chicago Bears' lineup and will start the final game of the season after Jimmy Clausen suffered a concussion.
The Bears are going back to Cutler for this week's game at Minnesota after benching him for Sunday's loss to Detroit.
Clausen was injured on a helmet-to-helmet hit by Detroit's Ezekiel Ansah while scrambling on Chicago's final drive of Sunday's 20-14 loss. Ansah received an unnecessary roughness penalty.
Coach Marc Trestman would not say Monday if a healthy Clausen would have made another start.
"That's not an issue right now," he said.
The quarterback situation has been a big issue lately after Trestman decided last week to make a change with Cutler leading the league in interceptions (18) and turnovers (24).
It was a surprising move by a team that signed the quarterback to a huge seven-year deal after last season, and it raised big questions about Cutler's future in Chicago.
Then again, no one appears to be safe with the Bears (5-10) missing the playoffs for the seventh time in eight years after opening the season with high expectations.
The future of everyone from general manager Phil Emery to Trestman to the assistant coaches and the players is open for discussion.
"I've been supported by this organization since Day 1, that hasn't changed," said Trestman, who is 13-18 in two seasons.
Clausen, making his first start since he was a rookie with Carolina in 2010, played turnover-free ball until a late interception. He completed 23 of 39 passes for 181 yards.
The Bears said Clausen was monitored by the team's medical staff and the NFL's concussion monitor and showed no signs of a concussion immediately after the hit or on the final four plays of the drive. The team said he was checked on the sideline and after the game and passed all tests.
The Bears said Clausen started having issues in the evening and was taken to a hospital, where he was examined by a team doctor and diagnosed.
Asked about the severity of the concussion and why Clausen was ruled out this early in the week, Trestman said, "I can't say that. I know that each and every situation is dealt with independently. Doctors said that it would be best that he not play."
Trestman was also asked if he considered starting rookie David Fales against the Vikings.
"Jay gives us the best chance this week," Trestman said. "And so that's why. That's why he'll be out there. And Dave will be in the backup role."
Trestman might have to do some relationship mending with Cutler.
The quarterback acknowledged last week that he was taken aback by the change. He also said at the time that he could play for Trestman next season, although some repair work to their relationship would be necessary.
"I believe that Jay can work his way out of this," Trestman said. "And I've enjoyed coaching him and working with him. And we had dialogue last week. And we worked together last week. It was a tough week on him. I empathize with him on that. But we're moving forward, both with the idea that we've worked together for a long time and that hasn't changed."
There might also be some fences to mend in the locker room.
Veteran kicker Robbie Gould criticized the decision to bench Cutler in a radio interview on Monday morning, before the news about Clausen's injury broke.
"I feel really bad for Jay," Gould told a radio station. "When you're having a tough season like this, he's not the guy to be the scapegoat or the guy to blame. There's a lot of guys you can put that blame on. Unfortunately, I don't know if necessarily he's a guy that should take the entire blame because he doesn't deserve it."
Gould, who also told the station he will sit out the final game because of his right quadriceps injury, mentioned dysfunction in the locker room. He said there was much more unity under former coach Lovie Smith.
"The change was made because I thought we needed to get better play out of the quarterback, and we weren't getting it and I was very specific about that last week," Trestman said.
"What I've always talked to our players about is keeping those kinds of comments in-house, where we can talk about them in-house, so that's how I feel about it. I'm not going to comment on Robbie's because I didn't hear the comments."
NOTE: Trestman said DE Willie Young will have surgery to repair a torn left Achilles tendon. Young was injured during Sunday's game.
___
Online: http://pro32.ap.org/poll and http://twitter.com/AP_NFL