Benching sparks Ross in Raptors' odd win over Bucks
On a night in which DeMar DeRozan went scoreless, Kyle Lowry shot 1-for-9 from long distance, Jonas Valanciunas didn't log a minute in the fourth quarter and James Johnson didn't play at all, it was almost fitting to see the recently benched Terrence Ross go from zero to hero in the game's most crucial moments.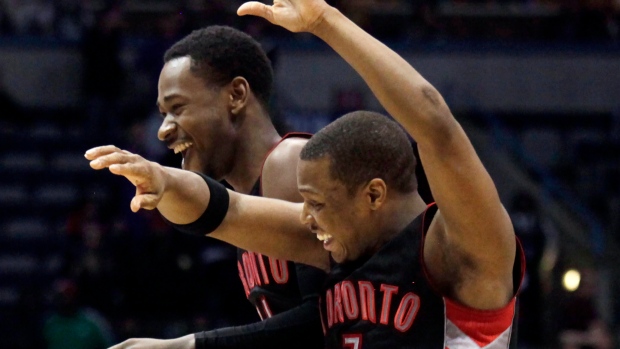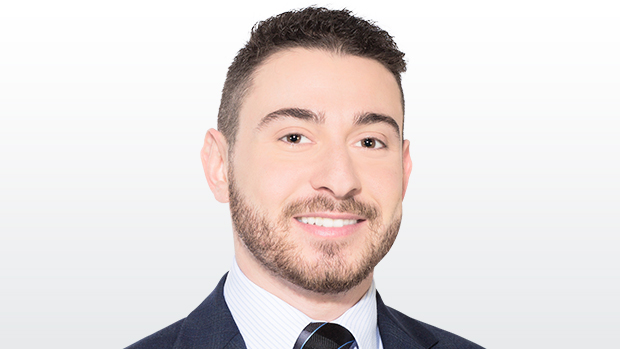 MILWAUKEE - On a night in which DeMar DeRozan went scoreless, Kyle Lowry shot 1-for-9 from long distance, Jonas Valanciunas didn't log a minute in the fourth quarter and James Johnson didn't play at all, it was almost fitting to see the recently benched Terrence Ross go from zero to hero in the game's most crucial moments.
For the first time since inheriting his starting spot from the traded Rudy Gay over 13 months ago, Ross came off the bench in Milwaukee on Monday night, 24 hours after sitting the entire second half in a disastrous loss to the undermanned Pelicans.
With less than a minute remaining and the Raptors trying to hold off the charging Bucks, Ross was back in the spotlight. He didn't start but thanks to a strong showing in response to his benching - his best in weeks - the 23-year-old closed the game for a struggling DeRozan.
Amir Johnson saved a broken possession with some crafty ball handling, finding Patrick Patterson, who swung it to Ross in the corner. Ross put the ball on the floor, something he did with regularity on this night, pulled up and drained a 14-footer. Moments later, after Brandon Knight cut Toronto's lead back down to one, Lowry found Ross leaking out for the slam dunk in transition. It would turn out to be the dagger.
"He played with a lot of confidence, relaxed," Dwane Casey said of Ross following a 92-89 win. "I thought he came in in the first half and got us jump-started off the bench. I don't know if it's a permanent thing but I liked the way he came in and played, especially on the defensive end."
After starting the last 102 games he's played, Ross found out he would be coming off the bench earlier that day, although it couldn't have come as much of a surprise given how poorly he's performed of late.
Once again, the timing has been unfortunate for Ross. His last slump coincided with the team's seven-game playoff series and elimination, while this slide comes during a stretch in which the Raptors have dropped seven of 10 as a team, almost magnifying the lulls you would expect from a young player.
"We're struggling as a team and one guy is not shooting the ball well, not playing defence at the level he has, rebounding the way he has so it makes it look like we're pointing fingers at him," Casey had said before the game. "But just maybe that change or whatever will get everybody else clicking until he gets things going again. It's tough, especially with a young player we're trying to develop and grow."
It's often difficult to gauge Ross' level of motivation because he's a quiet, sort of disengaged person by nature. "He's a different personally," Casey said. But, at least for one night, it seemed like the message was received.
He looked like a different player than the one who had shot 2-for-15 in the previous three games, the one that would get lost on both ends of the floor with little-to-no interest in being found.
He checked in for DeRozan with nearly five minutes to go in the first quarter, immediately knocking down his first shot, which may have gone a long way in restoring his fleeting confidence. His jumper was falling - hitting a corner three-ball shortly thereafter - and he was making plays off the dribble, looking for teammates around the rim and even throwing down a vicious one-handed slam early in the second quarter.
"Everybody goes through it," said Ross, who scored 16 points and grabbed five rebounds on 7-of-12 shooting in 23 minutes off the bench. "So you just have to play through it because if you don't it'll never go away."
"You're in the NBA, you're living your dream," Patterson had told Ross. "You're in a positive situation, you're in an environment where everyone is rooting and pulling for you."
"No one tells him not to shoot the ball, everyone wants him to be aggressive out there and that's what he's going to keep on doing. We look for him a lot on the defensive end and on the offensive end. He's our all-around player and he's got a lot of responsibility but he's young and he still has a lot to learn."
Greivis Vasquez stepped into the starting lineup in place of Ross, but as the back-up point guard he's still needed on the floor with the second unit when Lowry is out of the game, meaning his minutes automatically go up and someone on the wing becomes the odd man out. On Monday that was Johnson, who did not log a minute. With Tyler Hansbrough playing well (Casey has also been reluctant to use Johnson at the four this season) and the Raptors trying to get Ross going again, there wasn't much time available for the versatile forward.
"I'd love to play 15 guys," Casey explained after the game. "There's going to be some guys out of the rotation some nights and tonight those three did a good job – Terrence came in off the bench, Lou [Williams], Greivis and Kyle – so it had nothing to do with James, nothing he did wrong."
Valanciunas, who had a double-double in the first half and finished with 11 points and 13 rebounds, was held out in the fourth quarter with the Bucks going small, while DeRozan didn't look like himself playing in the third game in four nights having recently returned from injury.
The lineup change, as Casey says, is not permanent but it should stick for the time being as Ross regains his confidence and the team gets back on track. Vasquez will remain in the starting lineup to spread the floor as another three-point shooter and take pressure off of the tiring Lowry. Johnson, who likely missed out on the temporary promotion because of his limited range, may not see regular playing time but has done enough this season to earn a role in the rotation. He seemed to take the benching in stride, supporting his teammates on the sideline throughout the game, and Casey insists there's nothing more to it. Stay tuned.
As for Ross, his skill set - when he's locked in - and his presence with the first unit are far too important to just write off. The Raptors need to get him right and Casey knows it.
"I've watched film with him and talked with him," he said. "Everybody is working and trying to get him through this. It's nothing unusual for guys to go through what he's going through and, again, our woes are not totally Terrence, I want to make that clear. It's not totally him. It's everybody, all of us."
"I think sometimes guys need to take a deep breath and kind of smell the roses a bit and see what's going on and then go play."
FINAL ALL-STAR PUSH
Make no mistake, Lowry will be representing the Raptors in next month's All-Star Game one way or another, but with fan voting set to close Monday evening, the point guard may be better off getting a short vacation.
After playing MVP-caliber ball to start the campaign, culminating in Eastern Conference Player of the Month honours for December, Lowry has hit a mid-season wall.
"It is what it is," he said last week. "It doesn't matter. If I get in, I get in. If I don't, I'll be on the beach hanging out, resting."
He could use the rest. With the Raptors losing seven of nine games entering Monday's contest, Lowry averaged 17.3 points on 38 per cent shooting from the field, 31 per cent from three-point range over that stretch. He had scored 23.0 points on 51 per cent shooting, 48 per cent from three in his previous eight contests, with Toronto winning seven of them.
In the most recent balloting update, released 11 days ago, Lowry had made some progress passing Kyrie Irving for third place among guards in the East, but still sat over 100,000 votes behind Dwayne Wade for the second and final starting spot at the position.
Since then public support of the Lowry campaign has skyrocketed, at least north of the border. To some recent criticism, the Raptors have ramped up their promotion on the team broadcasts while keeping track of in-arena Twitter votes for the ninth-year guard.
Prime Minister Stephen Harper was the first notable Canadian to jump on board, tweeting an endorsement, which also counted as a vote (as have the 5,500 retweets it's accumulated over the past two weeks). Trumping the PM's tweet, Canadian pop star Justin Bieber made a similar plea to his 59-million followers on Monday afternoon, getting retweeted 20,000 times in just 20 minutes. However, Bieber's tweet and its subsequent retweets will not count towards Lowry's vote total because he did not include the hashtag NBABallot.