Bernier shuts door as Leafs down Ducks
Jonathan Bernier made 38 saves in his 11th career shutout, and P.A. Parenteau scored two goals in the Toronto Maple Leafs' 4-0 victory over the Anaheim Ducks on Wednesday night.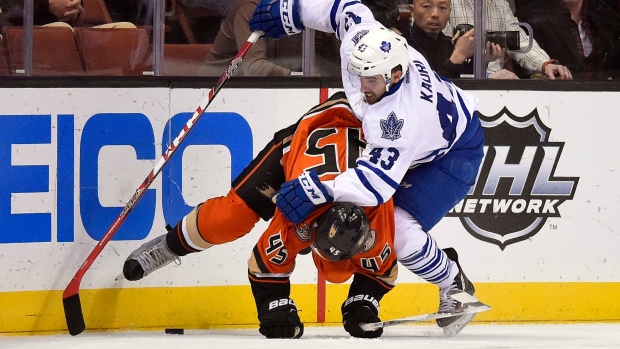 ANAHEIM, Calif. - Jonathan Bernier carried the Maple Leafs early with 18 first-period saves, and he traded blows with Corey Perry in the third.
A busy night for Toronto's revitalized goalie ended with another encouraging win.
Bernier made 39 saves in his 11th career shutout, and P.A. Parenteau scored two goals in the Maple Leafs' 4-0 victory over the Anaheim Ducks on Wednesday night.
Nazem Kadri and Brad Boyes also scored for the Leafs, who opened their three-game California road trip with their fourth win in five games overall.
"I think we're becoming a pretty good team together," Parenteau said. "We're having fun on the ice. We knew if we wanted to win, we had to start playing better."
Bernier did his toughest work in a one-sided first period, and he persevered for his second shutout of a Southern California team this season, following his blanking of Los Angeles last month. He has been increasingly solid since his return from an AHL stint last month, capped by yielding just four goals on 121 shots in his last three starts.
"Bernie was the difference for sure," Leafs captain Dion Phaneuf said. "There's some consistent play from our group that just seemed to wear on theirs, and we came in with a plan in place and we played it to a 'T.'"
Bernier also scuffled with Perry during the third period when the Ducks' All-Star forward responded to a slash on his legs by cross-checking the Toronto goalie twice, sending Bernier sprawling and leading to a larger fracas.
Perry refused to talk about it afterward, but Bernier thought it was just part of the game.
"It was a good cross-check," Bernier said with a grin. "The second one, I kind of went down a little bit to sell it. It was a fun game. Both teams showed up today. Lots of intensity. It was a fun game to be in."
John Gibson stopped 22 shots, but the Ducks' All-Star rookie goalie was forced to leave early in the third with a lower-body injury following a collision with Kadri. Anaheim coach Bruce Boudreau said Gibson has a lower-body injury that will be reevaluated Thursday.
The Ducks had won four of their past five games to move into playoff position, but reverted to their early-season woes while getting shut out for the eighth time already this season.
"We missed open nets in the first period, but (Bernier) was there when he had to make the save and he held the rebounds," Boudreau said. "So we didn't get any second chances, and when you don't get second chances, it's hard to score."
Gibson made 22 saves before Kadri knocked out his legs while skidding through the Ducks' crease following a scoring chance in the opening minute of the third period. After writhing on the ground and consulting with trainers, Gibson skated off and was replaced by Frederik Andersen.
Gibson has played in 16 of the Ducks' last 18 games, earning his first All-Star selection with stellar play since making his season debut on Nov. 24.
Anaheim took 11 of the game's first 12 shots, but the Leafs went ahead early when Parenteau scored on a broken play off a faceoff. The veteran forward scored again off a loose puck in the slot early in the second, earning his second multigoal game of the season.
"We had 18 shots and hit a couple of posts," Perry said. "Things just didn't go in that first period. We kind of got away from our game plan after that and we stopped playing the way we normally do. It's all about sticking with the process and sticking with the game plan."
Kadri then converted a one-timer immediately after breaking his stick on defence and picking up fresh lumber in stride at the Toronto bench. Boyes added a deflection goal early in the third.
NOTES: Josh Manson fought Roman Polak in the first period after Polak crushed Anaheim's Mike Santorelli into the boards. Manson got a misconduct penalty. ... The Ducks failed to get more power plays than their opponent for the 26th consecutive game. ... Ducks D Korbinian Holzer suited up against the Maple Leafs, who traded him to Anaheim in March after five seasons in their organization.