Beyond Matthews, scorers continue to struggle for Leafs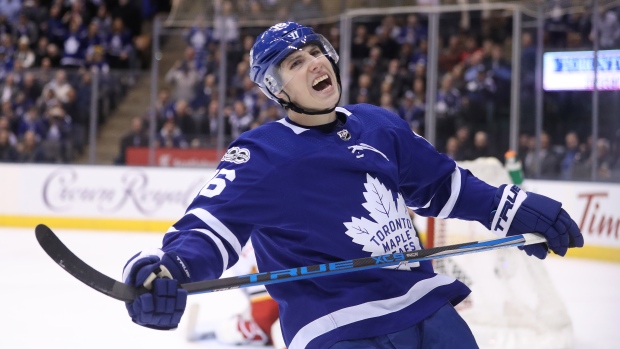 The good news for the Toronto Maple Leafs? There won't be much of a playoff chase this year. They are clearly the second-best team in an incredibly weak Atlantic division. And even if things sour down the stretch of the season, it's hard to see any scenario where they finish lower than third.
The bad news? They aren't playing particularly well these days and a lot of it has to do with their core players struggling to produce.
Beyond Auston Matthews, you can pick from any number of skaters who have gone through some sort of rough stretch this year. William Nylander and Mitch Marner are probably the most notable on this front. In 34 games, Nylander has just five goals. And that's herculean production compared to Marner, who has managed to score just twice this season. For two guys who were fantastic goal scorers in their rookie years, the lack of production has been jarring.
From a statistical viewpoint, it's hard not to notice that both of these guys are shooting at ridiculously low rates. Even if you didn't rate Nylander or Marner as anything better than second-line wingers, you would never expect them to shoot six per cent - or worse - over a full season. They just haven't had any shooting luck this season and that sort of stuff is fleeting. At a point the bounces will start to come, and to some degree, the goal-scoring will return.
But I do think there's much more of a discussion to be had here about both of these players, especially at 5-on-5. When shooting percentages move wildly in either direction, it should always raise a flag. But sometimes there can be reasonable justification for those conversion rates skewing from historical averages.
In Marner's case in particular, I think that's at play. A lot has been made about the shuffling of Marner around the lineup but one of the truisms about his game is that he's been just materially less dangerous with the puck when in the offensive zone. Last year, Marner was one of the league's better wingers at generating shots from dangerous scoring areas. This season, those numbers have been scaled back considerably.
If you look at Marner's individual scoring chance generation on a per-game basis, you can see how it's degraded year-over-year. And while he's seeing a couple less shifts per-night, the reality is he's just way too frequently a non-factor in some of these Leafs games.
The below is a game-by-game look at Marner's scoring chance creation (NST):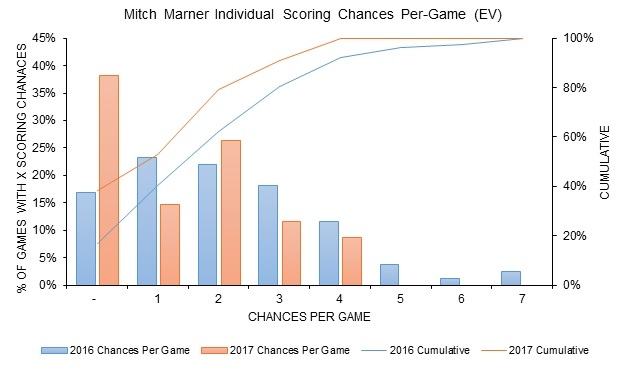 The most notable thing is that in nearly 40 per cent of the games Marner's played in 2017, he's generated zero scoring chances at 5-on-5. Last year, that number was 17 per cent (It's also worth noting that Marner had six games last season where he generated five or more scoring chances in a single game. This season, that number is at zero).
Now, it is possible that Marner's being asked to do more defensively, or is handling more of the distribution and playmaking duties, or is simply still trying to find a 'best fit' for potential linemates. But regardless of what the drivers are, we can say with a pretty high degree of confidence that Marner just isn't nearly as individually threatening as he was a season ago. And even if goal-scoring luck does return to some degree, it's hard to see how – at least at the prevailing rates – he ends the season as a 20-goal guy for Toronto.
The good news for Leaf fans is that we don't see the same type of story with Nylander. Here's his year-over-year individual scoring chance impact at even strength for the Leafs: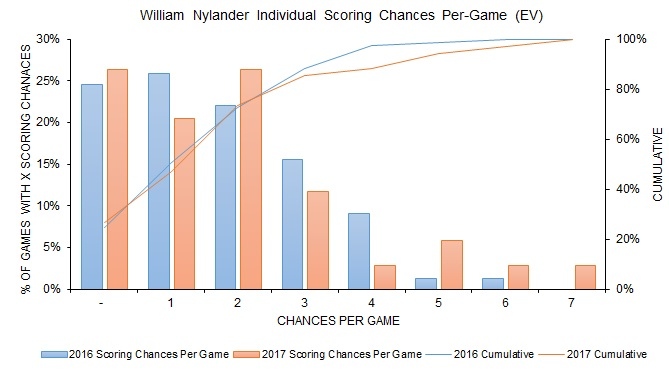 You could make the argument that Nylander's actually been a bit more threatening this season than last year. Nylander is generating about 1.9 scoring chances per game, which is about 0.3 more than what he did in 2016-17. And he's actually had a handful of games where he's been all over the ice - he's already had four games this year where he has been responsible for 5 or more scoring chances, which is hugely encouraging.
And I think that's why we can't just paint both of these players with the same brush. Both goal scoring droughts are fluky to some degree, yes. But if both players regress to normal shooting percentages on the scoring chances they are generating, only Nylander would see a substantial rebound in his goal-scoring. That's because Nylander's still threatening the opposition on a nightly basis. Marner? Not so much.
Right now, Toronto can make do as he tries to find his game. Come playoff time? Neither Marner nor Toronto will have that luxury.