Big-name blueliners are having their ice time recalibrated
Victor Hedman, Erik Karlsson and Alex Pietrangelo are among the defencemen who have seen their ice time sliced considerably early this season, Travis Yost writes.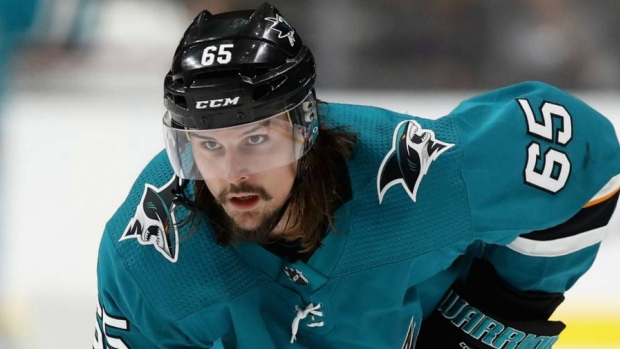 Lost in the awful news that Tampa Bay's Victor Hedman could miss significant time due to an upper-body injury was the fact that he is on pace to play the lowest minute totals of his career.
Prior to his mid-game departure in an Oct. 26 game against Vegas, Hedman was averaging record low ice time at 5-on-5. That's interesting because it's an obvious case of something other than performance driving usage rates (the guy just won the Norris Trophy). Hedman, since joining the NHL ranks in 2009-10, has consistently averaged around 17 minutes per game at 5-on-5. His lowest usage total came in his rookie season, where he averaged 16 minutes a night.
This season he's at just over 14 minutes, excluding that half-game against Vegas. It is a curious deviation to be sure.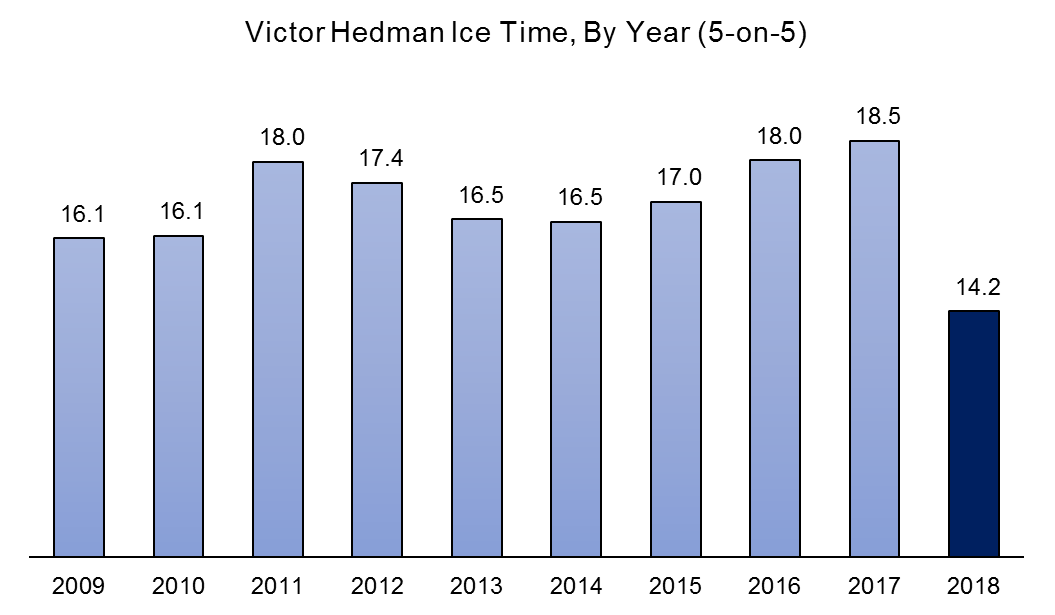 There are a multitude of reasons for this – more talent on Tampa's back end, allowing coach Jon Cooper to spread minutes out (particularly with respect to Ryan McDonagh), increased special teams usage, insulating a top-tier player for more usage later in the season, small sample variance, et al.
But Hedman isn't the only big-name defenceman to see his minutes recalibrated this season. Erik Karlsson, Brent Burns, Tyson Barrie and Alex Pietrangelo have also lost considerable ice time year-over-year, even with high usage relative to the rest of the league.
Again, there are plenty of reasons why that can be the case, particularly early in the regular season. But one of the fascinating things going on early in the season is a changing of the guard, so to speak, as a lot of defenders who weren't utilized as top-pairing guys last year have entered that conversation. Other defenders, utilized as top-pairing guys last season, have fallen out of that mix.
With about a dozen or so games per team at this point, I wanted to look at defenceman usage across the league year-over-year, and drill down on a few of the more subtle changes made by coaches around the league.
The below table shows each team's most frequently deployed defenders at 5-on-5 last season, measured against what they are doing this season. I have highlighted the instances in which there is a variance between the two: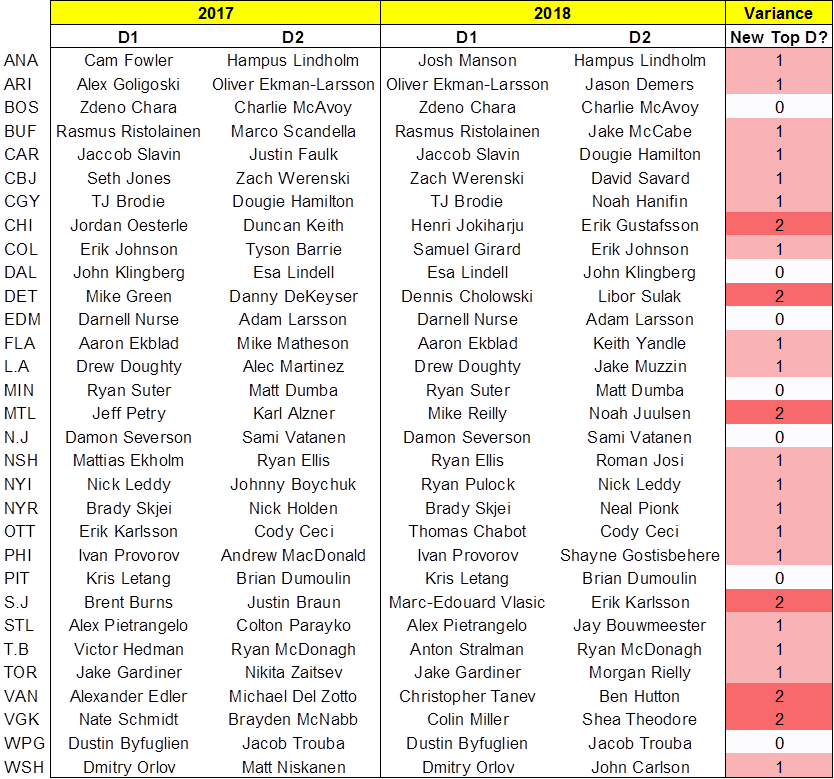 You can digest the table at your own pace, but I'll point out a few notable items league-wide.
Ottawa was expected to have a considerable overhaul after losing Karlsson, but I don't know if anyone imagined that Thomas Chabot would step up as the league's most utilized defender at 5-on-5 this season. Chabot hasn't looked out of place by any means, nor has fellow rookie Max Lajoie, who has evolved as the team's third-most utilized defender behind Cody Ceci. The way Lajoie is playing (and the way Ceci is playing), you wonder how long it will be until Ottawa's two most burdened defenders become two of their most interesting prospects.
Their summer trade partner in San Jose had a much more expected overhaul, though there are notable changes here. The Marc-Edouard Vlasic and Karlsson pairing has predictably evolved as the team's top unit, though in recent games coach Peter DeBoer has moved Karlsson onto a pairing with Brenden Dillon. But Karlsson has also seen a pretty substantial slice in his ice time. San Jose's made an effort to find balance and it's meant Karlsson seeing more than a three minute reduction in usage. Also impacted is fellow Norris Trophy winner Burns, who has lost about four shifts per game at 5-on-5.
I'm not sure anyone could have predicted what has happened in Montreal, either. Shea Weber's injury obviously created a large void, but Mike Reilly earning most of those minutes (he's averaging 17.5 minutes per night, which puts him in the 93rd percentile of usage league wide) definitely raises some eyebrows. Noah Juulsen, who saw some spot action with the Canadiens, has also moved into a top role.
One last item to keep an eye on: The Detroit Red Wings may be in a full-blown rebuild, but they are making the most of it. Dennis Cholowski – yes, 20-year-old rookie Dennis Cholowski – is eating up a ton of minutes for the Red Wings.
It was expected that the team would look for solutions as they manage out the minutes of veterans like Trevor Daley and Niklas Kronwall. But I certainly didn't see the Red Wings going this young, this fast on the back end. It's definitely something to continue monitoring as the season progresses.