Bills QB Orton informs team of his intention to retire after 10 seasons
Quarterback Kyle Orton has informed the Buffalo Bills that he plans to retire. The team announced Orton's decision in a news release issued Monday, a day after the Bills (9-7) closed their season with a 17-9 win at New England.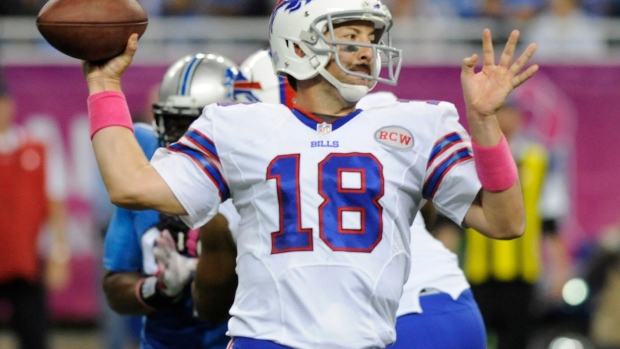 ORCHARD PARK, N.Y. - Acquiring a quarterback — and maybe two — tops the Buffalo Bills' off-season to-do list after the team was stunned by quarterback Kyle Orton announcing his intention to retire Monday.
"Right now, it's still trying to process it," general manager Doug Whaley said. "We had no inclination that he was thinking to make that decision at this time or down the road. So it was surprising."
The 32-year-old caught the team off guard when he informed coach Doug Marrone of his plans shortly before the Bills held their end-of-season meetings.
The revelation came a day after the 10-year journeyman led Buffalo (9-7) to a season-ending 17-9 win at New England.
Despite enjoying its first winning season since a 9-7 finish in 2004, Buffalo missed the playoffs to extend the NFL's longest active post-season drought to 15 years.
"It's just a family decision," Orton said, in a statement released by the team. "I've decided to get home and be a dad and call it a day."
Orton declined to speak to reporters while making a brief appearance at his locker, where he picked up a few of his belongings, including a money clip.
By electing to retire, Orton passes up a chance to make a $5.4 million base salary he was due next year after making $2.5 million this season.
"I can't be disappointed with a guy that says his heart's not in it," Whaley said. "I respect his decision. I respect what he brought to our team this year. And we wish him nothing but the best."
Orton was already contemplating retirement in mid-July when he was cut by the Dallas Cowboys after failing to attend the team's spring minicamps. The Bills signed him to a two-year contract with a little more than a week before the start of the season.
Initially brought in to mentor EJ Manuel, Orton wound up replacing the second-year player after a 2-2 start.
Orton provided an initial spark in going 3-1 in his first four starts before he and the offence sputtered down the stretch. He finished 7-5 with 3,018 yards passing with 18 touchdowns and 10 interceptions.
Minus Orton, the Bills are left with two quarterbacks, Manuel and Jeff Tuel, who spent the entire season on the practice squad.
Manuel has two years left on his contract. The 2013 first-round pick's future as the team's long-term starter, however, remains in question after he was benched.
Without making any commitments, Whaley and Marrone said Manuel will be given an opportunity to reclaim the starting job next season.
It won't happen without competition with Whaley saying he intends to add potentially two quarterbacks this off-season.
Getting a quarterback through free agency or trade is a more likely option. The Bills dealt their first-round draft pick to Cleveland for the right to move up five spots and select receiver Sammy Watkins fourth overall.
Orton's addition was a stop-gap measure. And yet the Bills were looking forward to seeing the benefit Orton would get by having an entire off-season to better learn the offensive system.
Marrone was so surprised by Orton's decision that he initially asked the quarterback to reconsider.
Had Marrone known about Orton's plans, the coach would have reconsidered his decision to start the veteran over Manuel in the finale with the Bills already eliminated from playoff contention.
Receiver Robert Woods said Orton had hinted at the possibility of retiring in recent weeks.
"He'd talk about it here and there, just joking around, 'It's my last get-around, guys,'" Woods said. "I gained a lot of knowledge from him. I'm happy for him. We're thankful for him."
With a 42-40 record as a starter, Orton was Chicago's fourth-round pick in 2005, and also played in Denver and Kansas City.
Quarterback shuffles are nothing new in Buffalo.
The Bills haven't had a starter last beyond three years since Hall of Famer Jim Kelly retired following the 1996 season. Including Orton, the Bills have now had 11 quarterbacks start at least eight games over the past 18 seasons.
NOTES: Tuel was one of 10 players the Bills signed to reserve/future contracts on Monday. Also signed were WRs Caleb Holley and Tobais Palmer, DLs Bryan Johnson and Jeremy Towns, OLs William Campbell and D.J. Morrell, linebacker Jimmy Gaines, cornerback Rod Sweeting and safety Deon Broomfield.
___
AP NFL website: www.pro32.ap.org and www.twitter.com/AP_NFL