Bjorkstrand leads Denmark in historic shootout win over Switzerland at World Juniors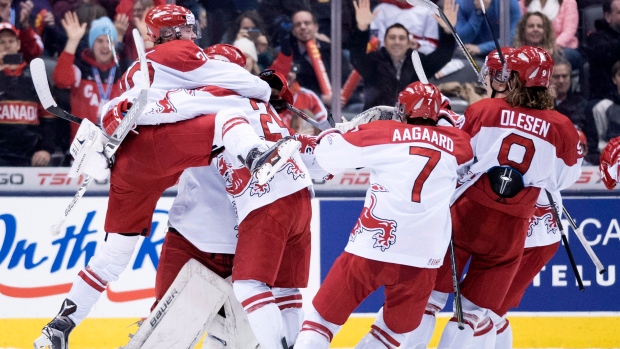 TORONTO — Oliver Bjorkstrand scored twice in regulation time and again in the shootout as Denmark halted a 15-game losing streak to win its first ever game at the world junior hockey championship, 4-3 over Switzerland in round-robin play on Tuesday.
Mikkel Aagaard had a goal and an assist for Denmark (1-3 with two overtime losses), while Anders Krogsgaard rounded out the offence.
Georg Sorensen stopped 42 shots through regulation and overtime and two more in the shootout.
"I was happy with how I played today," Sorensen said. "I played well yesterday, so I just did my routines again today. We had great guys in front of me, and they played well today also. We gave it everything we had. We're exhausted but happy."
Kevin Fiala and Kris Schmidli scored twice in just over a minute to give Switzerland (1-2) a 2-0 lead in the first period. Timo Meier added a goal and an assist.
Gauthier Descloux made 20 saves in the loss, including one in the shootout.
"I think we played a good game," said Swiss forward Luca Hischier. "We had 45 shots. I think we were the better team but they scored twice with the power play."
Denmark can advance to the quarter-finals if Russia beats the Czechs (in regulation or overtime) and Sweden beats Switzerland in regulation on Wednesday.