Blackhawks icon Mikita passes away at 78
The Blackhawks lost one of the most revered figures in franchise history on Tuesday when Stan Mikita passed away at age 78. The former captain and Hall of Famer, who helped Chicago to the 1961 Stanley Cup title, was a four-time scoring champion and two-time winner of the Hart Trophy.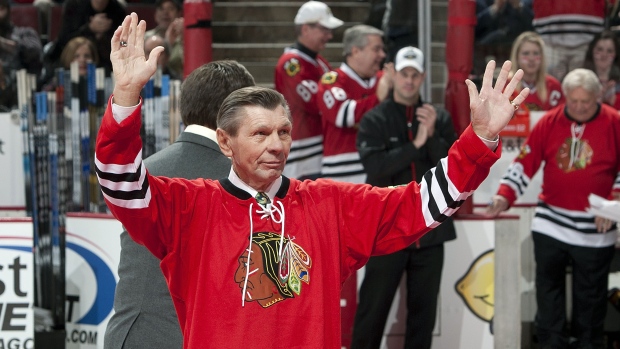 CHICAGO — When Stan Mikita got back together with the Chicago Blackhawks, it was clear how much the reconciliation meant to the Hall of Fame forward.
He became a team ambassador, and then got a bronze statue outside the United Center. He was a regular at home games, drawing loud cheers when he was shown on the videoboard, often with former teammate Bobby Hull right beside him.
"I was proud to wear the Indianhead uniform for 22 years," Mikita said when he was honoured before a 2008 home game.
Made it look good, too.
The Blackhawks lost one of the most revered figures in franchise history when Mikita died Tuesday. The former captain, who helped Chicago to the 1961 Stanley Cup title, was 78.
Mikita's family announced his death in a statement released by the team. No further details were provided, but he had been in poor health after being diagnosed with Lewy body dementia — a progressive disease that causes problems with thinking, movement, behaviour and mood.
"He was surrounded by his loving family whom he fiercely loved," the family said in the statement.
Mikita spent his entire career with Chicago, beginning with his NHL debut in 1959 and running through his retirement after playing 17 games in the 1979-80 season. Known for using a stick with a wicked curve, he is the Blackhawks' career leader for assists (926), points (1,467) and games played (1,394), and is second to Hull with 541 goals.
"I, alongside all who played with him, knew him not only as a great player, but as an even better friend, teammate, husband, father and grandfather," Hull said in a statement from the team. "I take comfort in knowing we will be forever together in front of the United Center, and I'm honoured to now play a part in keeping his legacy alive."
He was named one of the top 100 NHL players of all time by The Canadian Press in 2017.
Mikita remains the only NHL player in history to win the Art Ross (scoring champion), Hart (MVP) and Lady Byng (sportsmanship) trophies in the same season, and he accomplished the feat in consecutive years in 1967 and 1968. He became the first player to have his jersey retired by the Blackhawks in 1980, and was inducted into the hockey Hall of Fame three years later.
"Stan was not only one of the greatest hockey players of all time but he was a Hall-of-Fame person," said Sharks general manager Doug Wilson to The Canadian Press.
Wilson played for Chicago the final two seasons of Mikita's career.
"He taught so many of us about the game of hockey and, more importantly, he taught us even more about life," said Wilson. "It was a distinct honour and privilege to know Stan and to call him my friend and mentor. From myself and the rest of the Wilson family, our love and hearts go out to his wife, Jill, as well as their kids, Meg, Jane, Scott and Chris and their families."
Mikita's relationship with the Blackhawks deteriorated over time, but the franchise reached out to the former captain after longtime owner William Wirtz died in 2007 and his son, Rocky, took over. The return of Mikita and Hull was a key moment in the transformation of the Blackhawks from one of the NHL's worst franchises to its current place among the best run organizations in sports.
"There are no words to describe our sadness over Stan's passing," Rocky Wirtz said. "He meant so much to the Chicago Blackhawks, to the game of hockey, and to all of Chicago."
Born Stanislaus Guoth in Sokolce, Slovak Republic, in 1940, he emigrated to St. Catharines, Ont., as a young boy, according to his Hockey Hall of Fame induction biography.
He was named to Canada's team for the 1972 Summit Series, but played in just two games due to injury. The Canadian team played an exhibition game in Prague against the Czech national team prior to returning to Canada, and Mikita was named Canada's captain for that game.
The five-foot-nine Mikita was just 18 when he was promoted from the Ontario Hockey Association's St. Catharines Teepees to join a mediocre Blackhawks franchise in 1959. He made his debut at home against mighty Montreal, and his first faceoff came against Jean Beliveau during his prime.
"I was still in a daze when I went out to take that faceoff against a legend like Beliveau, who was around six-foot-five and a towering presence on the ice," Mikita wrote in his 2011 book, "Forever a Blackhawk."
"He had to outweigh me by 60 pounds. The faceoff was in Montreal's end. I looked up at him from the circle and wound up staring at his belly button. That's how tall he was. My knees were shaking. My head was spinning. Somehow I got my stick down and managed to get the puck to our point man. Don't ask me who it was. I was too nervous to remember names."
But Mikita showed steady improvement at the start of his career, helping Chicago develop into one of the most feared teams in the league. He had eight goals and 18 assists in his first full season, and then helped the Blackhawks to their first NHL title in 23 years.
The 1960-61 team, coached by Rudy Pilous, went 29-24-17 in the regular season, finishing third in the NHL. Chicago then upset Beliveau and heavily favoured Montreal, and beat Detroit in six games for the championship. Mikita had 19 goals and 34 assists in the regular season, and then added six more goals and five assists in 12 playoff games.
Mikita and the Blackhawks played for the Stanley Cup again in 1962, but lost to Toronto in six games. They also lost in the finals in 1965, 1971 and 1973 despite continued post-season success for Mikita, who tops the franchise playoff lists for assists (91), points (150) and games (155).
Mikita made the crossover into popular culture in the 1992 Mike Myers hit movie "Wayne's World," where a fictional restaurant called Stan Mikita's Donuts served as a stand-in for Tim Hortons.
— With files from The Canadian Press.