Blackhawks' Timonen to play in Game 4
Kimmo Timonen will play for the Chicago Blackhawks in Game 4 of the Stanley Cup final. The veteran defenceman hasn't played since Game 5 of the Western Conference final. The 40-year-old Timonen is in his final NHL season.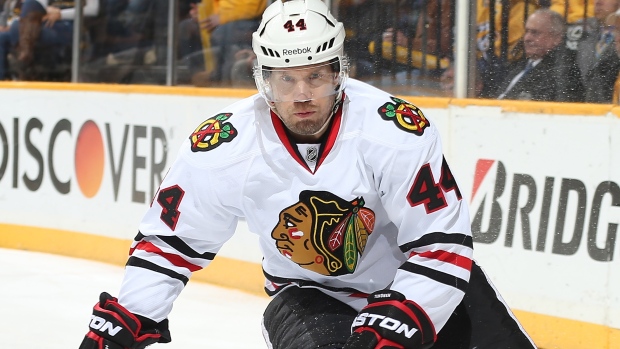 CHICAGO - Every time Kimmo Timonen walks into the Chicago Blackhawks' practice facility, a photo of Patrick Kane celebrating reminds him of the closest he ever got to winning the Stanley Cup.
Five years after being a key piece of the Philadelphia Flyers team that lost to Chicago in the Cup final, Timonen is back in the championship series as a member of the Blackhawks.
The 40-year-old defenceman missed the first three games as a healthy scratch. On the morning of his series debut, Timonen couldn't stop smiling.
With retirement on the horizon, it's a last chance decades in the making.
"There's not many moments that I'm going to get like this," Timonen said. "This is my moment."
Timonen playing hockey at all is remarkable. Doctors back home in Finland discovered over the summer he had blood clots in his leg and lungs, putting his career in jeopardy.
Timonen missed the first five months of this season but got medical clearance to play. All he wanted was one more Cup run, something he got thanks to a trade from the Flyers to the Blackhawks just before the deadline.
The night Kane scored his memorable overtime winner to give Chicago its first Cup since 1961, Timonen could never have forecasted this.
"It's been a long process," he said. "This was the team where I wanted to be when I started to make the comeback and we have a really good chance to make something good here."
Four times an all-star, Timonen is now a bottom-pairing player averaging 10 minutes a night when he's dressed. It's much different than he's used to and forces him to make the most of each shift.
"The role is what it is and we all have different roles," Timonen said. "We all have to go out there and do the job, whatever the role is. It is not about me. It is about the team."
The 15-year veteran tried to keep his focus on Game 4 and the task at hand, but the big picture is impossible to ignore. If the Blackhawks come back from this 2-1 series deficit to win the series, Timonen would get his name on the Stanley Cup.
Even though he has been a healthy scratch for the past five games, Timonen believes winning would be like a lifetime achievement award.
"I'm here to win the Cup," Timonen said at media day in Tampa, Fla., last week. "I think about it, and it's a reflection of 17 years and 1,100 games. In my mind, I earned it, I paid my dues."
Timonen struggled at times in the Western Conference final against the Anaheim Ducks, lacking the quickness and puck-moving prowess that made him an all-star. Injuries took their toll on the Chicago defence, which lost Michal Rozsival, but Timonen nevertheless had his minutes reduced and then he was scratched.
In giving him a shot at some measure of redemption, coach Joel Quenneville said he was counting on Timonen's intelligence and experience.
"I think he did a good job for us throughout the playoffs," Quenneville said. "Gives him a chance to get in here in an good moment, a big moment."
This is a moment even Timonen's opponents can enjoy, including former Flyers teammates and current Lightning defencemen Braydon Coburn and Matt Carle. Coburn, his old defence partner, is just glad he's on the ice.
"I'm just happy for him," Coburn said last week. "It was a tough year for him. It's scary: Blood clots, it's not just a hockey injury it could be life-threatening. I know he saw all the doctors he needed to see and figured out that whole situation for himself."
Countryman Valtteri Filppula's eyes lit up when told Timonen was playing — followed by the quip, "as long as he doesn't play too well."
"He's been a top D for a long time in the league and especially for Finnish hockey," Filppula said. "He's a great guy. It's fun to see him on the ice. That's where he belongs."
---
Follow @SWhyno on Twitter