Blue Jays Future Watch: Pearson's elite stuff on full display
Toronto's top pitching prospect running up an eye-popping line that includes 46 strikeouts across 28 innings so far this season, Scott Mitchell writes in his biweekly look at Blue Jays prospects.
TORONTO — Promoted to Double-A New Hampshire a couple of weeks ago, Nate Pearson has continued his dominant season.
As the Blue Jays attempt to limit the workload of their top pitching prospect, Pearson has been on a strict schedule of a five-inning start, followed by a truncated two-inning outing.
So far, the results have been better than just about anyone could've expected, even if everyone knew the 100-plus mph. stuff was elite.
A fractured forearm on a comebacker last May resulted in a washed out 2018 campaign, but the 6-foot-6, 245-pounder has made up for lost time in the early going this year, running up an eye-popping line that includes 46 strikeouts across 28 innings and just 12 hits allowed.
In two Double-A starts spanning seven innings, Pearson has yet to walk a batter, and he's issued just three free passes all year.
With just 20.1 pro innings under his belt coming into the season, the Jays are going to be extra careful with Pearson, whose history of elbow issues was one of the reasons he was available at the 28th pick in the 2017 MLB Draft.
"With Nate, the focus has been getting off to a consistent routine and taking the ball every five days and then go from there," Blue Jays director of player development Gil Kim said.
The Jays haven't publicly stated exactly where Pearson's innings cap sits this summer, but the quality of those innings has been exciting up to this point and he could be let loose and on the fast track in 2020.
With our preseason top 50 Blue Jays prospects as an overall guide to the names that matter within the system, here's our regular look at who's hot, who's cold, and who's under the radar.
SCORCHING HOT
SP Patrick Murphy, Double-A New Hampshire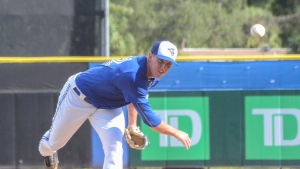 Pearson's development will be an important storyline as the Blue Jays attempt to get back to contending, but finding other arms in a system that's lacking pitching depth is paramount.
At this point, Murphy's stuff and proximity might be the best bet.
No stranger to elbow issues himself — Murphy has undergone Tommy John as well as thoracic outlet surgery — the 6-foot-4 right-hander stayed healthy in 2018 on his way to Florida State League pitcher of the year honours, and he's doubling down on that breakout campaign this spring.
Across eight starts, Murphy has limited the hard contact with just 31 hits allowed across 45.2 innings, and he's struck out 49.
Armed with a major-league ready fastball and curveball, the 2013 third-round pick was added to the 40-man roster this past winter and he could be a dark horse candidate for a big-league cameo later this summer if he continues to pitch well.
Murphy has been nearly unhittable over his last two starts, authoring a seven-inning, one-hit shutout before striking out 10 in another seven-inning gem that saw him give up just one run on Wednesday.
Honourable mentions: OF Cal Stevenson, High-A Dunedin (.317/.391/.439 with 1 HR in 11 G since May 1); RP Jackson Rees, Low-A Lansing (17 IP, 9 H, 3 BB, 30 K, 0.53 ERA).
ICE COLD
1B Chad Spanberger, Double-A New Hampshire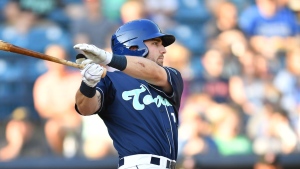 The Blue Jays knew they were being aggressive with Spanberger, a 2017 sixth-round pick who was acquired from the Colorado Rockies in exchange for reliever Seunghwan Oh, when they pushed him to Double-A to start the year.
Even though he's 23, Spanberger had all of 92 plate appearances at the High-A level.
Through the first 34 games with the Fisher Cats, it's been a challenge for the left-handed hitting first baseman, as he's slashing just .195/.270/.309 with two home runs in 137 plate appearances, including just .183 with no home runs over his past 16 games.
Kim is confident he'll adjust.
"What we heard from the University of Arkansas [coaches] is how good his work ethic was, and [in spring training] Chad worked his tail off and showed a lot of aggressiveness at the plate," Kim said. "He's got loud tools at the plate and the ball comes off his bat extremely well. We are being aggressive but we know Chad has the tools to handle any struggles he might encounter."
Honourable mentions: SP Sean Reid-Foley, Triple-A Buffalo (31 IP, 32 H, 29 BB, 37 K, 8.13 ERA in 7 appearances); C Hagen Danner, Low-A Lansing (.045/.043/.045 with 0 HR in 6 G since May 6).
UNDER THE RADAR
SP Andrew Sopko, Triple-A Buffalo
With the Jays rotation at the major-level level beat up, the front office was forced to scoop 35-year-old Edwin Jackson off the scrap heap.
The problem, however, is not injuries alone.
Many of the arms the Jays saw as depth options coming into the year were either forced into bullpen roles or simply haven't been very good at Triple-A.
Acquired in January in the trade that sent Russell Martin back to Los Angeles, Sopko's 12 shutout innings in his final two Double-A starts prompted a promotion to Triple-A Buffalo, where he held the Gwinnett Stripers at bay for 5.2 innings in his debut on Tuesday.
Sopko is more of a depth prospect than any sort of headliner, but sometimes these types of arms come out of nowhere to turn into innings eaters, something the Jays could desperately use.
A fly-ball leaning right-hander, Sopko doesn't strike many out (8.1 K/9 in his MiLB career), but now that he's in Triple-A it wouldn't be surprising to see the 2015 seventh-round pick get a spot start or two in the second half.
Honourable mentions: C Alejandro Kirk, High-A Dunedin (.381/.458/.571 with 0 HR in 6 G since May 4); C Gabriel Moreno (.600/.600/1.600 with 1 HR in 1 G since May 15).