Blue Jays' infield a jigsaw puzzle for Montoyo
TSN Toronto Blue Jays beat reporter Scott Mitchell begins his spring training preview series with a look at an infield in flux, thanks to the pending arrival of Vladimir Guerrero Jr. and a glut of options in the middle of the diamond.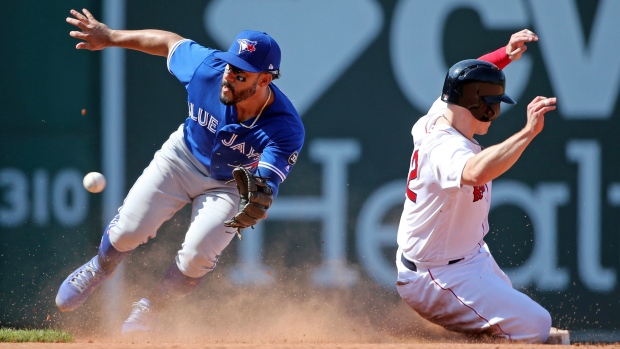 TORONTO — You've heard the phrase.
If you can't beat 'em, join 'em.
You can argue that's exactly the course the Blue Jays have charted for the new Charlie Montoyo era.
While some fans would love to see the Jays join the Boston Red Sox and New York Yankees as annual American League East powers in terms of player procurement and financial clout, Montoyo and Co. are instead attempting to emulate the 53-year-old first-time manager's former team, the Tampa Bay Rays.
Consider two facts: One is that the Jays are just 33-43 over the past five years against a Rays club that has always been a thorn in their side, no matter what the standings say during that particular season.
Tampa also just won 90 games using three main ingredients: A strong farm system, versatile and productive pieces around the diamond, and a versatile pitching staff that got outs unconventionally and birthed 'The Opener' in the process.
That's the recipe general manager Ross Atkins and the Jays want to use and there's no better example of that than the group of infielders set to battle for playing time over the next six or seven weeks.
With pitchers and catchers officially reporting for work in Dunedin on Thursday — the first full team workout is next Monday, and the Grapefruit League opener is slated for Feb. 23 — we'll take a look at each position group over the next four days, starting with the jigsaw puzzle that is the infield.
STARTERS
C Danny Jansen
1B Justin Smoak
2B Devon Travis
3B Brandon Drury
SS Lourdes Gurriel Jr.
BENCH
C—Luke Maile
1B—Kendrys Morales
SS—Freddy Galvis
The term 'everyday player' is going to become a loose one, especially when it comes to the middle infielders.
Justin Smoak is entrenched at first base (until the free-agent-to-be is traded, of course) and Vladimir Guerrero Jr. will be at third base once he's stashed in the minors long enough to gain an extra year of control.
The middle infield is another story altogether.
Cuban Lourdes Gurriel Jr. is the bat-first option at shortstop, while veteran Freddy Galvis, signed to a one-year deal, is by far the best defender at the position.
Both can play second base, too, but so can Devon Travis and Brandon Drury, who will start the season at the hot corner before the deck is shuffled when Vladdy arrives for good.
Add in the fact Bo Bichette and Cavan Biggio are waiting their turn at Triple-A and you have a number of ways things can go on the dirt as the 2019 season unfolds.
TRYING TO IMPRESS
C Reese McGuire
1B Rowdy Tellez
2B/SS Eric Sogard*
2B Cavan Biggio*
3B Vladimir Guerrero Jr.*
SS/2B Richard Urena
SS Santiago Espinal*
SS Bo Bichette*
*Not on 40-man roster
After swatting nine doubles and four home runs as the toast of the town in September, Rowdy Tellez will look to carry that momentum into the spring and show the Jays that performance was real.
Without an injury, he's likely headed back to Triple-A, but Smoak and designated hitter Kendrys Morales are both in the final year of their contracts, so at-bats should be there for Tellez at some point – especially if he's performing well in Buffalo.
McGuire will battle Maile for the backup role and could win it, but everyday at-bats with the Bisons might serve the 24-year-old well.
The dark horse to contribute this season out of this group is versatile middle infielder Santiago Espinal. Even though the piece the Jays acquired in the Steve Pearce trade with the Boston Red Sox last summer could start back in Double-A, he's already 24 – three years older than Bichette – and could jump straight to the majors if a need arises, a la Gurriel Jr. last season.
SPRING STORYLINES
Is Lourdes Gurriel Jr. a shortstop or what?
This is, perhaps, the most interesting question of the spring.
While the Jays seemed committed to at least exhausting the possibility that the 25-year-old could handle the position and hit enough to overcome his defensive deficiencies, the Galvis signing is ominous.
There's no doubt Gurriel can hit. The .281/.309/.446 slash line he posted in his 65-game cameo looks an awful lot like what his older brother, Yuli, has produced in his first two full seasons with the Houston Astros as an above-average bat in a good lineup.
Like Lourdes, Yuli doesn't exactly have a home defensively, instead bouncing around to all four infield spots, but playing mostly the corners.
If the slick-fielding Galvis ends up seeing most of the playing time at short behind a groundball-heavy rotation, Gurriel's at-bats will have to come at multiple spots, too.
Is this Devon Travis' last chance in a Blue Jays uniform?
If Gurriel can't handle short on a full-time basis, it won't be helping Travis.
Travis' fourth major-league season was the healthiest of his career, but, unfortunately, it was also the least productive.
Turning 28 later this month, it's now or never for Travis in a Jays uniform.
Thanks to shoulder and knee issues, his wRC+ has fallen four consecutive years, from 136 in 2015 to 111 in 2016 to 90 and 77, respectively, over the past two seasons.
He's essentially gone from well-above average to well-below.
Lacking versatility, Travis could find at-bats in the outfield eventually, but that will put even more pressure on the bat to produce.
Long story short, Travis not only needs a solid spring, he needs to start the season looking like the player many envisioned a couple years ago or the Guerrero call-up might really put the squeeze on the Florida State product.
What happens when Vladimir Guerrero Jr. arrives?
This much is certain: Vladdy won't be in the majors before April 12.
You can thank service time rules for that.
The situation creates an odd scenario where spring training battles are a little less interesting, knowing everything will quickly change at some point in April.
But for players like Travis, LGJ and Drury, it also creates pressure to perform each and every at-bat through March and into the first part of April, as playing time will be harder to come by once Vlad is locked into his everyday role.​