Blue Jays look to keep momentum in Garcia's first start
Left-hander Jaime Garcia will make his first start for the Toronto Blue Jays on Monday after earning a spot in the rotation with a strong spring. The Blue Jays won their past two games to split their season-opening series against the Yankees.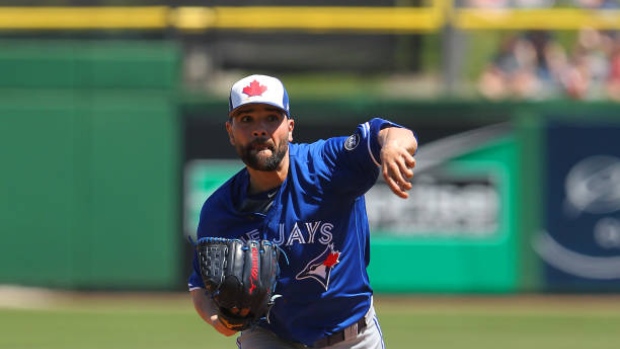 TORONTO -- An eighth-inning grand slam by first baseman Justin Smoak in a 7-4 win over the New York Yankees on Sunday helped the Toronto Blue Jays overcome a stumbling start to the season.
The Blue Jays emerged from their four-game series against the powerful Yankees with a split after losing the opening two games of the season.
They will begin a three-game series Monday night at the Rogers Centre against the Chicago White Sox, who had their game Sunday against the Kansas City Royals at Kauffman Stadium postponed by cold weather.
The White Sox defeated the Royals 4-3 on Saturday night and are 2-0 this season.
"We have a really good team, a really young team," White Sox catcher Welington Castillo said. "Aggressive and I think, it says a lot. We just go out and compete and have fun and whatever happens, happens."
The White Sox's rotation will stay in order after the postponement with right-hander Reynaldo Lopez starting against Blue Jays left-hander Jaime Garcia.
Smoak hit two home runs and had six RBIs to equal his career best in going 3-for-4 on Sunday. His game-winning hit -- his second career grand slam -- came on a 3-2 fastball from Yankees reliever David Robertson with two outs.
Rookie Yankees manager Aaron Boone had decided to walk struggling Blue Jays third baseman Josh Donaldson to load the bases to face Smoak, a move that failed dramatically.
The Yankee had built a 4-1 lead that Smoak cut to one with a two-run homer in the seventh.
Gaining a split against the Yankees was important for the Blue Jays, who had a poor April in 2017 and failed to make the postseason after reaching the American League Championship Series in the two previous seasons.
"I think it's big," Blue Jays manager John Gibbons said. "We won that nice one (Saturday) and to come back down like we did today is huge.
"I've been saying all along, all through spring training that the key to our team is getting that offense rolling. There are nights when you have to slug it out -- that's what we did today. It's a long season -- six months -- but it's always important to get off to a good start."
Blue Jays center fielder Kevin Pillar was 3-for-4 Sunday and is the only Blue Jays player to hit in all four games this season. Pillar is batting .462 (6-for-13).
The Blue Jays are .500 for the first time since the end of the 2016 season.
Garcia will make his first start for the Blue Jays on Monday after signing in the offseason. He has never faced the White Sox in his career. Castillo is the only White Sox player to have faced him, and he is 3-for-8 (.375).
In four official spring training outings, including three starts, Garcia was 2-0 with a 2.63 ERA.
Lopez is 8-6 with a 4.81 ERA in 19 career games, including 14 starts, with the Washington Nationals and the White Sox in 2016 and 2017.
In eight starts with the White Sox in 2017, he was 3-3 with a 4.72 ERA.
The only Blue Jays to have faced Lopez are Steve Pearce, who is 0-for-1 with a walk against him, and Curtis Granderson, who is 1-for-2 with a home run and three RBIs.
The 24-year-old was 1-2 with a 3.86 ERA in five spring training starts.
The White Sox are on a roll and did not particularly want a day off.
"Any sports team, especially baseball, I think you just want to play," White Sox manager Rick Renteria said. "Any interruption kind of changes the direction you were going in. I know everyone on the West Coast is playing, but it is what it is -- you can't control that."
Renteria likes what he has seen so far.
"We're pleased, for sure," he said. "These guys came out of spring prepared to play a certain way and they're doing it. They're fighting.
"It's still a season of discovery for us in many ways. Regardless of a 2-0 start, these guys are prepared and have a really good mindset."