Blue Jays need less hope and more predictability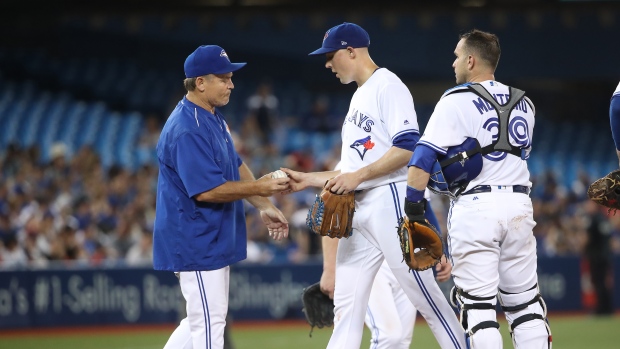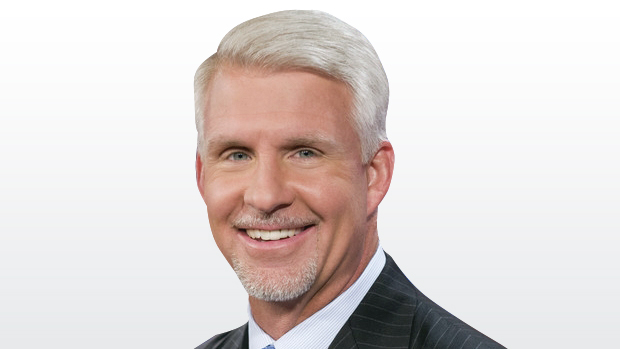 The Blue Jays and Marco Estrada reached an agreement on a one-year deal for $13 million for the 2018 season earlier this week. It's a safe and conservative deal for both sides.
For Estrada, he stays in a place where he is comfortable and has had success. For the Jays, they fill a hole in the rotation with a player they know and who has won some big games. Estrada is more of a middle-of-the rotation guy, but he doesn't break the bank and isn't locked up for the long-term. The Jays have said every personnel decision will be made to help them win in 2018 without compromising the future. This deal fits that plan.
But keep in mind that this is a sub-.500 team that has to be rebuilt in a bigger and better way. Just keeping all of the same players and hoping they perform better next year is a flawed approach. The 2018 Jays need less hope and more predictability.
The Jays need to be special in two of the three major components of the game next season. A great rotation and bullpen could afford a club with less offence. A team constructed with a great bullpen and offence can compensate for some starting pitching injuries or deficiencies. A great rotation and offence would allow for John Gibbons to figure the bullpen out on the fly next season.
Aaron Sanchez is a key on the pitching staff, but he is 100 per cent hope and 0 per cent predictability. The Jays have to only consider him a fifth starter next year because they have no clue whether his blisters can be managed. If he can't start, he will only be replaced by a fifth starter-type guy called up from Triple-A. If the Jays construct a roster expecting Sanchez to be a front-end starter they'll be doomed if he can't stay healthy.
Ideally, another front-end starter makes sense. Guys like Yu Darvish and Jake Arrieta may be out of their price range, but they need to consider them. Dual threat Shohei Otani will be posted in Japan and would be a great fit to help with the rotation and the offence.
If the Jays can't afford the magnitude or length of the deals for the aces this winter they should consider the Dodgers' way of building the rotation. Whenever a pitcher got hurt in L.A. they replaced him with a major-league-average or better starter. They seemed to cycle pitchers from the active roster to the DL and back to the active roster. Hyun-Jin Ryu and Brandon McCarthy seemed to alternate all season. Then when Rich Hill, Alex Wood or Clayton Kershaw missed time, both Ryu and McCarthy were active.
For the Jays, this could mean adding guys like Jeremy Hellickson, Jason Vargas and Brett Anderson to Marcus Stroman, J.A. Happ, Estrada and Sanchez. That would provide depth in the number of proven big- league pitchers instead of unproven minor leaguers.
The Jays also need to add a proven leadoff hitter. They can't just hope Devon Travis can stay healthy and handle the role. Guys like Indians second baseman Jason Kipnis (signed through 2019, option for 2020) and the Tigers' Ian Kinsler (option for 2018) would be great fits.
Toronto also needs to add some production in their outfield. Ideally, Teoscar Hernandez should be a fourth outfielder and Ezequiel Carrera a fifth outfielder. The Jays need boppers at the corner outfield spots. J.D. Martinez, who has 41 homers this year, is a free agent. So is Jay Bruce, who has played for the Mets and Indians this season. Justin Upton, who was traded in August from the Tigers to the Angles, will likely opt out of his contract and explore free agency. There are some good options to consider.
Marco Estrada signing is a start, but much more is needed this off-season if the Jays are going to compete in 2018.
What's next for Bautista?
One guy who won't be back in 2018 is Jose Bautista. The Jays will surely decline the mutual option on his contract, making him a free agent. I know Ross Atkins told TSN Radio on Wednesday that he wasn't going to say Bautista won't play for the Jays again, but he also didn't imply he would play either.
Logic dictates that Bautista's days as a Blue Jay are coming to an end. Atkins just didn't want to say it with the season still ongoing. There will be an appropriate time to announce it. Atkins did the right thing to avoid the conversation now. But make no mistake, Bautista will find a job somewhere next year. It is time for a change of scenery.
Jose could fit on a veteran team in win-now mode, where he could serve in a Chase Utley-like role. He could start a few times a week and pinch-hit. He could also fit on a young up-and-coming team looking for a veteran presence.
He needs to be protected and rested during the season. Gibbons couldn't afford to give Jose a day off this year because of all of the injuries. Bautista's first day off this season was July 31. He was under water by then and was never able to really recover. Jose can hit 20-plus homers and get on base at a .360 clip next year if he gets 300 to 400 plate appearances. It would be a great role for him.
I sure hope the fans come out to the Rogers Centre and say their appropriate goodbyes to Jose. He is one of the greatest Blue Jays ever and has represented the franchise, its fans and the all of Canada with class and character.
Even if he goes on to play a couple more years in other places he will always be special in Toronto.
AL Wild Card going down to the wire
The American League Wild Card looks like it is coming down to the wire between the Minnesota Twins, Los Angeles Angels and Texas Rangers.
Entering play on Friday, the Twins hold a two-and-a-half game lead over the Angels. Minnesota has six games left against Detroit and three against the Indians, while the Angels have three games against the Astros, four versus the White Sox and three against the Mariners. The Rangers, who are making a late run, have six games left against Oakland and three versus the Astros. I thought the Angels would catch the Twins, but Minnesota keeps surprising me with an offence that has really come to life.
None of these teams feel like a very good matchup against the Yankees. The Yankees would rather play Minnesota because they have dominated them for years now. In fact, the Yankees are 78-31 against the Twins since the start of the 2002 season, which is a 116-win pace across a full 162-game season. The Yankees are also 12-2 against the Twins in the postseason during that time. They beat Minnesota in the 2003 ALDS (3-1), 2004 ALDS (3-1), 2009 ALDS (3-0), and 2010 ALDS (3-0).
Can the Rockies hang on?
Who would have thought the National League Wild Card would become more competitive than the AL?
As of now, the Brewers are one game behind the Rockies and the Cardinals are a game-and-a-half behind. Colorado has three more games remaining against the feisty Padres, then three versus the Marlins and Dodgers. The Brewers have three more games against the Cubs, Reds and Cardinals. In addition to the three games against the Brewers, the Cardinals have three games remaining against Pittsburgh and four against the Cubs.
It sure feels like it's the Rockies' Wild Card to win, but they have started to fade. I predict the Rockies will hold on.
Spitting Seeds
- On Wednesday, a young girl was hit in the mouth by a line drive off of the bat of Yankees third baseman Todd Frazier. It was a horrible scene. Players on the field were visibly upset by it. If that same ball had been hit in 11 other stadiums the fans would have been safe because of the protective netting that has been extended in those ballparks. Yankee Stadium is clearly not one of those stadiums.
This has been an ongoing discussion in baseball. In my time in baseball I've seen many people drilled by balls in the stands and twice as many near misses. I would not let my family sit in my box seats next to the dugout when I was general manager because I felt they were at risk. I won't sit in seats without a screen in front of me now, unless I am far away from the action. There's no way to react and protect yourself when from a 95-mph line drive when you aren't expecting it.
My belief is that every team would agree to extend netting if someone were to die from getting hit. If that is the case, why wait? I know there is concern that the highest-paying fans will complain their view is more obstructed with a net in front of them. They'll get over it. My experience is that after one inning you get used to the net anyway. They will also appreciate the net when they see a line drive headed for them bounce off of it.
The Padres, Mariners and Reds have already committed to extending their netting for the 2018 season.
- Major League Baseball set a record this year for home runs. We have never had more players with at least five homers (331), 10 homers (232) 15 homers (155). We have tied last year's record of players with 20 homers (111) already. There will be well over 6,000 homers hit this season. Of course, with all of the power production there is one negative: strikeouts. We'll also see a record set this year for total strikeouts.
The home runs are good for the game because fans like it. The strikeouts aren't bad, other than how they may slow the game down. Pace of play is more of a negative issue than the strikeouts. If we can figure out how to keep the action moving then the strikeouts will feel like less of an issue. I expect significant changes prior to the 2018 season, including a pitch clock.
- The Blue Jays aren't alone in going for it in 2018 while trying to extend their All-Star third baseman. The Orioles recently announce they will not trade Manny Machado and will try to win next season. The signing of their stud third baseman will prove even more difficult than the Jays situation with Donaldson. Machado will be only 26 when he is eligible for free agency, compared to Donaldson, who will be 33. Plus, Machado is represented by Scott Boras who always prefers to explore free agency rather than extending with a player's current club. He likes to exploit the market as much as possible. I think Donaldson and the Jays will make a deal. I believe Machado will be a Yankee in 2019.
- There hasn't been a manager fired in MLB this season for the first time since 2011. But changes are already happening after the Tigers late Friday afternoon announced that manager Brad Ausmus won't be re-signed for 2018. It's expected that Mets manager Terry Collins will retire at the end of the season. The only other manager in jeopardy is Brian Snitker in Atlanta. There is speculation that third base coach Ron Washington could replace him at the helm.