Blue Jays ready for action in outfield market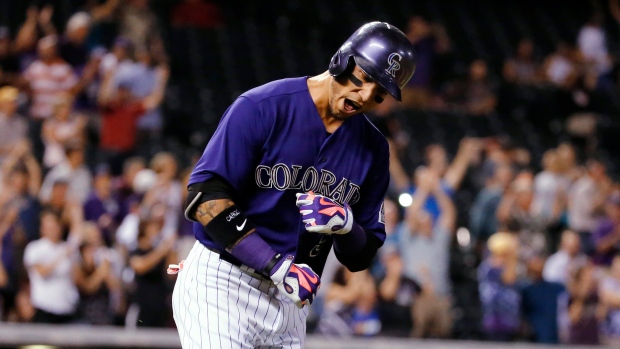 LAKE BUENA VISTA, Fla. — The dominos have not yet started falling when it comes to the free-agent outfield market, but when they do you can expect the Toronto Blue Jays to be involved.
Count on it.
The sun set on the second full day of the annual Winter Meetings at the busy Walt Disney Swan and Dolphin resort Tuesday without any transactions to report.
In GM Ross Atkins' mind, progress is another story altogether.
Atkins counted 30 documented interactions with other general managers and agents that are "demonstrating progress and certainly insight into the market and our opportunities."
The Blue Jays were attached to three names via the rumour mill Tuesday, all of them splashing around in a crowded outfield pool.
While one of them was a rumoured check in with the Miami Marlins regarding Marcell Ozuna, Atkins did touch on interest in free agents Carlos Gonzalez and Jay Bruce.
"Those guys fit well," Atkins allowed. "I think there's alternatives in that market, as well. There's other guys that we like so those guys would complement our team well."
There's currently a gaping hole in right field that will have to be filled by a legitimate bat with some pop in order to take the front office's pledge to contend in 2018 seriously.
Gonzalez and Bruce could be seen as ways to add offence, but neither player is perfect, hence why they're seen as second-tier outfield options behind J.D. Martinez and Lorenzo Cain.
They're both very average defensively and don't exactly hit on the Jays' desire to add more versatility or speed.
The 32-year-old Gonzalez could have to settle for a one-year prove-it deal thanks to a subpar 2017 inside Coors Field that saw him slash just .262/.339/.423 with 14 homers in 534 plate appearances, while Bruce clubbed a career-high 36 home runs in a season split between the New York Mets and Cleveland Indians.
Bruce, however, seems a lot like what the Blue Jays already have on the roster: All-or-nothing power guys who aren't providing much value when they're not hitting the ball over the fence.
As Atkins noted, there are alternatives, and that's what's stopping them from getting anything finalized at this point.
"Opportunities and alternatives," Atkins answered when asked specifically for a reason for the lack of action with two days remaining in Orlando.
Here four other things you need to know from the second full day of the Winter Meetings:
JAYS LISTENING ON DONALDSON
Publicly, the Blue Jays front office is still adamant they're not likely to trade Josh Donaldson.
Behind the scenes, they're definitely listening to offers, as Ken Rosenthal from The Athletic touched on Tuesday evening when he reported the St. Louis Cardinals have spoken with Atkins about the third baseman with one year of team control left.
With the Baltimore Orioles reportedly shopping Manny Machado, who's in the same boat as Donaldson contract-wise, and the Tampa Bay Rays potentially looking to move Evan Longoria, the hot corner trade market could have options and alternatives, too.
FLEXIBILITY IS KEY
Atkins believes he has the flexibility to do whatever he wants to help improve the roster.
That means it could be via trade, a short-term contract for a free agent, or even a long-term pact.
"We're fortunate that we could do either," Atkins said. "We have, I think, more resources than most teams and financial flexibility and asset value in our system that could be a short-term opportunity, could be long term."
Atkins added that they will consider dealing away players considered top 10 prospects in their system in a trade if it's the right fit.
That would have to be a young, controllable piece like the 27-year-old Ozuna, who is coming of a career year in which he slashed .312/.376/.548 with 37 homers and 124 RBI.
Ozuna can become a free agent after the 2019 season.
Six-to-eight teams are rumoured to have interest in the right-handed power bat.
TRADE TALKS ARE PLENTIFUL
There are a number of theories as to why it's been such a slow moving off-season, but Atkins points to trade talks playing a role.
General managers are currently eschewing talks with agents as they try to gauge if they can fill their needs with a swap or two before committing to aging and expensive free agents.
"That is probably what's slowing down free agency is that the team discussions are robust," Atkins said. "Whether or not they're more robust than in years past is difficult to quantify."
The Blue Jays alone have been linked to Ozuna, Pittsburgh Pirates utility man Josh Harrison, and Philadelphia Phillies second baseman Cesar Hernandez.
Versatility is something Atkins is targeting.
"I think the way that our position player roster is constructed, the fact that, again, we're one of the older teams in baseball and our position player roster was, I believe, the oldest in the AL, maybe in Major League Baseball, so creating versatility seems to be a wise move for us and one that we're focused on," Atkins said.
BOVE HONOURED
Veteran Blue Jays scout Russ Bove was named the Scout of the Year for the East Coast.
As a special assignment scout, Bove has laid eyes on just about every top prospect in the organization as well as establish stars like Marcus Stroman.
"All the good ones I've agreed with and all the lousy ones I didn't," Bove joked.
Bove joined the Blue Jays in 2010 after getting his start in scouting as a 32-year-old in 1984.
While outsiders will look at prospects like Vladimir Guerrero Jr. and Anthony Alford as successes, Bove pointed to the recent trade of outfield prospect J.B. Woodman, a second-round pick in 2016, for infielder Aledmys Diaz as the type of scouting win that often gets lost in the shuffle.
"We made that deal, we traded Woodman, who was one of our picks, and you try to explain to these young guys, if you trade and get a big leaguer back for one of your prospects, you did a tremendous job," Bove said.
In addition to helping the Montreal Expos draft Ian Desmond in 2004 — he's the lone remaining Expos pick in the big leagues — Bove's eyes were instrumental in drafting shortstop Bo Bichette.
"As a matter of fact, Bo Bichette did not come off too great with analytics, only because high school position players, they typically have the biggest failures, so we had to keep convincing (assistant GM) Joe (Sheehan) and we kept moving Bo Bichette up our (draft) board and, fortunately, we were able to take him," Bove said.​