Blue Jays release OF Upton Jr.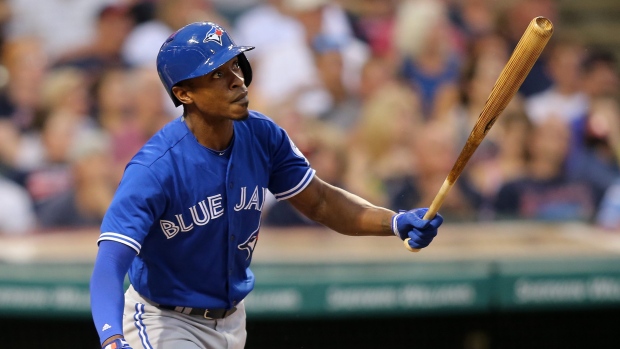 The Toronto Blue Jays have released Melvin Upton Jr. after reportedly attempting to trade the veteran outfielder.
Upton Jr. posted a .194 average in 36 Spring Training at-bats with three home runs and seven RBI. He hit a home run and drove in three as the Blue Jays defeated the Pittsburgh Pirates 6-4 in Montreal in their final preseason game Saturday.
The Blue Jays first acquired Upton Jr. on July 26th of last year from the San Diego Padres and he played 57 games with the team during the 2016 season. The Padres are responsible for all but $1 million of his $16.45 million salary.
The Jays are the fourth team Upton Jr. has played for in his 13 years in the league, playing eight seasons with the Rays, where he began his career.
In 2016, Upton Jr. had a .238 average with 20 home runs and 61 RBI's. Upton Jr. becomes an unrestricted free agent in 2018.
Upton's release leaves the team with Jose Bautista, Ezequiel Carrera and Kevin Pillar as the only healthy outfielders on the roster. Dalton Pompey was placed on the disabled list Sunday with a concussion. First baseman Steve Pearce, however, has experience playing in the outfield.
Osuna on the DL
Also on Sunday, the Jays placed closer Roberto Osuna on the 10-day disabled list retroactive to March 30 with a cervical spasm. Pitcher Dominic Leone was recalled to fill Osuna's roster spot.
The Jays' opening day roster is as follows, per the team:
PITCHERS - 12 (12 + 3 DL)
31 BIAGINI, Joe: RHP
25 ESTRADA, Marco: RHP
37 GRILLI, Jason: RHP
33 HAPP, J.A.: LHP
56 HOWELL, J.P.: LHP
51 LEONE, Dominic: RHP
45 LIRIANO, Francisco: LHP
62 LOUP, Aaron: LHP
54 OSUNA, Roberto: RHP (DL)
41 SANCHEZ, Aaron: RHP
47 SCHULTZ, Bo: RHP (DL)
38 SMITH, Joe: RHP
46 SPARKMAN, Glenn: RHP (DL)
6 STROMAN, Marcus: RHP
52 TEPERA, Ryan: RHP
CATCHERS - 2
55 MARTIN, Russell
10 SALTALAMACCHIA, Jarrod
INFIELDERS - 7
18 BARNEY, Darwin
20 DONALDSON, Josh
17 GOINS, Ryan
8 MORALES, Kendrys
28 PEARCE, Steve
14 SMOAK, Justin
29 TRAVIS, Devon
2 TULOWITZKI, Troy
OUTFIELDERS - 3 (3 + 1 DL)
19 BAUTISTA, Jose
3 CARRERA, Ezequiel
11 PILLAR, Kevin
23 POMPEY, Dalton (DL)