Blue Jays' starting rotation thrown into disarray
Touted as one of the best starting rotations in the American League just two months ago, the Toronto Blue Jays' starters have completely collapsed, delivering the fewest number of quality starts of any team in baseball, TSN Baseball Insider Steve Phillips writes.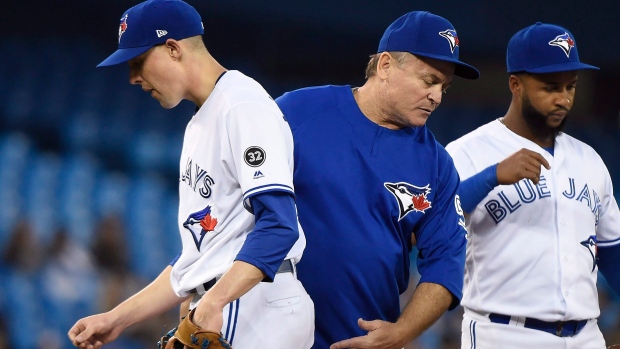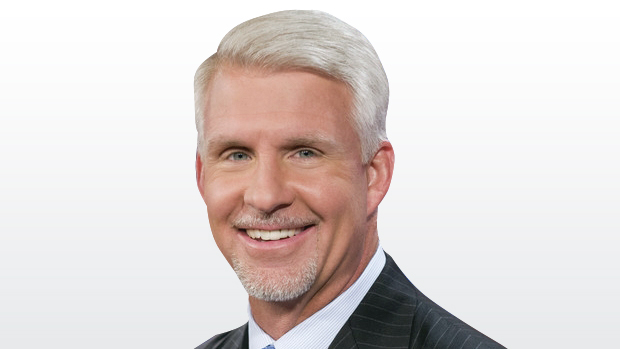 A mere two months ago, the Toronto Blue Jays' starting rotation was considered the best component of their club and one of the best in the American League. But the season has since seen the rotation (12-23, 5.31 ERA) completely collapse.
Only J.A. Happ (3.97 ERA) has a sub-4.00 ERA. Aaron Sanchez (2-4, 4.07 ERA) hasn't been able to recapture the feel he had from the 2016 season in which he led the AL in ERA. He has walked 34 batters in 55 innings of work. Marco Estrada (2-5, 5.40 ERA) has been stung by the long ball (12 HR in 10 games) as opponents are slugging .555 against him. Jaime Garcia (2-3, 6.28 ERA) has allowed 57 base runners in 38.2 innings. Marcus Stroman (0-5, 7.71 ERA) is currently on the disabled list with "shoulder fatigue" as the team searches to explain his inconsistency and .299 opponents' batting average.
It is a collection of pitchers giving up too many free passes and long balls. As a unit, they have delivered the fewest number of quality starts (starts of six or more innings, allowing three or fewer runs) of any team in baseball with 14.
To put that in perspective, the Houston Astros lead MLB with 37 quality starts. Even the Tampa Bay Rays have more quality starts (26) than the Jays and Tampa has utilized relievers to start some games this season in so-called "bullpen days." On a normal "bullpen day," seven or eight relievers are used an inning or two at a time to cover a game.
Just this past weekend, the Rays implemented a bit of a twist on bullpen day, as they started reliever Sergio Romo on both Saturday and Sunday against the Los Angeles Angels. Romo pitched just one inning on Saturday and struck out the side. Sunday, he came back and pitched 1.1 innings and struck out three while walking two. On each day, Romo was relieved by a pitcher who by all accounts is a starter but the Rays are trying something different.
They are trying to protect a couple of young starters from having to face the best hitters in the lineup an extra time. So, they let the veteran righty, Romo, face the big bats to start the game and then introduce the young green starter against a gentler part of the lineup. It is a unique and creative way to develop young pitchers at the big-league level, which is a must for small-market teams like the Rays.
So the obvious question is, would something like this help the Jays? The Jays are a veteran staff with a combined 746 career starts under their belts. The Rays have a combined 256 starts by their five most-used starters this season. The Jays' starters shouldn't need nursing through the first inning of a game. In fact, a look at the ERA of Toronto's starters in the first inning shows it is their best inning. So they don't need support early in the game.
Take a look at their ERA inning by inning:
Jays' ERA per Inning
| Inning | ERA |
| --- | --- |
| 1st | 3.78 |
| 2nd | 3.96 |
| 3rd | 5.58 |
| 4th | 5.58 |
| 5th | 8.10 |
| 6th | 4.86 |
But a deeper look at the numbers does show a disturbing pattern. They obviously need to make adjustments as the game progresses. The starters fall off significantly the second time through the order, in innings three and four. And then in the fifth inning, which is generally the third time through the lineup for a starter, they are throwing batting practice.
A couple of bad bullpen outings in the fifth helped the number jump a bit as well, but you get the point about the starters. The numbers in the sixth inning improve because many times Jays manager John Gibbons has removed the starter in the sixth inning and the bullpen has done a better job.
This indicates to me a couple of things: the secondary pitches aren't nearly as effective as they need to be for the starters to get hitters off their fastball. When you factor in the extraordinary number of walks by the starting staff (116, third in MLB) also means they find themselves in too many 2-0, 2-1 and 3-1 counts where they have to throw their fastballs and have been made to pay a price. Big league hitters thrive in those counts.
I don't envy Jays pitching coach Pete Walker. He needs a quick fix on four of his five starters or this season is going be over by July 1. It has to start with everyone throwing more strikes. They have to stop trying to miss bats and instead trust their stuff. Then they all have to find a secondary pitch that can be effective and start working a sequence of pitches to adjust the second and third time through the lineup.
The odds are against four pitchers turning their season around in dramatic fashion. It can happen, but it needs to happen now.
Bautista finds perfect fit with Mets - for now
The Jose Bautista-era in Atlanta ended almost as quickly as it began.
The Braves had to make a roster move when shortstop Dansby Swanson was activated from the disabled list and the former Blue Jays star was the odd man out.
Bautista only hit .143 with two homers in his short time with Atlanta. I thought all along his stay might be short-lived because the Braves had been waiting for Johan Camargo, a 24-year old infielder, to come back off the disabled list.
Fortunately for Bautista, when Camargo returned, Swanson went on the disabled list. This bought the veteran slugger a few extra days, but he just couldn't get things going offensively though, especially against the better velocity fastballs. He did, however, look surprisingly adequate at third base.
Luckily for Bautista, the New York Mets need right-handed power since third baseman Todd Frazier and outfielder Yoenis Cespedes are on the DL. Plus, the Mets have lost centre fielder Juan Lagares for the season.
Bautista and his new-found versatility are a perfect fit for the time being in New York. Just as the Braves had some interest in Bautista because of his relationship with former Jays GM Alex Anthopoulos, the Mets' interest was driven by his relationship with former Jays GM J.P. Ricciardi, who is a special assistant to the GM for the Mets.
Make no mistake, the relationships have opened doors for Bautista, but his performance will dictate whether he stays in the majors.
Even when the Frazier and Cespedes get healthy, Bautista has a shot to stick in New York especially because former Blue Jay Jose Reyes (.145/.203/.200) is really struggling. Reyes can play in the middle infield and Bautista can't, but infielders Wilmer Flores and Asdrubal Cabrera may be able to cover the duties. Bautista doubled and drove in a run in his first at bat.
Bautista is back with the Mets for a second time. He never played a game for them the first time when they acquired him from the Kansas City Royals at the trade deadline on July 30, 2004, and then quickly flipped him to the Pittsburgh Pirates in a deal for starting pitcher Kris Benson. He played parts of five years in Pittsburgh before coming to Toronto in 2008.
The 37-year-old Bautista is now hoping there is more to his story.
Spitting Seeds
- The Blue Jays have gotten very little production from second base this year. The combined production of their second basemen is .216/.260/.335 with five homers and 19 RBI. The group's .595 OPS is ranked 24th in baseball. The season began with Devon Travis being the lead candidate to accumulate the bulk of playing time at the position but his lack of production led to a demotion to Triple-A on April 29 and calling into question his future at the position. He struggled at the minor league level as well, but was still recalled to Toronto on May 22. He is only 2-for-9 upon his return and his season numbers have dropped to .157/.213/.286.
The writing is on the wall for Travis, who is now 27. He can no longer be counted on as an answer for the Jays. He looked like a quality hitter in his first two seasons but it has been all downhill from there. At his age it's no longer about potential, it is about unrealized potential. At this stage of the game for him it is all about production or lack thereof. Certainly, injuries have been a factor for him but the game is cold-hearted. It will leave you behind if you don't keep up. It is a game of adjustments and he hasn't made them even when healthy.
As long as he's getting at-bats, Travis has an opportunity to change the narrative. But he'd better hurry. The story is getting to the end and it's too bad because he really is a nice young man.
- The Washington Nationals have been bitten by the injury bug as much as anyone this season. Their organizational depth is really being challenged – it has gotten so bad that this past week they called up a 19-year-old outfielder named Juan Soto. Soto is the Nats' second-best prospect and one of the top young players in the game. It isn't a surprise that he's in the major leagues, it's just much earlier than anyone anticipated. The young man started the season in low Class A (.373/486/.814 with five homers and 24 RBI) moved to high Class A ( .371/.468/.790 with homers and 18 RBI) and then was promoted to Double-A (.323/.400/.521 with two homers and 10 RBI) where he had played eight games before joining the big club.
Soto homered in his first big-league start against the San Diego Padres. Even more impressive, however, were the three walks and single he had in his second start. Young players always want to prove they can hit when they get to the major leagues. Almost always, they try to prove it by swinging. That is why young hitters can be manipulated by crafty veterans who change speeds and use rookies' aggressiveness against them. Soto's willingness to take walks shows a level of baseball acumen and maturity beyond his years. If the Nats lose Bryce Harper to free agency, they are going to be just fine with this young stud and their best prospect outfielder, Victor Robles.
- Astros starting pitcher Gerrit Cole faced his brother-in-law, Brandon Crawford, who is the shortstop for the San Francisco Giants. Crawford's sister Amy, who is Cole's wife, sat in the stands and watched as her brother hit a home run off of her husband, ironically in the Crawford boxes in left Field at Minute Maid Park. Cole and the Astros had the last laugh as they beat the Giants 11-2. I would love to be at the holiday dinner table to listen to that family conversation. Amy kept a straight face as cameras panned to catch a reaction. I wonder what she was thinking?
- When general managers call up young stud prospects from the minors, they usually do it with the idea of setting up the young man to succeed. So, what were the Rays thinking?
They called up their best position player prospect, shortstop Willy Adames, for Tuesday's game against the Boston Red Sox. It just so happened that Sox ace Chris Sale was slated to pitch. Rarely, if ever, does a team bring up a youngster when facing an opposing ace. Generally, they don't want their player dominated in his first game. Sure enough, Adames struck out in his first major league at-bat as a Sale fastball overpowered him for strike three.
But in his second at-bat he got his first major-league hit, a home run. So much for my concern about Adames being overmatched. His performance is indicative of the game today; young kids are better prepared to succeed immediately now more than any other time in the game's history. Youth showcase events, winter leagues and better instruction have sharpened the teeth of young players out there. I guess maybe I just worry too much.
- Baseball is such a humbling game. Just when you think you are good, the game takes you down a couple of notches. In New York, Mets fans were thinking division title and World Series after their 11-1 start to the season. But they have since gone 13-20 and are now in fourth place in the NL East.
The Arizona Diamondbacks were the talk of baseball as they won each of their first nine series this season. They were 24-11 at one point but are now 25-24, losing seven in a row and 13 of 14. The Diamondbacks thought they had already buried the Los Angeles Dodgers in the NL West but now they aren't even in first place.
Yankees shortstop Didi Gregorius was red-hot to start the season (.330/.422/.733) but he's hitting just .130 in May, including a horrendous 4-for-57 streak. What goes up must come down, even in baseball. And what is down, inevitably comes back up again.
At least Jays fans hope so.