Bolts ink Canada F Joseph ahead of WJHC
TSN's Mark Masters is with Team Canada and has the latest as the group prepares for the World Junior Championship to begin on Boxing Day.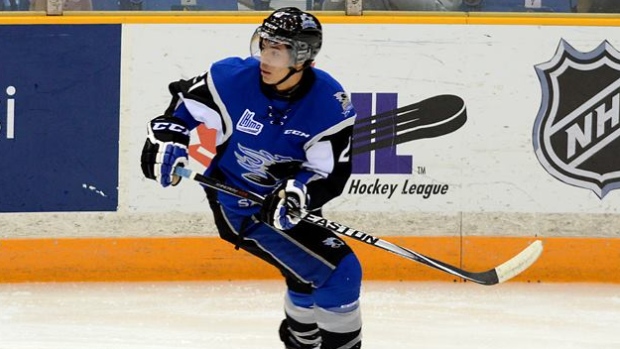 TSN's Mark Masters is with Team Canada and has the latest as the group prepares for the World Junior Championship to begin on Boxing Day.
* The Tampa Bay Lightning gave Mathieu Joseph an early Christmas present signing their fourth-round pick in 2015 to an entry-level contract on Saturday. "I thought it would happen at the end of the season, but I guess it was a good time for Tampa to sign it," said Joseph, who is one of five Lightning draft picks playing for Canada at the world juniors. "It feels good, honestly. Everyone knows there's a lot of prospects in Tampa so it was good to sign this contract and get it out of the way before Christmas and now I can focus on the tournament."
Thomas Chabot said it's remarkable how far his Saint John teammate has come over the last couple of years. "He didn't make our team at 16-years-old and then he got called up at Christmas time and since then he's gotten more and more confident. I'm really happy for him," said Chabot, an alternate captain on Team Canada. "His draft year, as the season went on he just got better and better. He can be annoying, hitting everyone on the ice, and he can score goals. He loves to talk. He always talks on the ice and he always has a big smile on his face so it's probably annoying to play against him." What was the key to Joseph's development? "I matured physically and got more confidence every year and I think that's why I improved so much," the Chambly, Que., native said. Joseph, who has 45 points in 29 QMJHL games this season, is among the more personable players on Team Canada. "He always finds a way to talk too much," Chabot said with a laugh. "He was very excited when he got the call that he actually signed."
* The players and staff had a special dinner on Christmas Eve at the home of businessman Sam Ciccolini, a member of the Toronto Montreal 2017 organizing committee and long-time friend of Hockey Canada. "It was a good family environment," said goalie Carter Hart. "Obviously, we're away from our families, but this is our family for right now. It's nice to come together and share some laughs. It sort of felt like home." The players were in awe of Ciccolini's array of sports collectibles. "He's got so much memorabilia, so many jerseys signed by so many professional athletes in all sports. I saw a retro Vince Carter jersey signed. I saw a David Beckham jersey signed. He's got everything. It was unbelievable," Hart said.
* A couple years ago, Oshawa's Anthony Cirelli and Kelowna's Dillon Dubé were bitter rivals in the Memorial Cup. Cirelli scored twice in the 2015 championship game, including the overtime winner, as the Generals defeated the Rockets. So, how'd they break the ice at Canada's camp? "I gave him a little stare down and he kind of laughed," Dubé explained. "I couldn't be happier to be on a line with him after what we've been through. It's kind of like I've known him for a long time. At the time (of the Memorial Cup) I didn't like him too much, but we've talked about it, got some laughs out of it." Cirelli admits that, at first, he didn't want to bring up his Memorial Cup exploits. "I let him do it. I didn't want to bring back those memories for him. It has been brought up a couple times and he laughs about it now but definitely in the moment he wasn't happy," Cirelli said. "We've actually become good friends here. Getting to know him, he's a great person." Dubé and Cirelli have played all three pre-tournament games on the same line and were joined by Blake Speers for the last two. The trio had a lot of success combining for three goals. "Our speed is the key," Dubé said. "We like to play fast and we're playing hard hockey. We know we're the energy line and we've accepted that role and we're having a lot of fun."
* Dante Fabbro will see a few familiar faces around the Air Canada Centre this week. Six of his Boston University teammates (Jake Oettinger, Charlie McAvoy, Kieffer Bellows, Jordan Greenway, Patrick Harper and Clayton Keller) made the United States team. "Right now, we're not friends," Fabbro said with a smile. So, will he walk the other way if he sees them in the hallway? "I might have a quick, 'Hi,' and then get out of there." Fabbro will have at least one Terrier on his side this week. Brandon Hickey was on Team Canada last year and offered up some advice before Fabbro left for the selection camp. "He just said, 'Be yourself. Play like you play. Just leave it all out there and have no regrets.' I really took that to heart at camp and played well and earned my spot." Fabbro credits Hickey for putting him in the right state of mind for the selection camp and expects to be in contact with him throughout the tournament. Canada will face the United States on New Year's Eve.
* Per usual, Christmas Day was also Picture Day for teams at the world juniors. For Canada, this year there was a bit of a wrinkle as a couple Air Canada Centre staff members, Vic Braknis and Glenn Stants, were invited to join the group. The ACC has hosted a few international events the last couple of years (2015 world juniors, 2016 World Cup) so Hockey Canada has come to know Braknis and Stants, event supervisors who are stationed outside the Maple Leafs / Team Canada dressing room, very well. Braknis said he was touched by the gesture, which marked a first for him in his lengthy career.
* Lines at Team Canada practice:
F
Dubois-Strome-Stephens
Joseph-Barzal-Raddysh
Jost-Roy-Gauthier
Dubé-Cirelli-Speers
McLeod
D
Chabot-Myers
Bean-Juulsen
Fabbro-Clague
Lauzon
G
Hart, Ingram